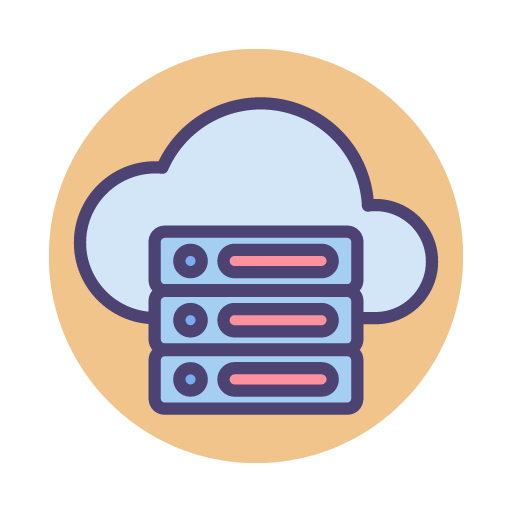 Finding the best WordPress hosting plans for your blog can be difficult, since there are literally hundreds of options on the market today.
Because of that, we've painstakingly tried all of the most popular companies in the industry, to make it easy for you to find and use the best WordPress hosting plans possible—and avoid some of the noise out there.
In our testing, we found that some web hosting companies offer features most bloggers and website owners will never actually need—while others don't quite provide the foundational features and functions you'll need in the right hosting plan for your blog.
14 Best WordPress Hosting Plans for Bloggers in 2020
Disclosure: Please note that some of the links below are affiliate links and at no additional cost to you, we may earn a commission. When you purchase hosting using our affiliate links, the companies compensate us, which helps make all of our reviews, guides and tools free of charge to you. Know that we only recommend products we personally stand behind.
Now without further delay, let's break down the best WordPress hosting plans.
We'll be comparing features, performance, uptime, customer support—and of course price. Once you dig into our reviews, you can better decide which WordPress hosting plan will be best for you.
14 Best WordPress Hosting Plans for Bloggers in 2020
Let's get started! First up…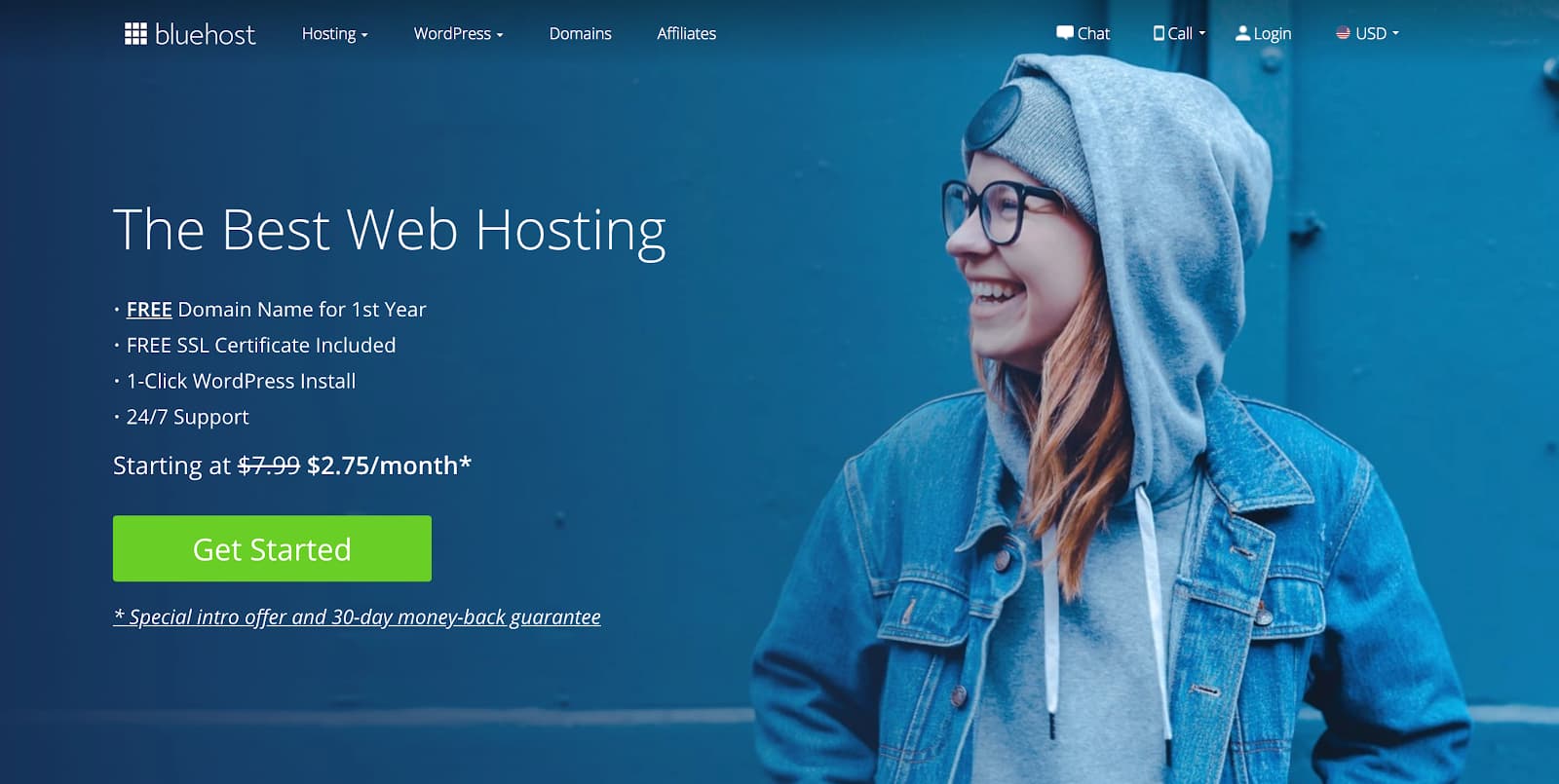 Bluehost has rapidly risen to become one of the most popular WordPress hosting companies due in part to their competitive pricing—but they've also been around since 1996, working hard to fine-tune their product and they're one of the largest hosting companies in the world today.
Another thing that makes Bluehost so appealing as a hosting company for bloggers today, is that it's one of only three hosting companies that actually come recommended by WordPress themselves.
Bluehost's WordPress Hosting Features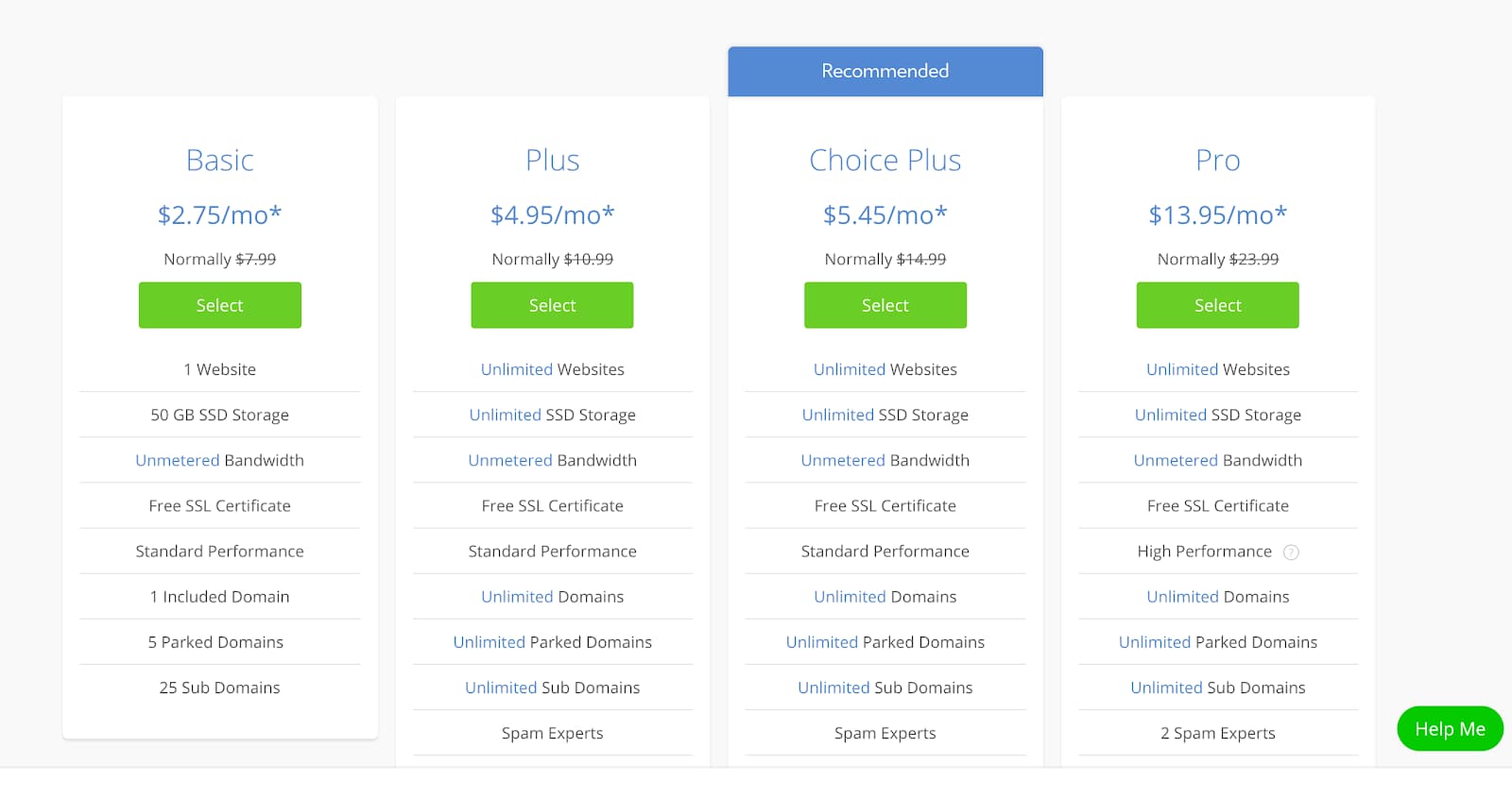 Bluehost offers four different WordPress hosting plans—here's how their two best offers stack up.
With the Basic Hosting Plan (budget-friendly) you get:
1 Website
50 GB SSD Storage
Unmetered Bandwidth
Free SSL Certificate
Standard Performance
1 Included Domain
5 Parked Domains
25 Sub Domains
With their Choice Plus Hosting Plan (best features) you also get:
Unlimited Websites
Unlimited Storage
Unlimited Domains
Unlimited Parked Domains
Unlimited Sub Domains
Domain Privacy
Access to Spam Experts
Site Backup – CodeGuard Basic
After testing, comparing and reviewing, we recommend the Choice Plus plan—mostly because it comes with unlimited storage and Domain Privacy. Using the Domain Privacy feature will keep your personal information safe and makes sure your contact information isn't published online (as the owner of your website).
Performance
An important feature for any WordPress hosting plan is how strong their performance is. This translates into how quickly your website will load for your readers.
Bluehost is an overall great choice for performance. Their load time ranges between .046 seconds and 3.43 seconds based on several different tests.
Keep in mind that load time is not entirely dependent on your WordPress hosting company though.
Performance is affected by a myriad of things including the size of your website, optimization plugins in use, where you're located in the world, and how close you are to an actual server. Not only that, but higher paid plans generally yield a faster load time, especially if you're paying for that in your specific plan.
If your website is running slowly, there are a lot of WordPress plugins you can install to optimize and speed things up.
Uptime
Bluehost has an uptime of 99.9% which is well above the industry average of 99.59%.
Customer Support
Bluehost offers exceptional customer support with 24/7 phone, email and live chat options for getting in touch with technical issues. They also offer a wide range of help articles, guides and how-tos for many frequently asked questions related to getting your WordPress blog set up. On top of that, they have a forum where customers can discuss challenges an share knowledge.
Cost
Bluehost gives you a 30-day money-back guarantee in case things don't go as planned with your new website. They offer a variety of plans ranging from $7.99 a month to $13.95 a month.
However, they're often running special deals that allow you to get started for as little as $2.95 a month.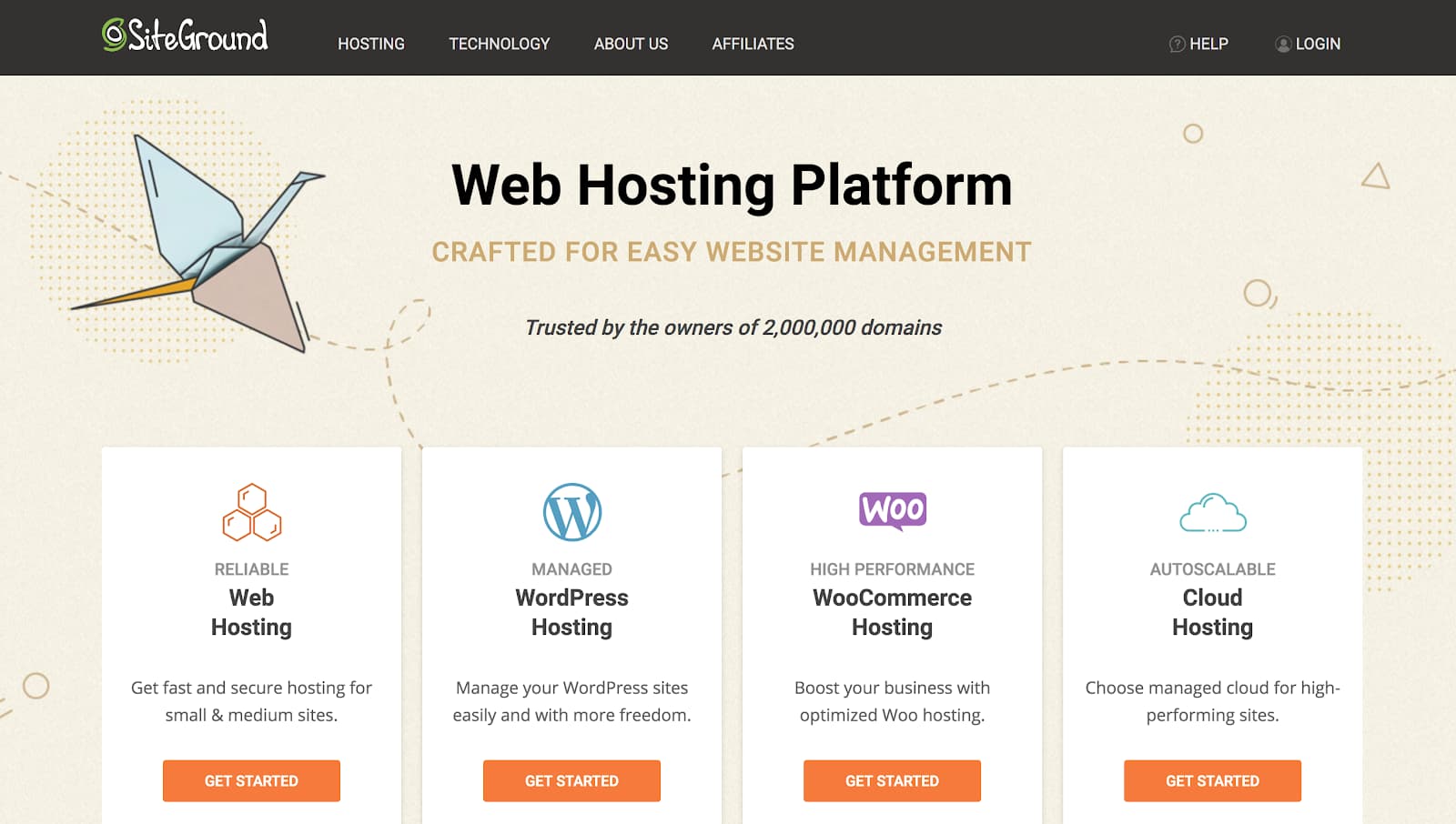 SiteGround is another extremely popular WordPress hosting company (and for good reason).
They're mentioned frequently as a top WordPress hosting choice across a wide range of blogs on the Internat. In fact, WordPress recommends them as well. Siteground offers some of the most reliable WordPress hosting around—and free migrations if you move to their hosting from another company.
SiteGround WordPress Hosting Features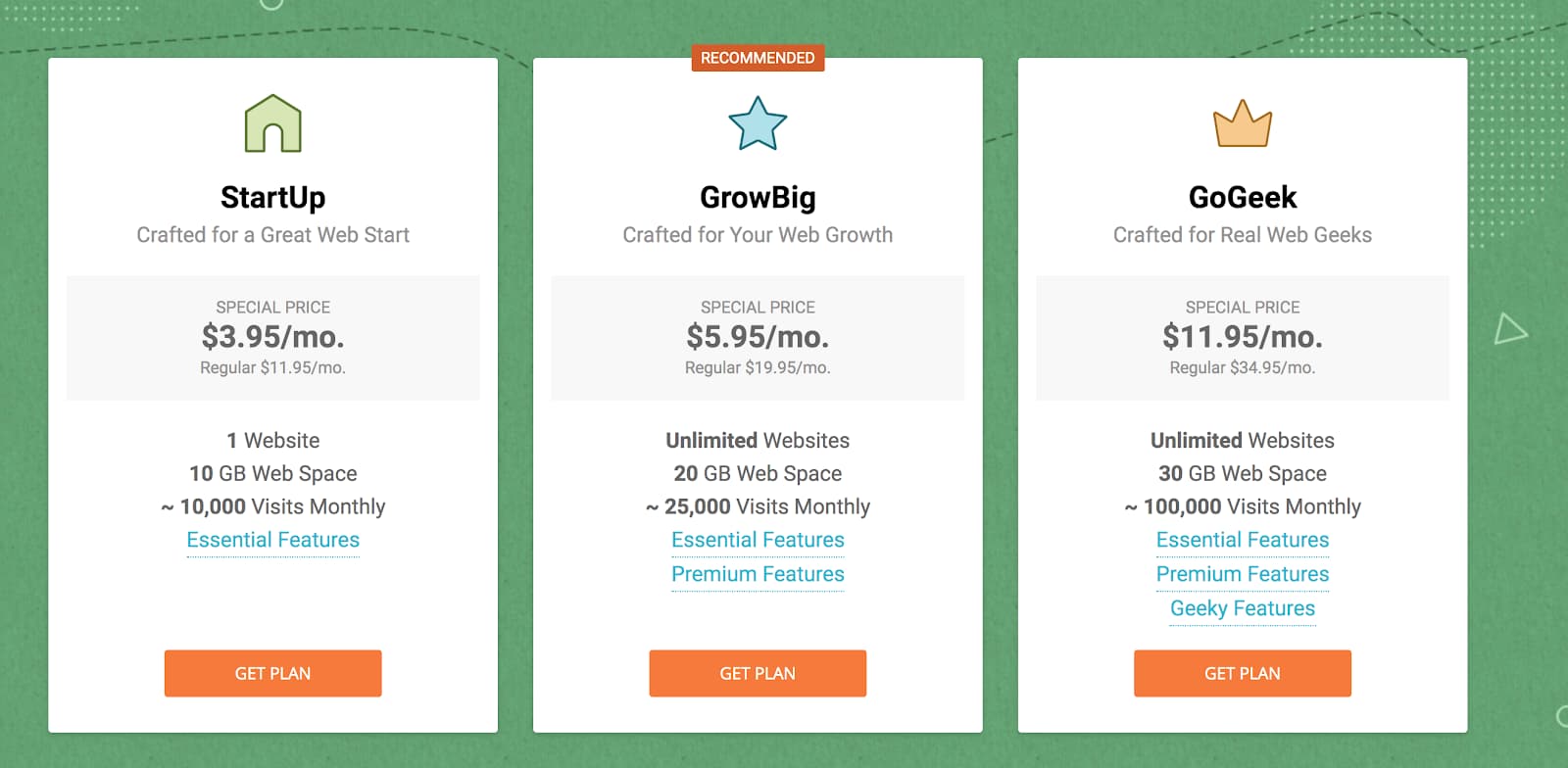 For their WordPress hosting plans, SiteGround offers three options.
Their first plan, StartUp (most budget-friendly) gets you:
1 Website
10 GB Web Space
Approximately 10,000 visits monthly
Free WordPress Install
WP Autoupdates
Free WP Migrator
WP CLI and SSH
Free SSL certificate and HTTPS
Free Email
Free Cloudflare CDN
Unmetered Traffic
Free Daily Backup
Unlimited MySQL DB
Their highest-tier plan is GoGeek and it upgrades you to:
Unlimited Websites
30 GB Web Space
Approximately 100,000 monthly visits
Free WP Transfer by Experts
WordPress SuperCacher
Advanced On-demand Backup
1-click WordPress Staging
Add Collaborators to Sites
Advanced Priority WP Support
The Most Server Resources
Pre-Installed Git for WordPress
Manage White Label Hosting and Clients
In addition to all of this, SiteGround offers free pre-installed WordPress available immediately after signing up with one of their WordPress hosting plans, a site-building wizard, managed auto-updates of software and plugins—and hands on support for your WordPress blog.
Something to note about SiteGround's WordPress hosting plans, is that if you experience high spikes in traffic to your website (from a guest post or major press hit), you could receive a warning from SiteGround. If your website crosses the usage thresholds for the hosting plan you're on, they may temporarily take your blog offline.
Performance
If you're looking for speed, SiteGround is an excellent option. For the record, Google recommends that a website's response time is 0.2 seconds. According to a server speed test, SiteGround's response time is between 0.056 and 0.138 seconds depending on your location in the world.
They're able to achieve this high speed with caching mechanisms and SSDs in all their servers. Even more impressive is their high response time globally.
Uptime
SiteGround guarantees a 99.9% uptime.
Customer Support
SiteGround offers 24/7 support by phone, chat or ticketing system.
Cost
SiteGround's plans range from $11.95 a month to $34.95.
That being said, they're usually running a discount for $3.95 a month and $11.95 a month.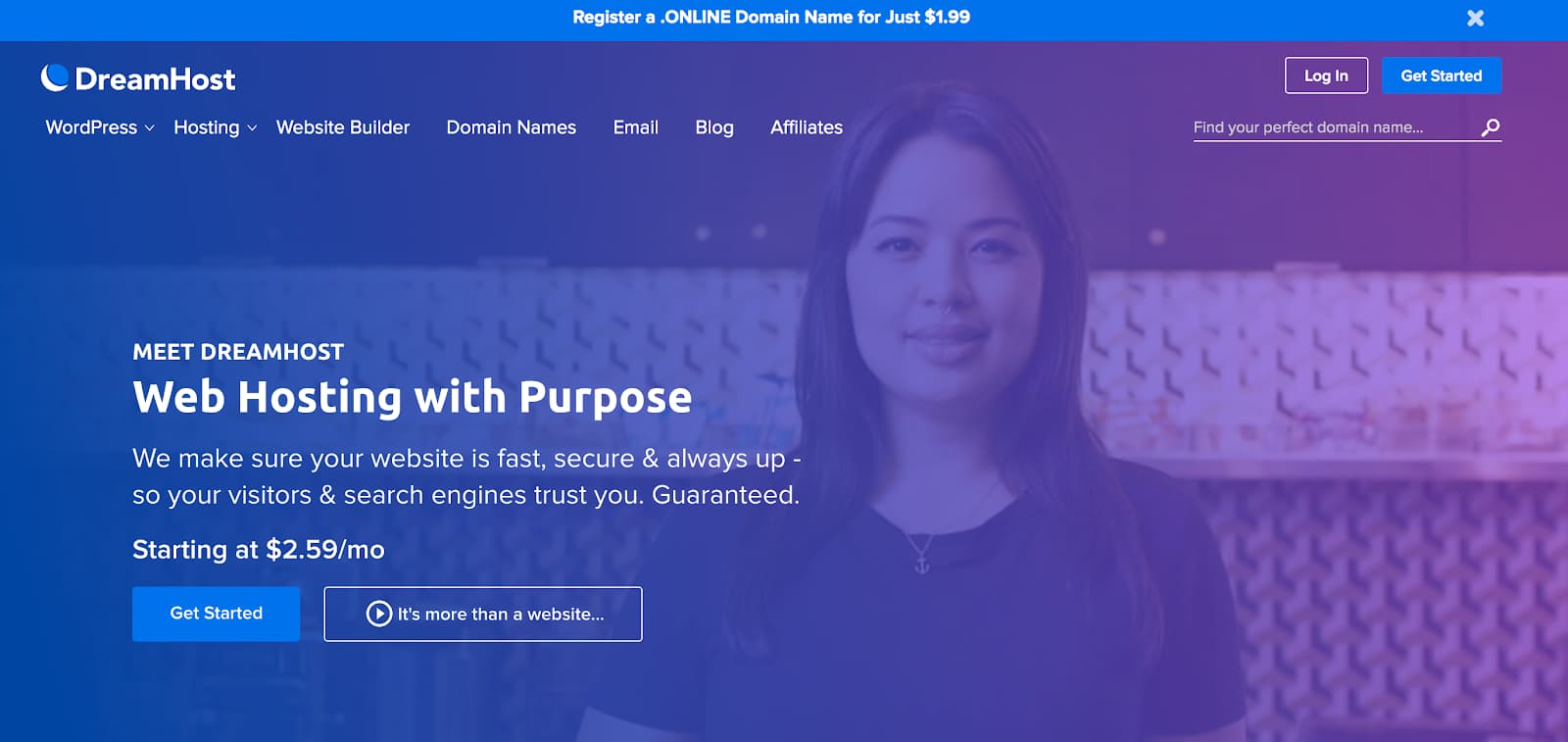 Dreamhost was founded in 1996 and currently hosts over 600,000 WordPress blogs and websites. They're also one of only three hosting companies recommended by WordPress.
Dreamhost WordPress Hosting Plan Features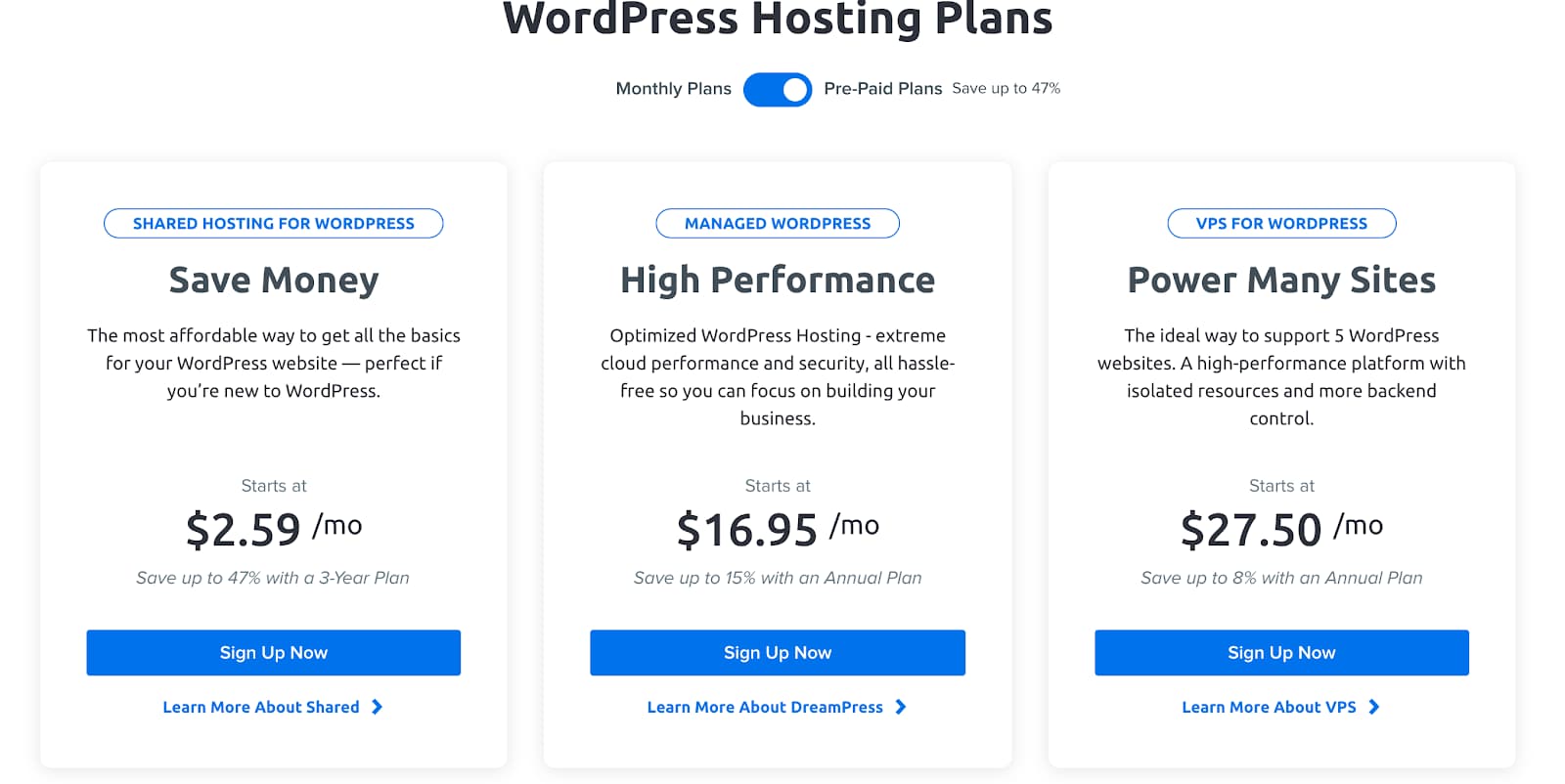 Dreamhost offers three levels of WordPress hosting plans—shared, managed and VPS.
The Save Money Plan offers shared hosting which includes two plans. The Shared Starter and the Shared Unlimited.
The Shared Unlimited includes:
Unlimited Websites
Free Domain included
Unlimited Traffic
WordPress Pre-Installed
Fast SSD Storage
Free SSL Certificate
Unlimited Email @ Your Domain
3 Year, 1 Year & Monthly Plans
The VPS Hosting Plans include four plans.
Their highest-tier plan called VPS Enterprise adds:
8 GB Ram
240 GB SSD Storage
Unlimited Websites
Unlimited Traffic
Free SSL Certificate(s)
Unlimited Email @ Your Domain
Performance
Dreamhost performs consistently well when it comes to loading time. Their standard load time clocks in around 0.719 seconds with strong server response times.
Uptime
Dreamhost guarantees 100% uptime, which is pretty unique to the WordPress hosting world. On their site, they explain, "DreamHost guarantees 100% uptime. A failure to provide 100% uptime will result in customer compensation…" (meaning you'll get a partial refund for any downtime experienced).
Customer Support
In terms of customer support, Dreamhost offers 24/7 live chat customer support, but if you fill out an email support request during off hours you're likely to receive an automated response and hear back within 24 hours.
Cost
Dreamhost offers an industry-leading 97-day money-back guarantee. And they also offer a true month-to-month plan for as little as $4.95 a month.
That being said, if you go with their Shared Started plan, you'll be able to drop your cost down to $2.59/mo (paid annually).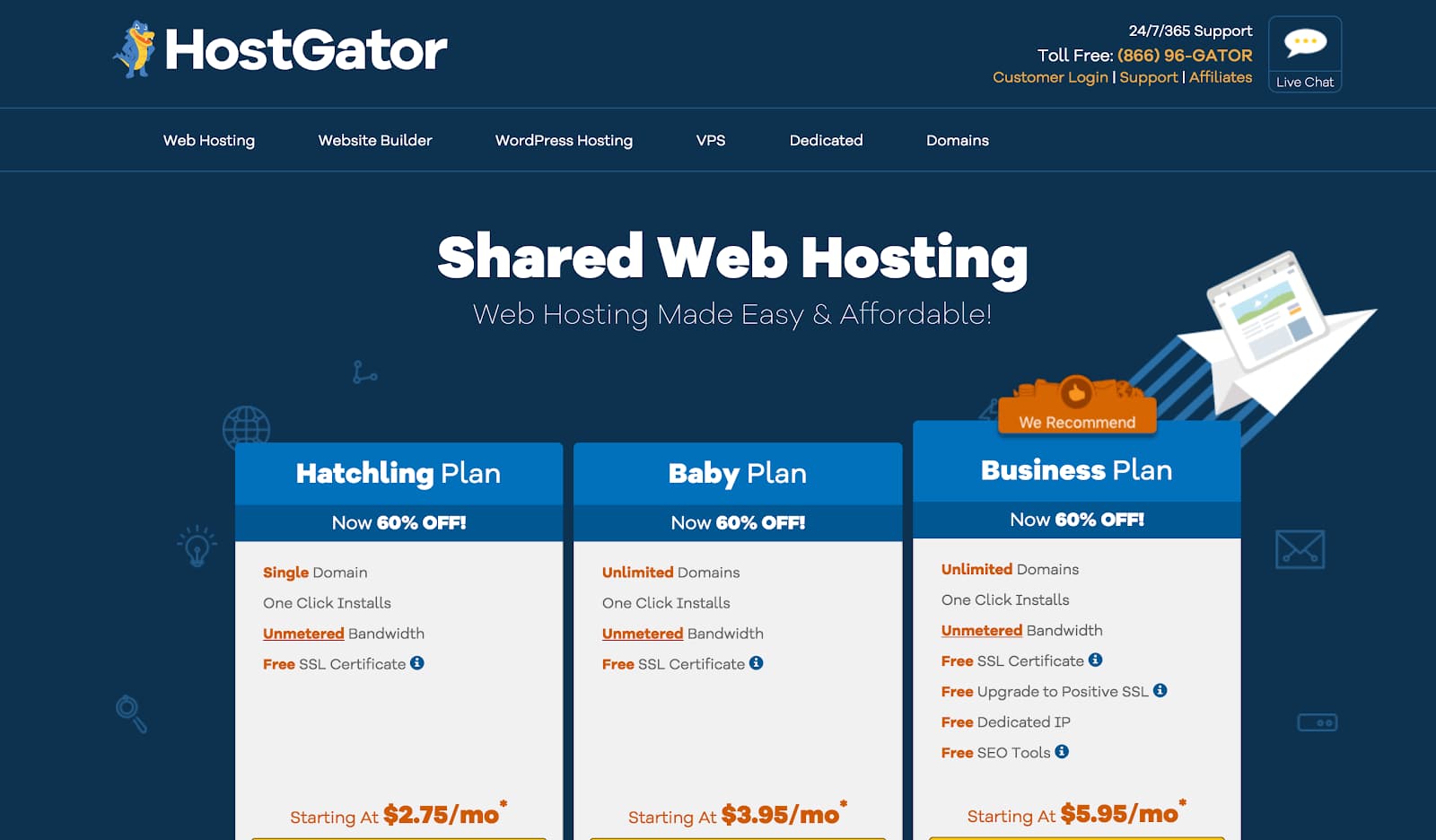 HostGator has been hosting websites for over 15 years. As of today, they host over 8 million websites and they're a very popular WordPress hosting brand.
HostGator's WordPress Hosting Features
HostGator offers three different WordPress hosting plans.
The Hatchling Plan:
Free Domain Name
One-click WordPress Installation
Unmetered Bandwidth
Free SSL Certificate
The Baby Plan offers the same as the Hatchling Plan plus:
The Business Plan offers the same as the Baby Plan plus:
Free Upgrade to Positive SSL
Free Dedicated IP
Free SEO Tools
Other features included with every Hostgator plan is 100+ free mobile responsive templates, free domain name, and domain transfers, $100 Google Adwords credit and a $100 Bing Ads Credit.
If you need domain name ideas check out our domain name generator tool.
Performance
If you look at third party testing of HostGator's speed, their numbers can be a bit all over the place depending upon your location in the world. One test recorded an average load time as .069 seconds while another produced a very long load time of nearly eight seconds.
Uptime
HostGator has a 99.9% uptime guarantee.
Customer Support
Hostgator has 24/7/365 support through both phone or live chat. They also offer an online support portal with video tutorials and help articles.
Cost
HostGator is usually running a 60% discount that keeps their plans priced between $2.75 a month and $5.95 a month.
They also offer a 45-day money-back guarantee. HostGator is one of the few WordPress hosting plans that allow you to pay month-to-month.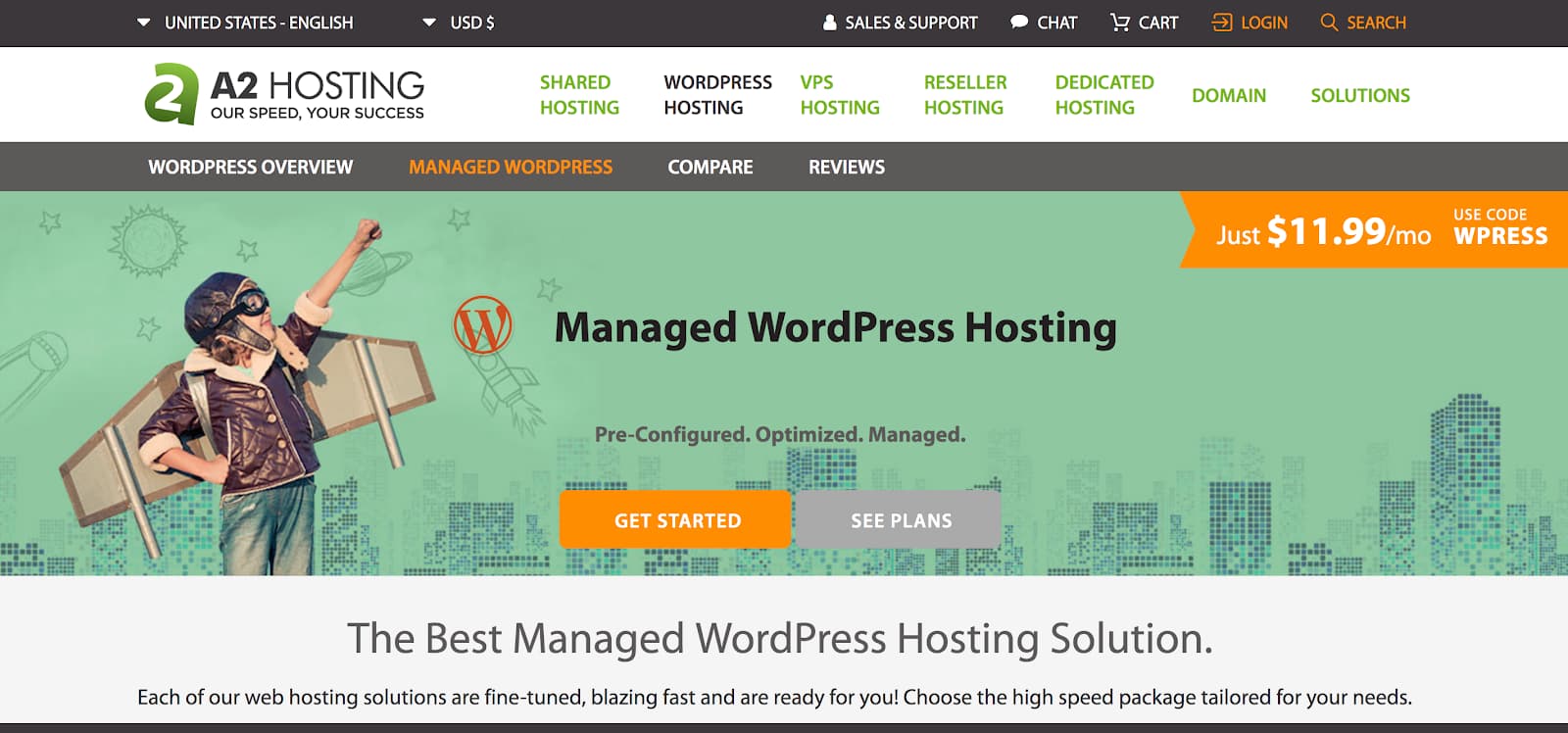 A2 Hosting is an independently owned and operated WordPress hosting company that began as a side project back in 2001, and has since grown to serve hundreds of thousands of customers.
A2 WordPress Hosting Plan Features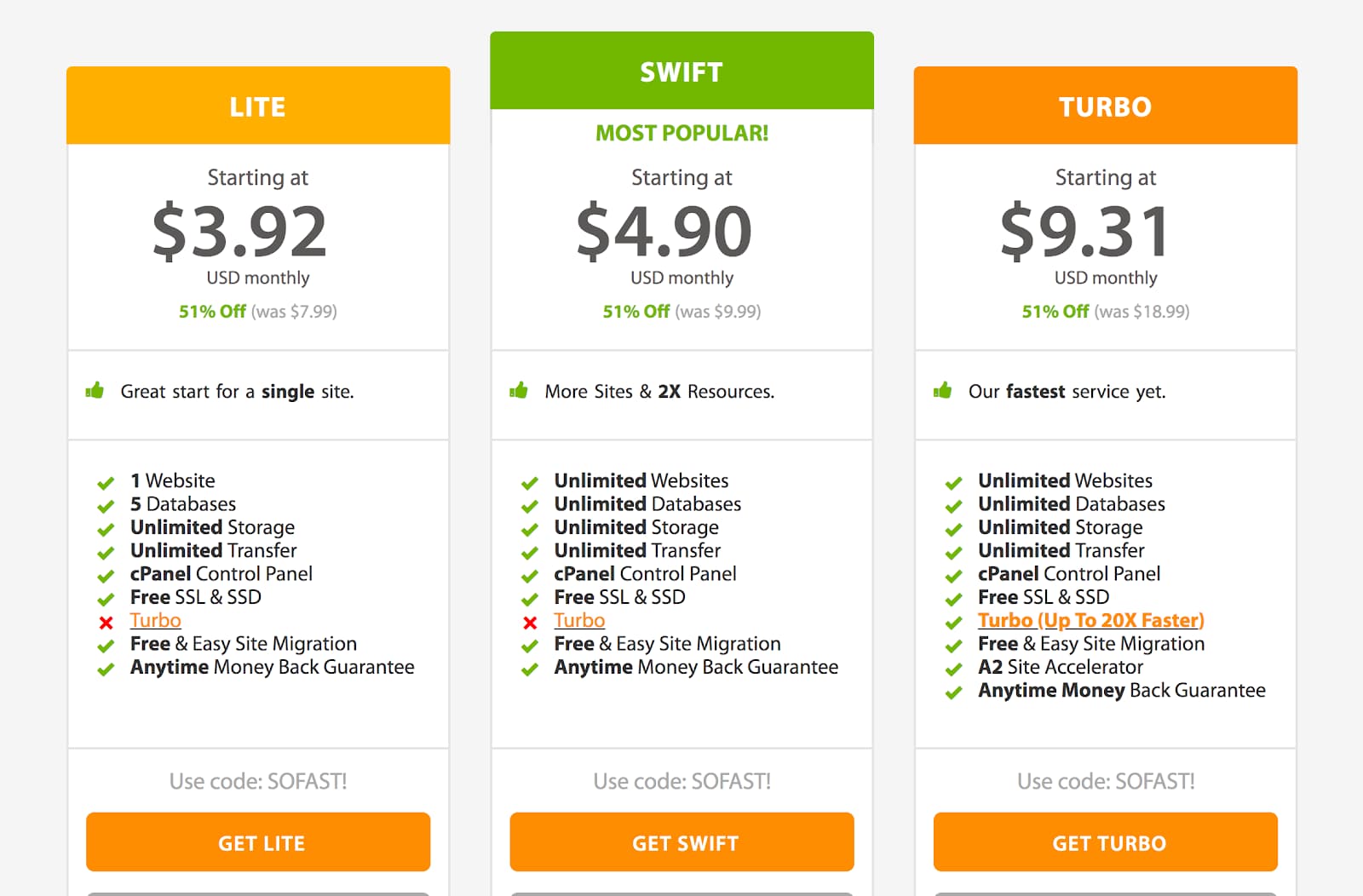 A2 offers three levels of WordPress hosting plans.
The Lite Plan offers:
1 Website
5 Databases
Unlimited Storage
Unlimited Transfer
cPanel Control Panel
Free SSL & SSD
Free & Easy Site Migration
A2 Optimized Enhanced Security for WordPress sites.
24/7 Monitoring.
Anytime Money Back Guarantee
The Swift plan offers the same features plus:
Unlimited Websites
Unlimited Parked Domains
Unlimited Addon Domains
Server Rewind Backups
Unlimited Databases
Free & Easy Site Migration
Anytime Money Back Guarantee
The Turbo plan offers all of the above features, plus:
Turbo (Up To 20X Faster)
A2 Site Accelerator
Railgun Optimizer
Performance
A2 Hosting hosting offers fantastic performance on their WordPress optimized storage. In most third-party tests, their load time clocks in around 0.036 seconds.
Uptime
They offer a 99.9% uptime commitment.
Customer Support
24/7/365 support through phone, live chat and email. They also share honest reviews from other customers on their site.
Cost
Their WordPress hosting plans range from $7.99 a month to $18.99 a month. They're usually discounted to being between $3.92 and $9.31 a month. A2 is also fairly unique in that they allow you to pay monthly for as little as $9.99 a month.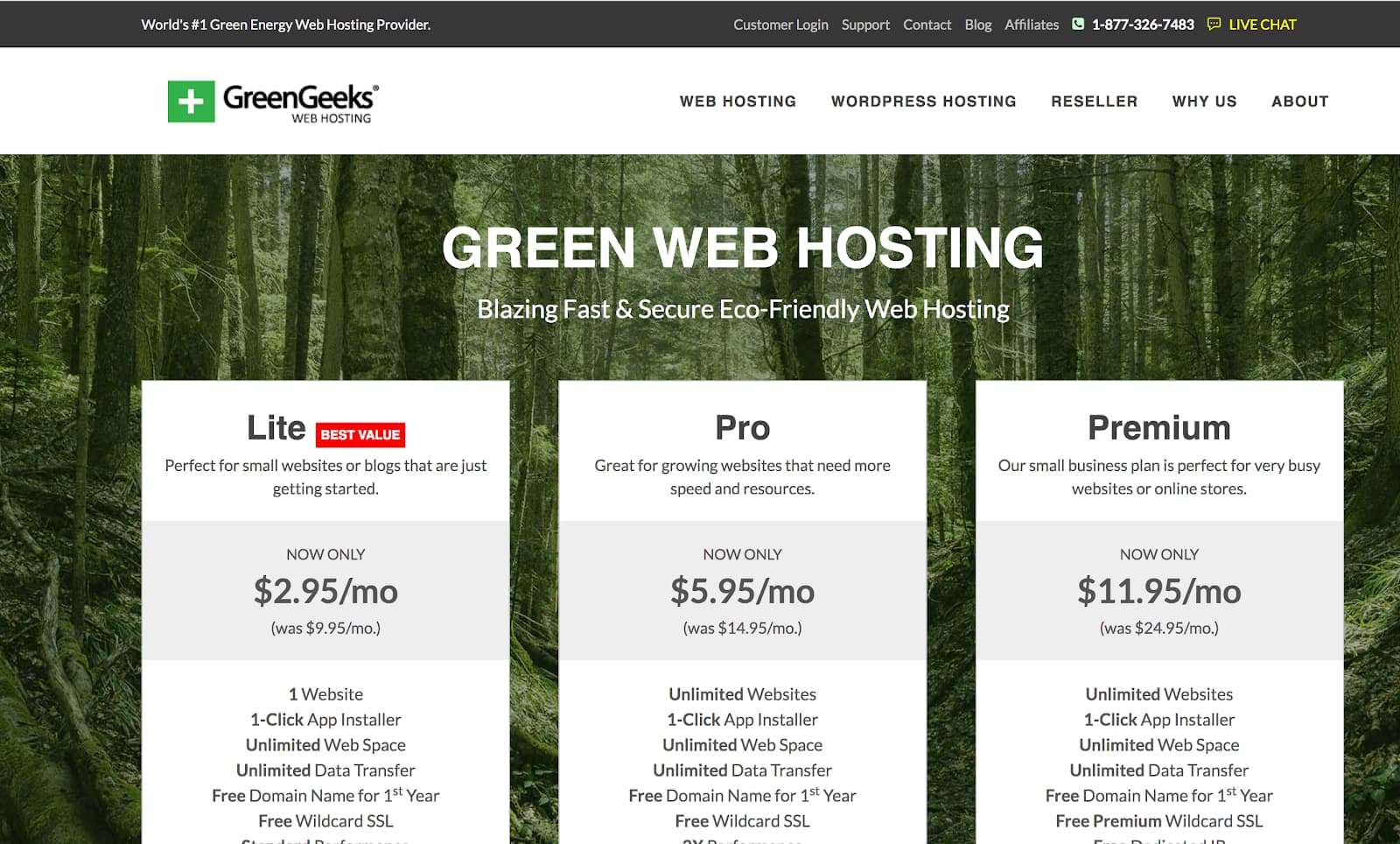 Founded in California in 2006, GreenGeeks has hosted over 300,000 websites. What stands out about this company is its dedication to providing an eco-friendly web hosting option. Their website claims, "You will experience our unrivaled reputation for quality green energy web hosting."
They also explain, "GreenGeeks replaces 3x the amount of energy we consume from the grid in the form of renewable energy credits. Your website will be "carbon-reducing" when hosted on our platform. You can feel good that you're making a difference."
So if you're interested in a more eco-friendly WordPress hosting plan, GreenGeeks may be for you.
GreenGeeks WordPress Hosting Plan Features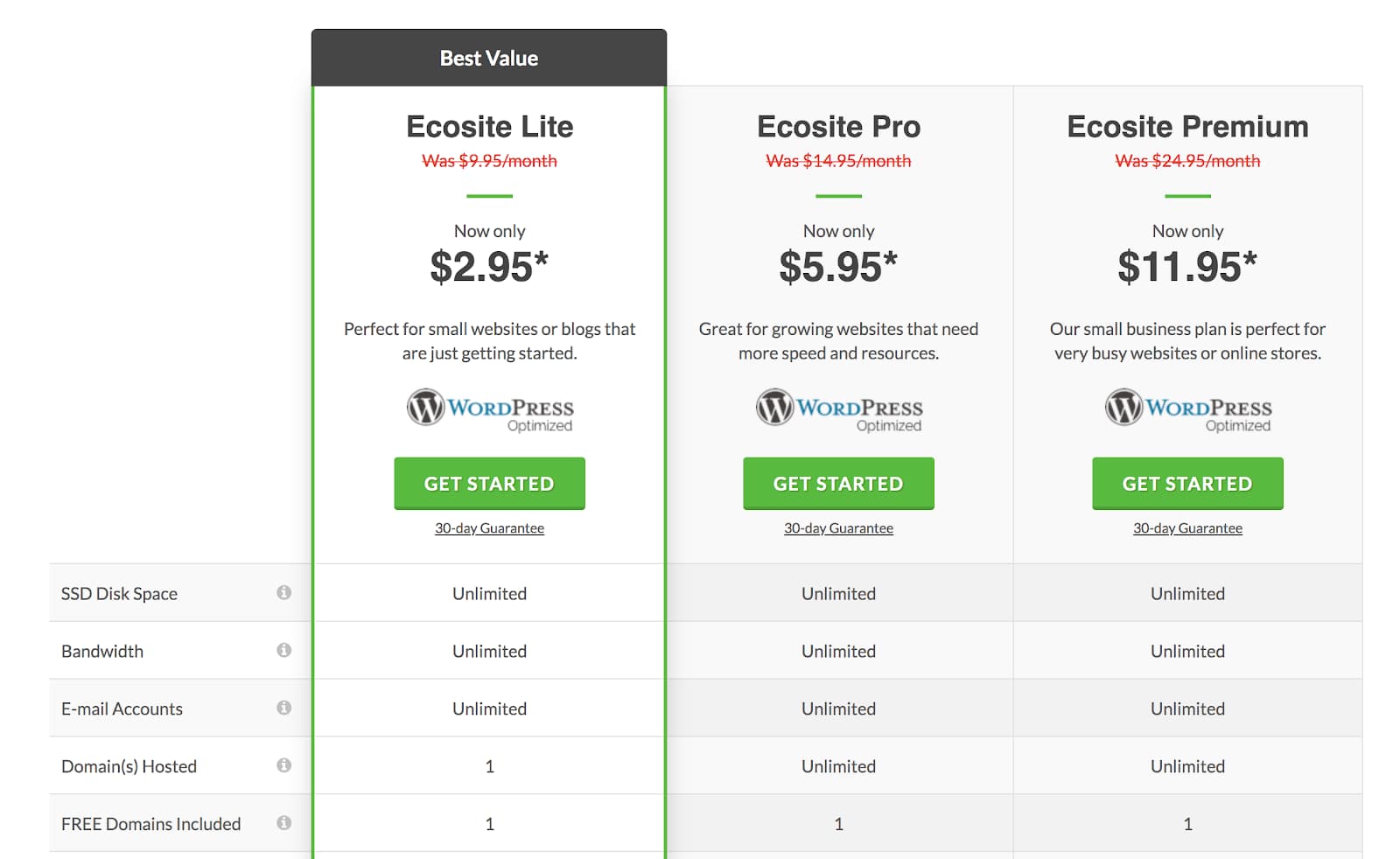 GreenGeeks currently offers three WordPress hosting plans.
The Ecosite Lite offers:
Unlimited SSD Disk Space
Unlimited Bandwidth
Unlimited Email Accounts
1 Domain Hosted
1 Free Domain
Free Site Builder
Free Website Transfer
cPanel and Softaculous
Nightly Backups
MySQL Databases
Cloudfare CDN
Standard Performance
100 Emails per Hour
The Ecosite Premium is their top-tier plan and it includes the same, plus:
Premium Wildcard SSL
4X Performance
500 Emails Per Hour
PowerCacher included
Performance
When it comes to performance, GreenGeeks seems to stack up well. Using SSD drives, fast servers, built-in caching, and PHP 7 support, they value speed and performance for your WordPress website. According to most load tests, GreenGeeks loads between 0.6 and 0.9 seconds.
Uptime
GreenGeeks adheres to a 99.9% uptime policy.
Customer Support
GreekGeeks offers 24/7 technical support through phone, email, and live chat. They also have a knowledgebase available where customers can find answers to many questions.
Cost
GreenGeek's lowest plan starts at $2.95 a month and their highest plan is $11.95 a month. These prices are with a three-year plan. If you're looking for a month-to-month plan, it starts at $9.99 a month.

Established in 2001, InMotion offers WordPress hosting plans for both new bloggers and professional businesses. They currently host over 300,000 websites.
InMotion WordPress Hosting Plan Features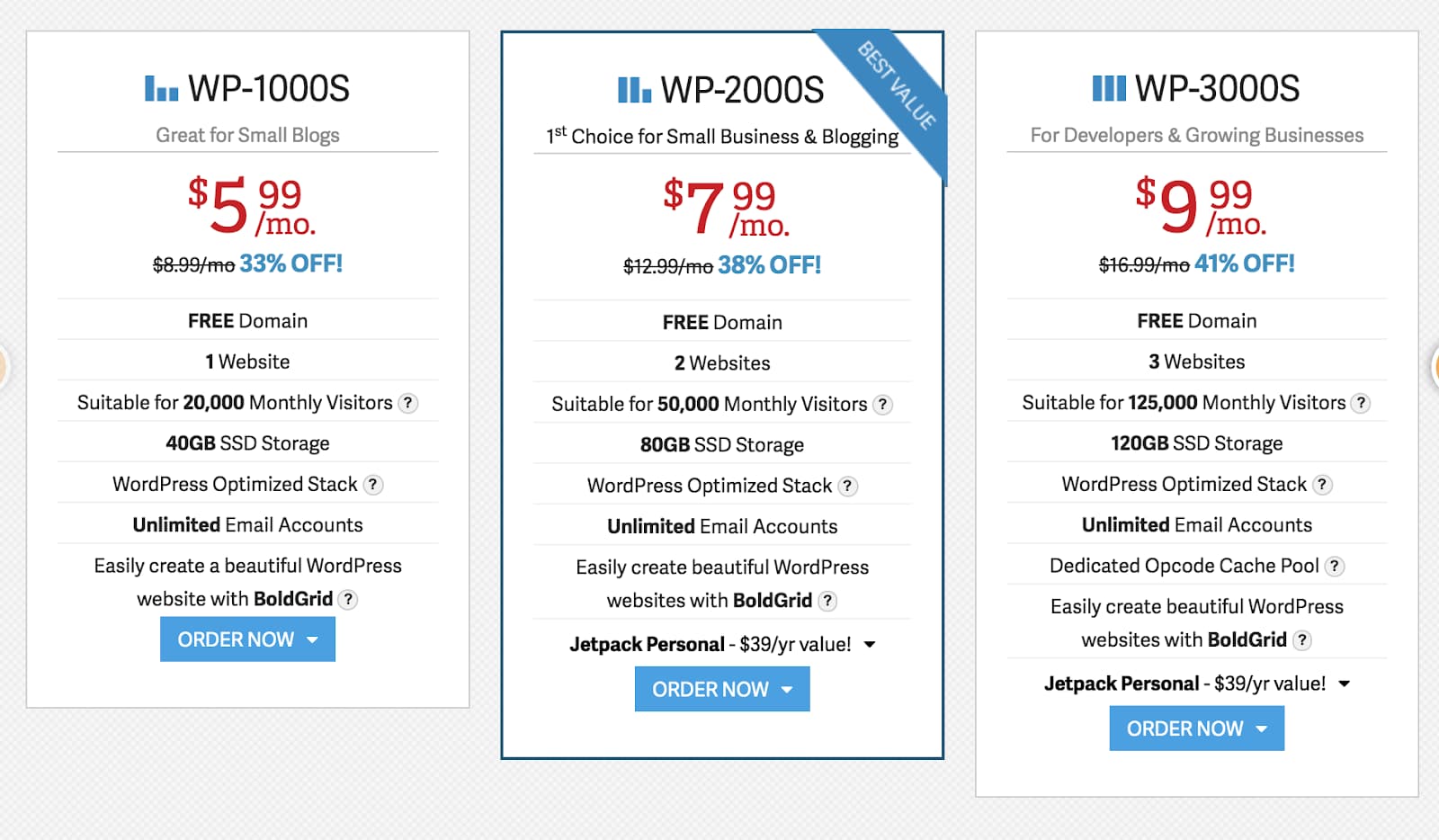 InMotion offers six managed WordPress hosting plans today.
The lowest plan, WP-1000S offers:
Free Domain
1 Website
20,000 monthly visitors
40GB SSD Storage
WordPress Optimized Stack
Unlimited Email Accounts
BoldGrid
The highest-tier plan, WP-Dedicated offers:
Free Domain
Unlimited Websites
WordPress Optimized Configuration
Free Dedicated IP's (up to 15)
cPanel and WHM Included
Free Server Management
Other things that are offered with their plans include pre-installed WordPress, $150 dollars in free advertising credits, free website transfers, automatic WordPress updates and automatic plugin & theme updates. They also offer access to some premium WordPress themes and plugins.
Performance
InMotion has a fairly quick load time based on several most testing. Average performance seems to clock in between a 1.85 seconds and 0.85 second load time, which is pretty speedy.
Uptime
InMotion offers a 99.9% uptime guarantee.
Customer Support
InMotion is known for having great customer service. They offer 24/7/365 customer support and you can contact them through phone, live chat, and email. They also have online tutorials and community-based Q&A.
Cost
InMotion has a 90-day money back guarantee. They're usually offering discounted WordPress hosting plans ranging from $5.99 to $105.69 a month.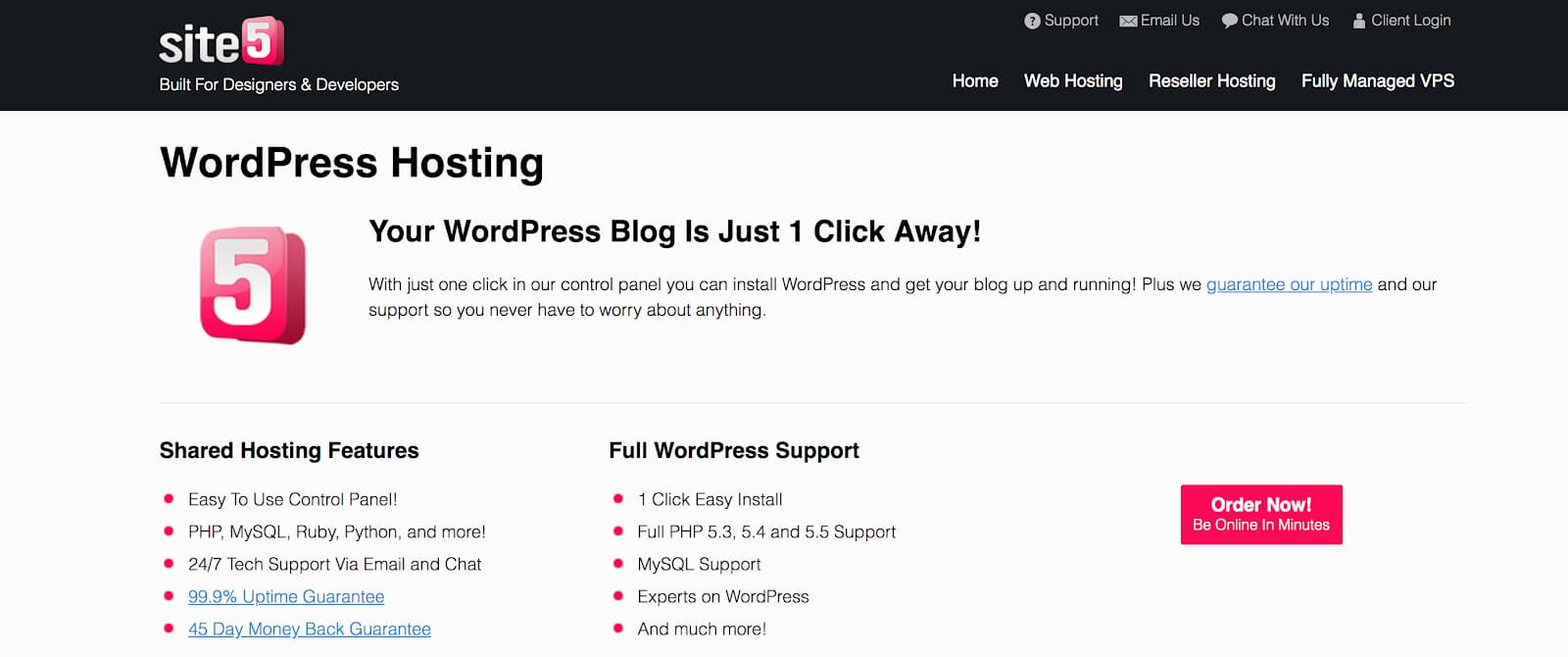 One of the longer-standing options for WordPress hosting is Site5, who's been in the game since 1999.
While they currently don't offer support for PHP 7+ (which offers huge performance improvements for WordPress), they do gear their WordPress hosting plans specifically towards web designers and developers—a niche they seem to still do pretty well in.
Features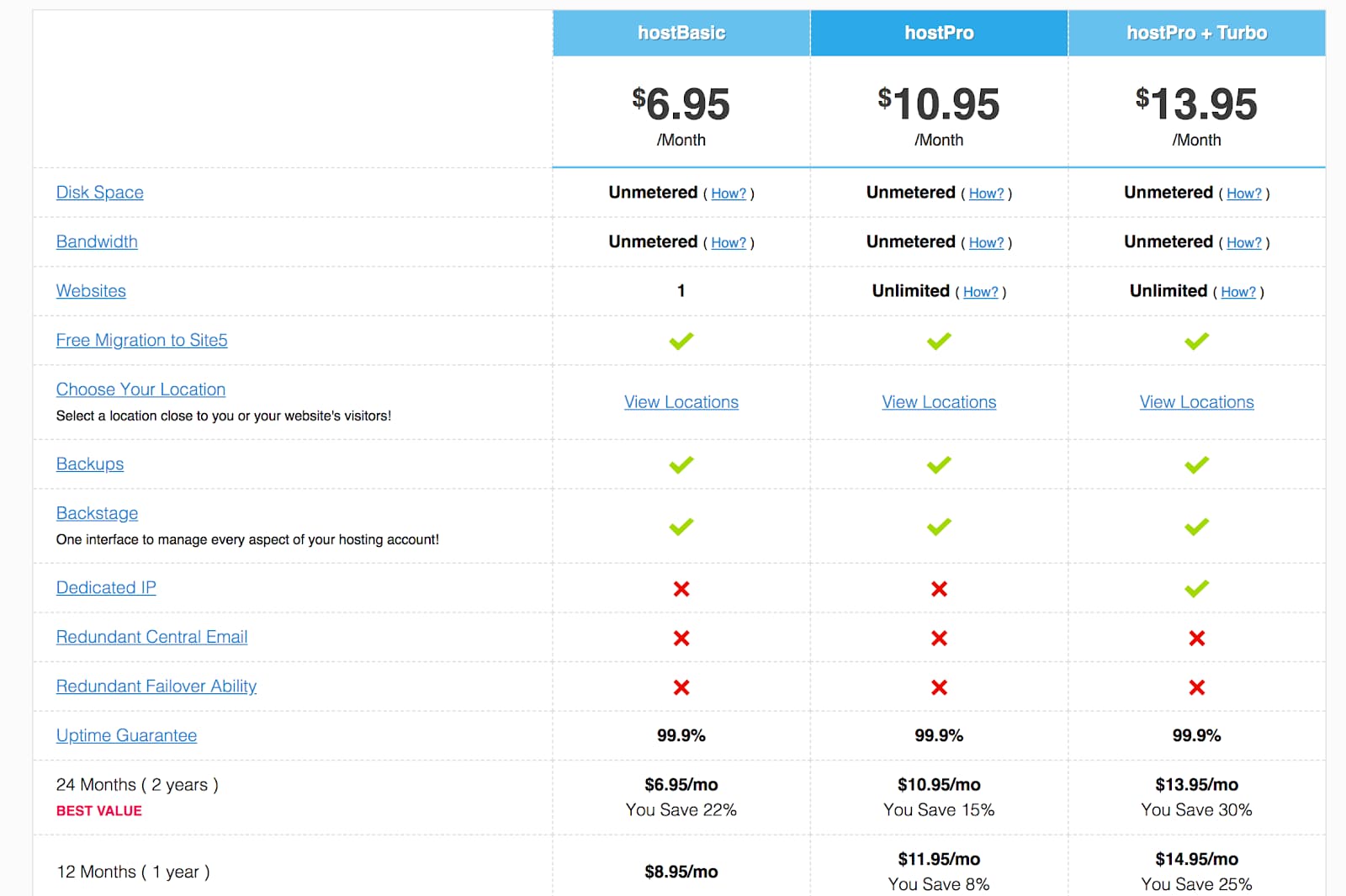 Site5 offers three different WordPress hosting plans.
The first (and lowest-cost) is hostBasic and it includes:
Unmetered disk space
Unmetered bandwidth
1 Website
Free migration
Your choice of server location
Backups
Backstage
One-click easy install.
The most premium plan (hostPro + Turbo) offers the same features plus:
Performance
Site5 performance is fairly strong. Their load time tests resulted between 0.704 seconds and 0.89 seconds—a nice benefit to have if you're expecting a meaningful amount of traffic to arrive.
Customer Support
Site5 offers 24/7 tech support through email or chat, but they do not include phone support. They also have a pretty extensive knowledge base.
Uptime
99.9% uptime guarantee.
Cost
45-day money-back guarantee. Their lowest plan costs $6.95/mo and their highest plan costs $13.95/mo. These prices are available with a 2-year commitment.

iPage was originally founded in 1998 and they've since hosted more than 1 million WordPress websites on their platform.
Their focus is on individuals and small businesses. As their about page explains, "We make it simple for individuals and small businesses to create a professional online presence. Don't worry about the technical stuff; our platform is easy to use and includes everything you need."
Features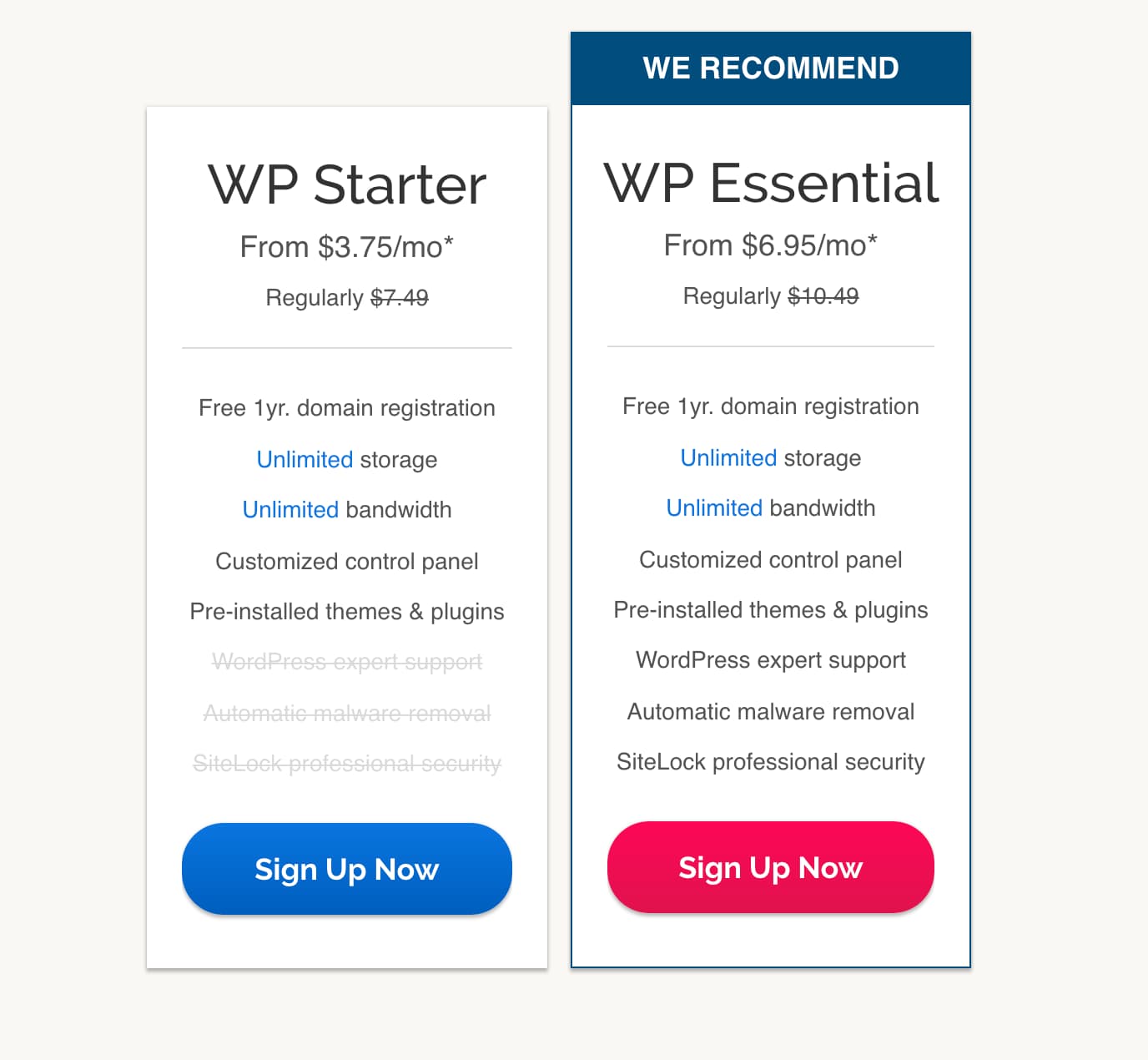 iPage offers two different WordPress hosting plans.
Their WP Starter Plan includes:
Free Domain Name for 1 Year
Unlimited Storage
Unlimited Bandwidth
Customized Control Panel
Pre-installed Themes and Plugins
The WP Essential Plan includes several of the same features plus:
WordPress Expert Support
Automatic Malware Removal
SiteLock Professional Security
Another benefit of iPage is that they include $500 worth of extras like Google AdWords and Bing credits when you sign up for one of their WordPress hosting plans.
Performance
Based on third-party tests, websites powered by iPage had load times between .0787 seconds and 2.6 seconds—a pretty broad range.
Customer Support
iPage offers 24/7 customer support through phone, live chat, or online form submission.
Uptime
99.7% to 99.9% uptime.
Cost
iPage's WordPress hosting plans are usually discounted and range on sale from $1.99/mo to $6.95/mo as introductory offers.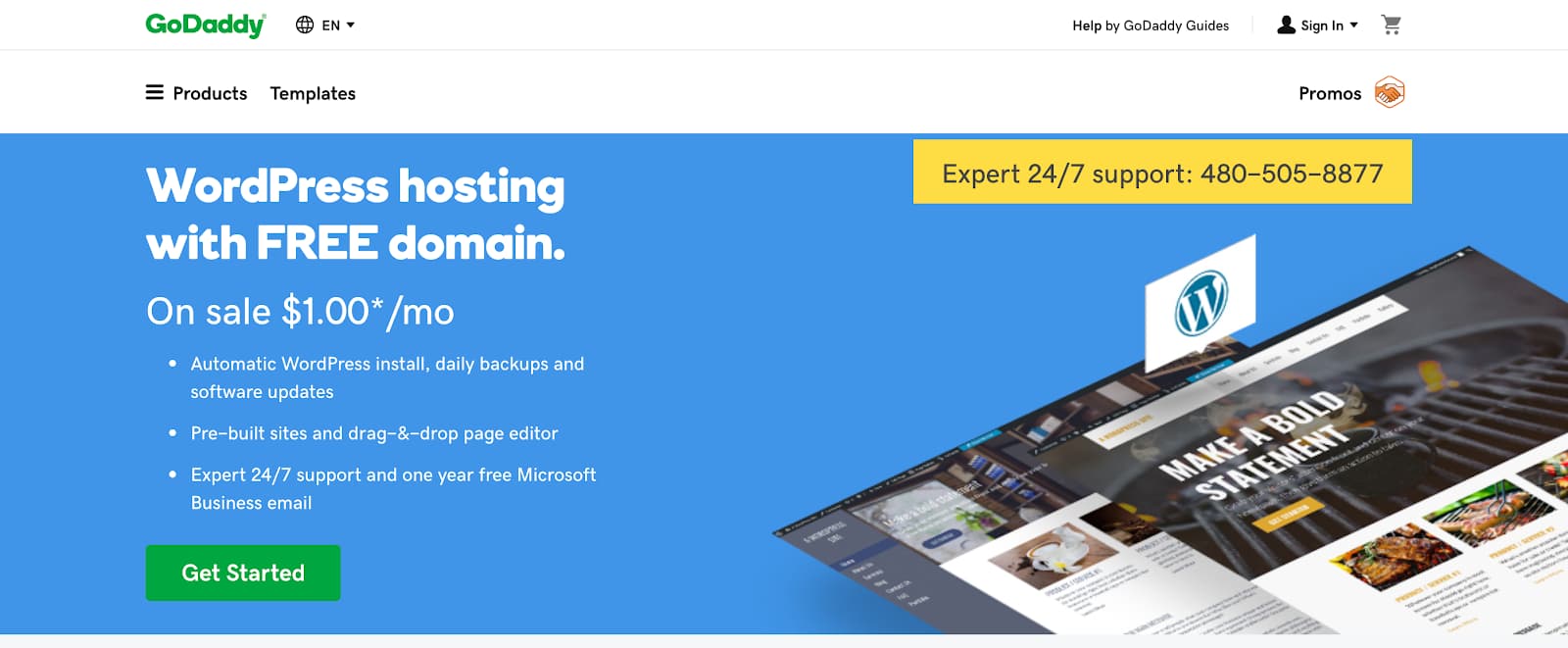 GoDaddy has been around since 1997 and they've become the elephant in the hosting room due to their massive advertising expenditures on everything from sponsoring NASCAR driver Danica Patrick, to running Super Bowl spots.
They're currently the world's largest domain name registrar and have 14 facilities worldwide. If you're familiar with their name you're probably curious how they are as a WordPress hosting company. Here are some quick facts about GoDaddy's WordPress hosting plans.
Features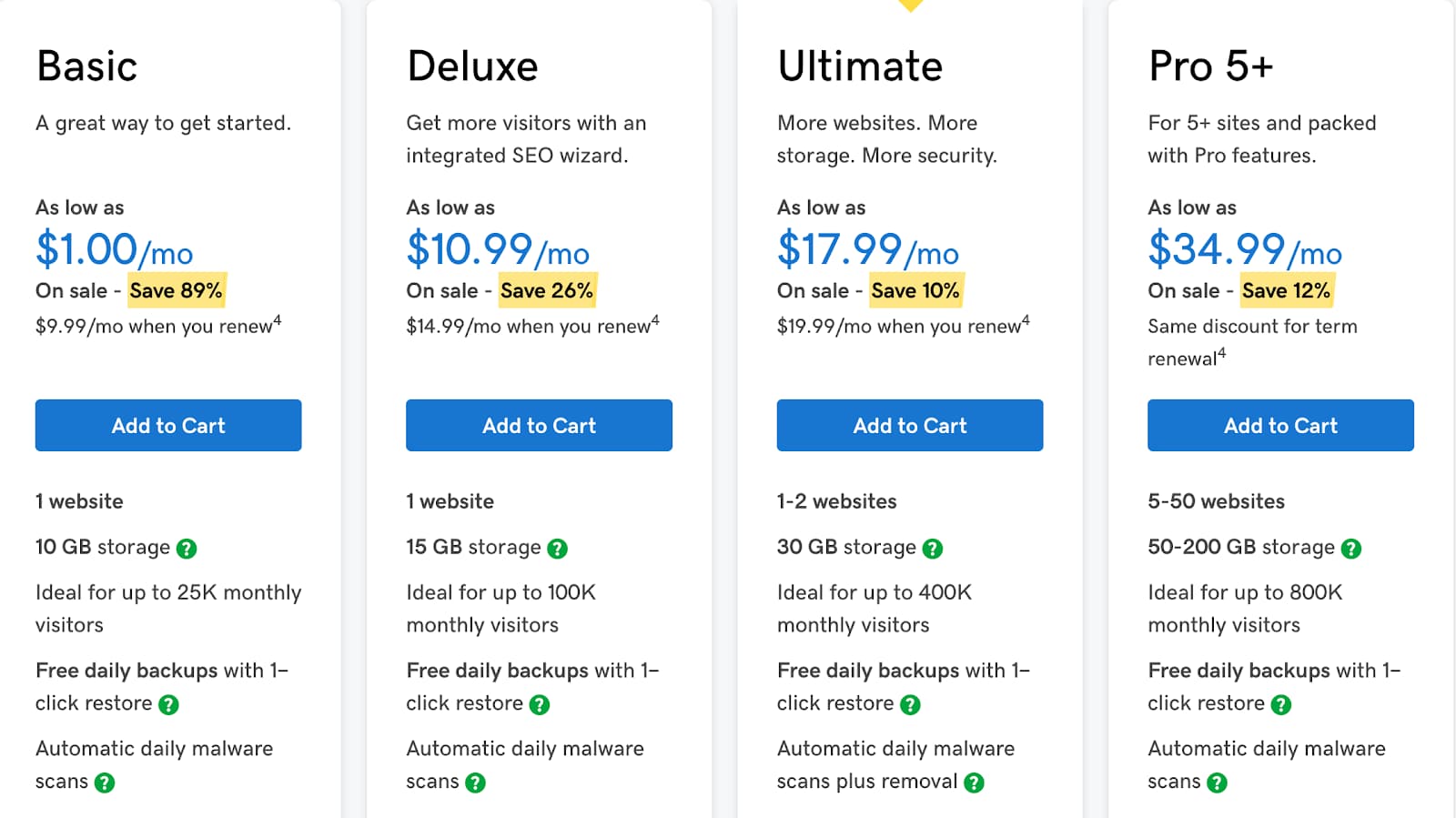 GoDaddy offers four WordPress hosting plans.
Their lowest-cost, Basic plan offers:
1 Website
10 GB storage
25,000 monthly visitors
Free daily backups with 1-click restore
Automatic daily malware scans
Built-in sign up forms
Free domain with purchase of an annual plan
The highest tier plan, the Pro 5+ offers the same features plus:
5-50 websites
50-200 GB storage
800,000 monthly visitors
One-click staging site
Free SSL Certificates — 1 per site
Free site maintenance tools
Real-time performance and uptime monitoring
Automated client report
GoDaddy also offers free website migration and automatic WordPress core software updates, which are nice bonuses to have if you're moving your WordPress website over from a different hosting company.
A couple of noticeable drawbacks though, is that you have to pay for a higher plan in order to get a (free) SSL certificate and you have to pay a fee to have access to cPanel—two features that other WordPress hosting plans at alternative companies will almost always include for free.
Performance
GoDaddy's load time is on average between 0.0294 and 0.517—pretty consistently fast.
Uptime
99.9% uptime promise and 30-day money-back guarantee.
Customer Support
24/7 live chat support.
Cost
Normally $9.99/mo, GoDaddy's basic plan is often discounted to a surprisingly low $1.00/mo. It's important to note that this is an introductory price and will not remain at the same level upon your renewal.
Their top WordPress hosting plan, the Pro 5+ is currently $34.99/mo (with a 30-day money-back guarantee).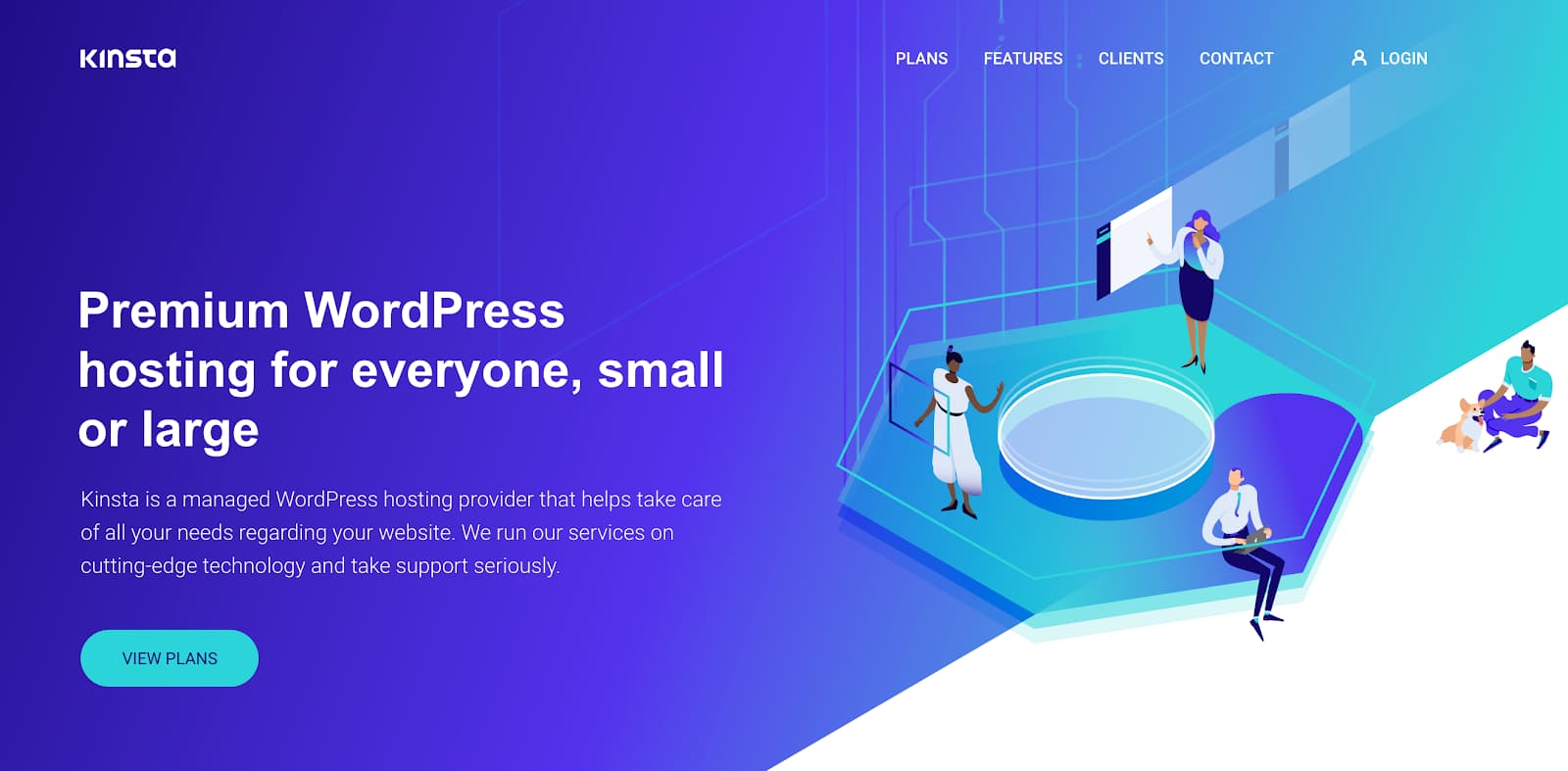 Kinsta was founded in 2013 with a mission to create the best WordPress hosting platform in the world—and they've intentionally bootstrapped the business to avoid outside investors dictating the direction the company takes in the years to come (a feature we really love about Kinsta).
Their WordPress hosting plans are all specifically designed with WordPress website owners in mind.
Features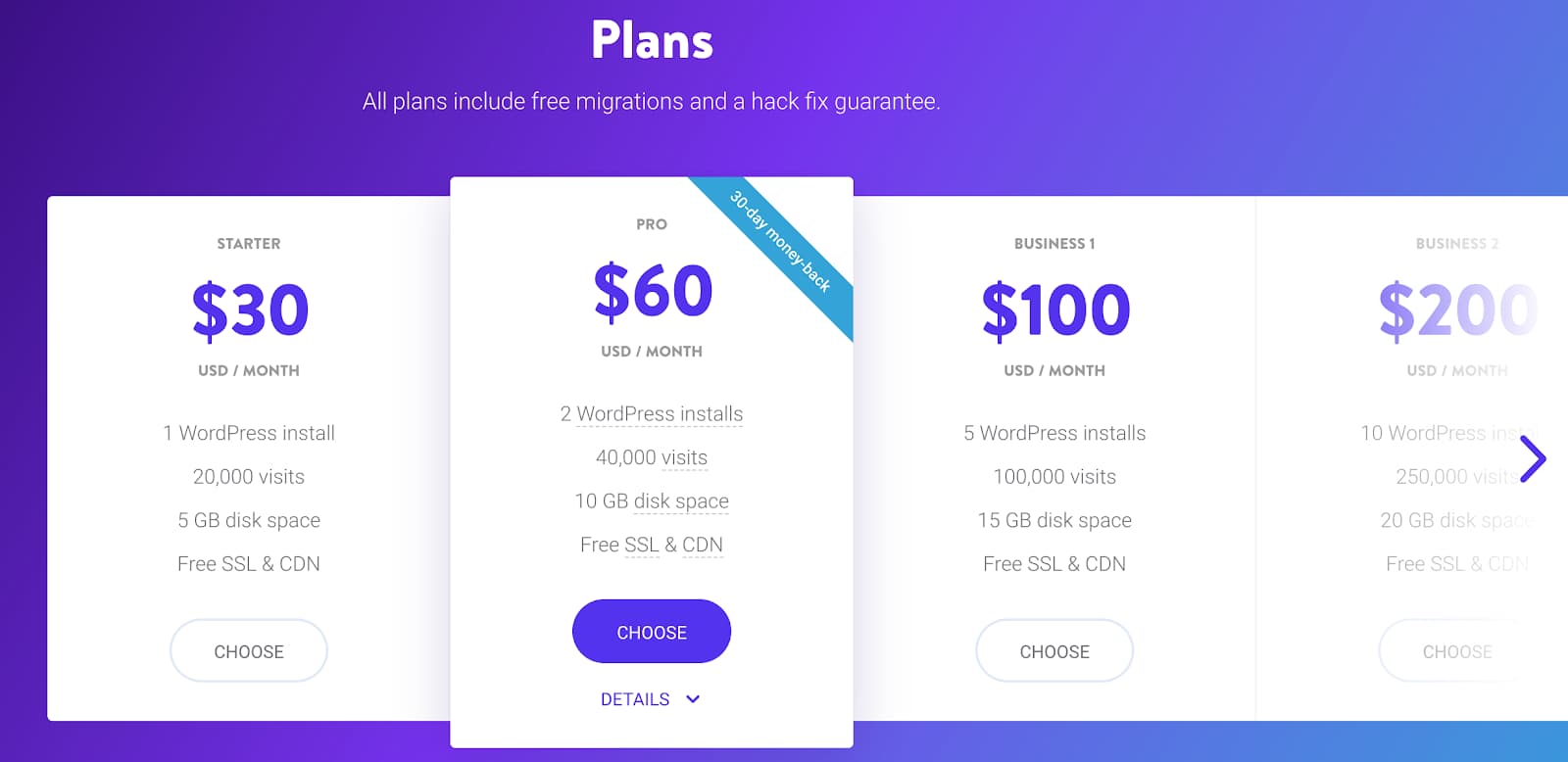 Kinsta offers ten (!!!) WordPress hosting plans to choose from. If one of their options doesn't fit your blog or business, they also offer custom plans as your website grows.
Their Starter plan includes a lot of amazing features:
1 WordPress Install
20,000 Monthly Visits
5GB SSD Storage
50 GB Free CDN
1 Free Premium Site Migration
Free Unlimited Basic Migrations from Other Hosts
Google Cloud Platform
20 Global Locations
Multisite Support
Automatic Daily Backups
Manual Backup Points
14-Day Backup Retention
Multi-user Environment
Staging Area
PHP 7 Support
Free SSL Certificates
Imported SSL Certificates
2 PHP Workers Per Site
SSH Access
White-labeled Cache Plugin
Their top-tier plan, Enterprise 4 includes the same features plus:
150 WordPress Installs
3,000,000 Monthly Visits
200 GB SSD Storage
1000 GB Free CDN
5 Free Premium Migrations
30-day Backup Retention
16 PHP Workers Per Site
Recommended for eCommerce/Membership Sites
Site Cloning
Performance
Kinsta third-party users have reported load times of 0.798 seconds and 2 seconds.
To keep their performance high, Kinsta uses four types of caching, their own built-in content delivery network, Ngnix, PHP 7.3, LXD software containers, and MariaDB. All of these features make their WordPress hosting plans some of the best in the market. And that's why I started my own blog with Kinsta powering my WordPress install.
Kinsta writes, "Year after year we've proven that our hosting platform (built from the ground up on top of Google Cloud Platform) is consistent, reliable and one of the fastest in the industry."
Uptime
99.9%-100% uptime
Customer Support
When it comes to their customer support, Kinsta writes, "At Kinsta support, WordPress knowledge is not an afterthought, it's our number one priority. Our team speaks WordPress fluently, has experience in troubleshooting, server maintenance, theme and plugin building, maintenance, contributing to WordPress core and more."
While Kinsta does not offer phone support, they do offer extremely responsive 24/7 online messaging. They believe that online messaging is faster and more efficient than phone support.
Cost
Their plans range from $30.00/mo up to $1,500.00/mo (or more) for massive websites. They also have a 30-day money-back guarantee.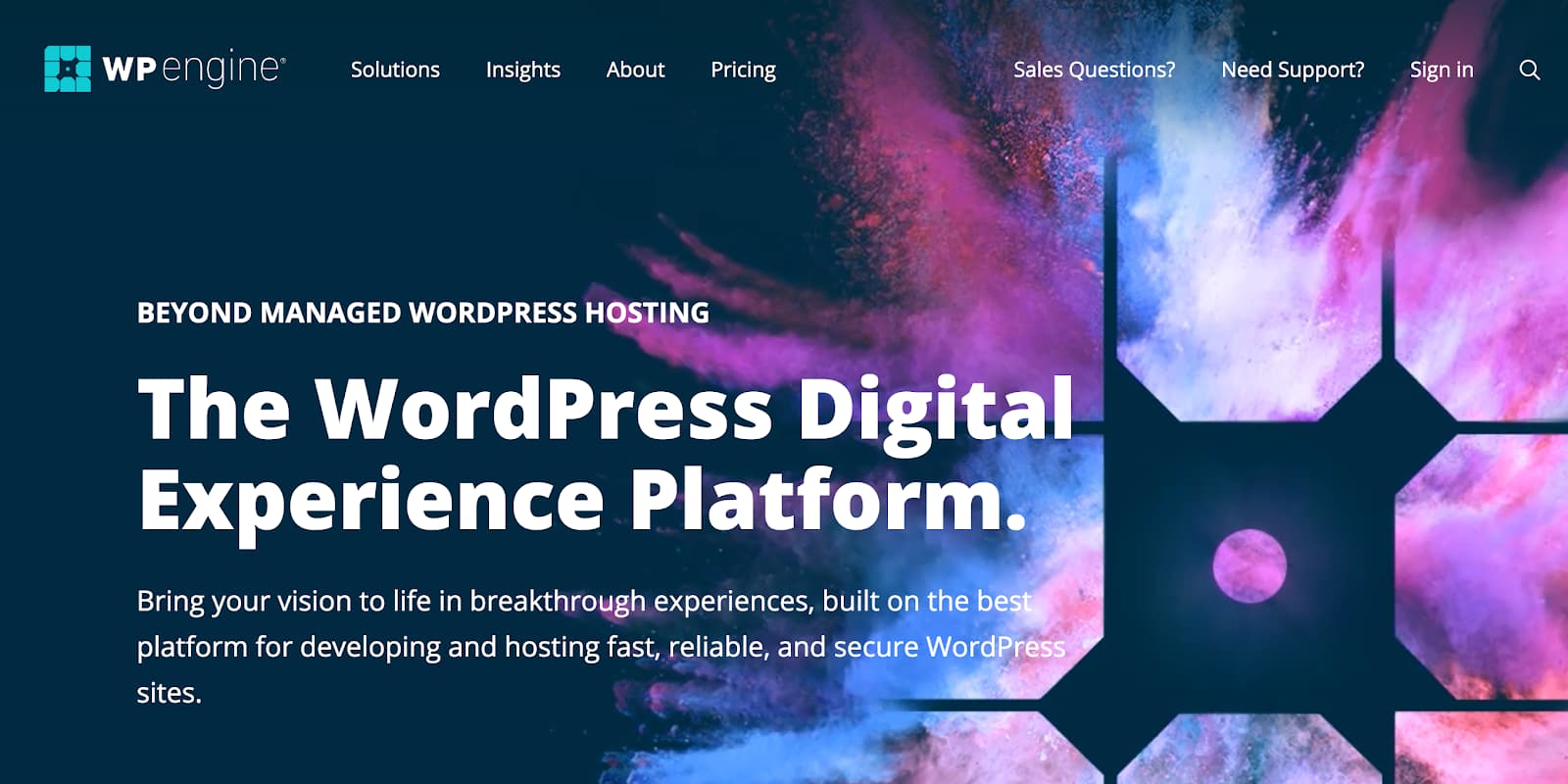 One of the first premium WordPress hosting plans to hit the scene was from WP Engine. They specialize in WordPress hosting, and has provided some of the best support in this space for years.
Their about page claims, "We're a new breed of technology company at the intersection of software innovation and service. Our platform provides brands the solutions they need to create remarkable sites and apps on WordPress that drive their business forward faster."
Features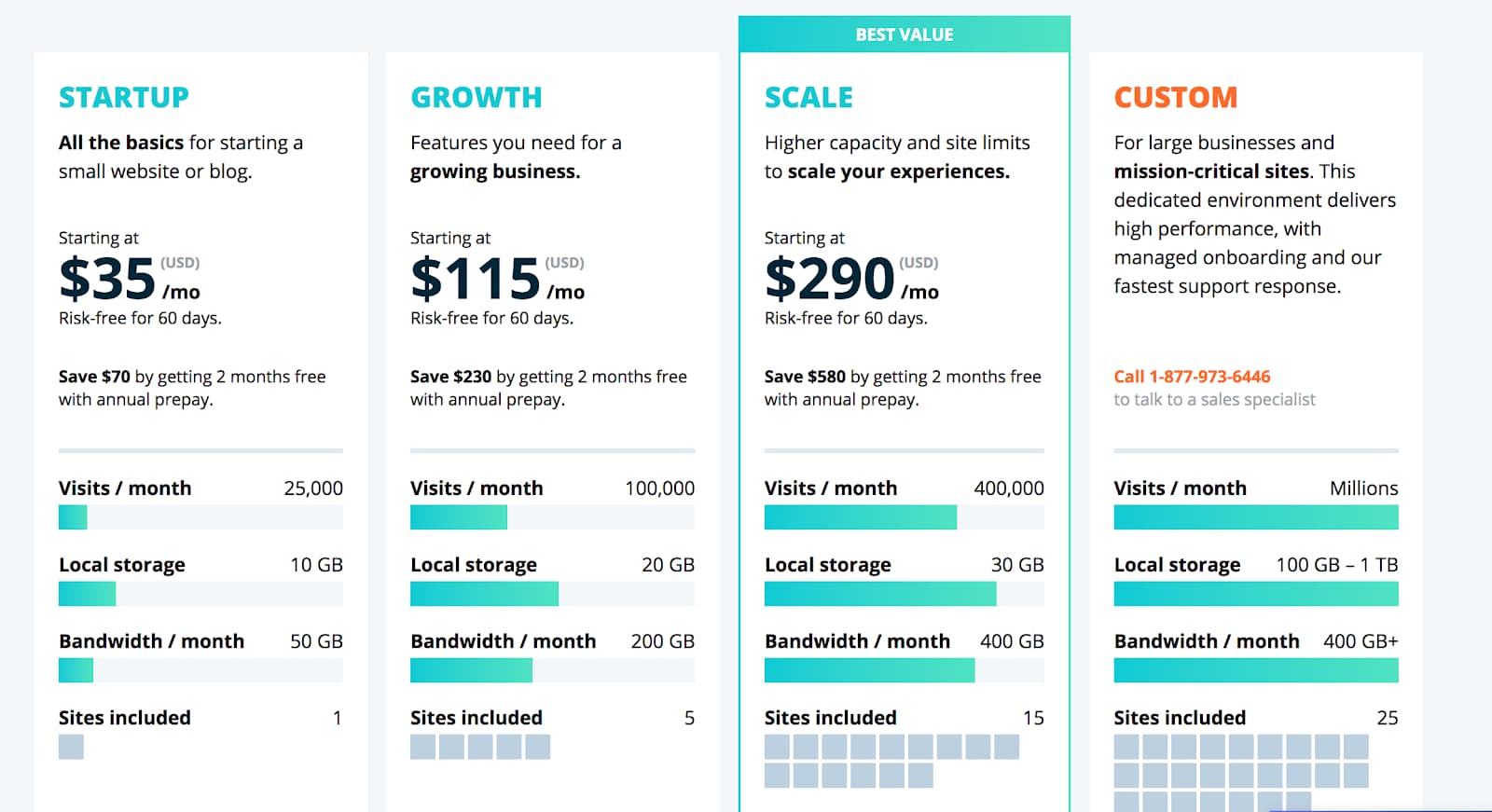 WP Engine offers three WordPress hosting plans, plus a custom option.
The Startup plan includes:
Genesis Framework
35+ StudioPress Themes
24/7 chat support
Dev, Stage, Prod Environments
Transferable Sites
PHP 7.3 ready
LargeFS
Global CDN
Page Performance
Automated SSL certificates
SSH Gateway
25,000 Monthly Visitors
10 GB Local Storage
50 GB Bandwidth a Month
1 Site Included
Their Scale plan offers many of the same features plus:
Millions of Monthly Visitors
100 GB – 1 TB Local Storage
400 GB+ Bandwidth a Month
25 Sites Included
Dev, Stage, Prod Environments
Imported SSL certificates
24/7 phone support
SSH Gateway
Other features included with WP Engine is premium WordPress themes and ecosystem integration with top names like Amazon, Google and BigCommerce—major pros for considering their WordPress hosting plans.
Performance
WP Engine uses CDN and MaxCDN to offer faster hosting. This is free with all hosting plans, and contributes to load times recorded consistently around 0.582 seconds.
Uptime
WP Engine comes in at 99.9% uptime. They also have an interesting article about the impossibility of achieving 100% uptime.
Customer Support
24/7 live chat support for all customers and 24/7 phone support for their plans above Startup.
Price
Their WordPress hosting plans range from $35.00/mo to $290/mo (or more). They offer 60 days risk-free.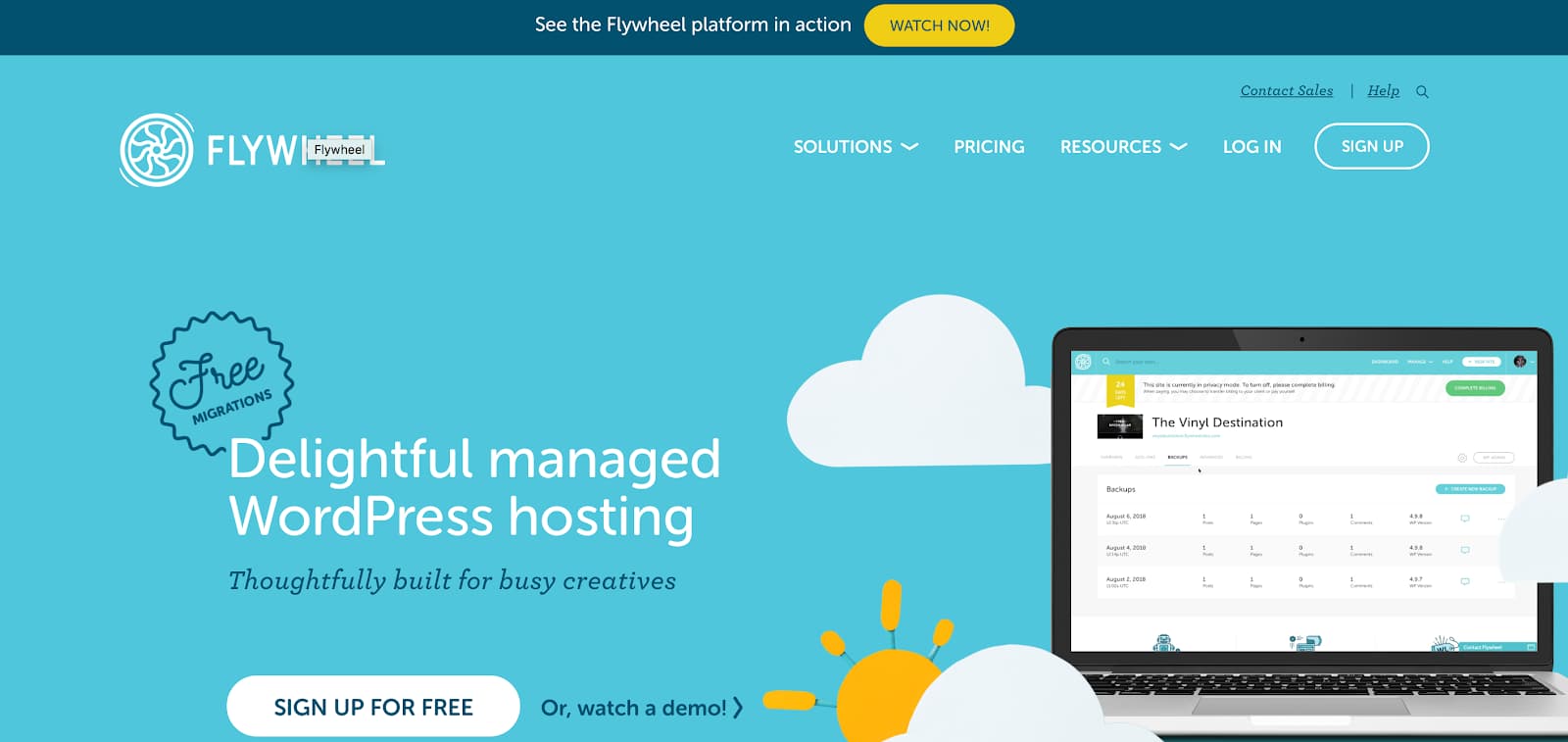 Flywheel is a newer WordPress hosting company that launched in 2012, but was recently acquired by WP Engine.
Their starting mission as a hosting company was to improve the lives of the millions of web designers and developers worldwide that build sites on WordPress. They're still working toward that goal, but now backed by the resources and team behind WP Engine.
Features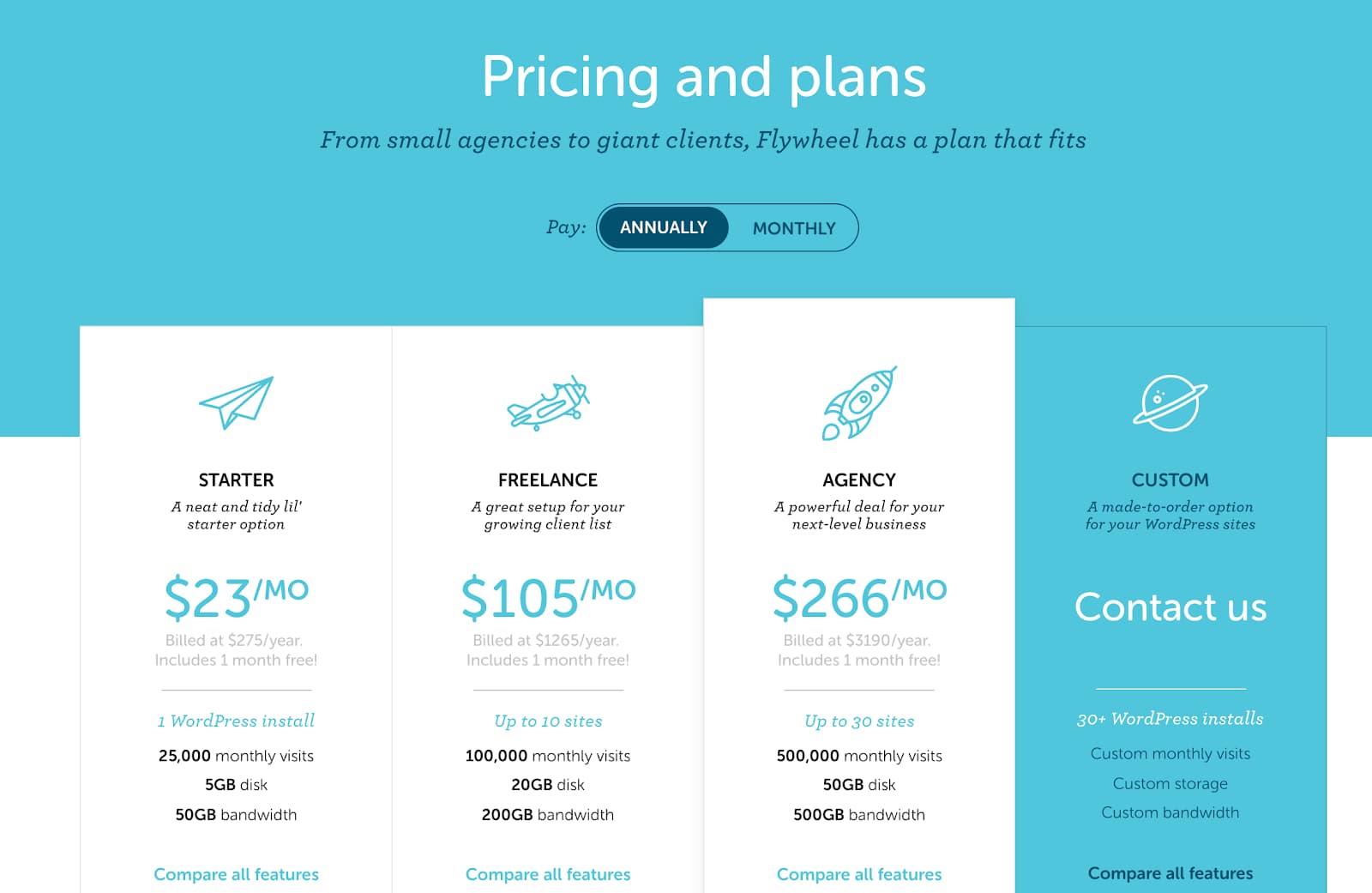 Flywheel offers three WordPress hosting plans, plus a custom plan.
Their Starter plan is packed full of features and includes:
1 Site
25,000 Monthly Visitors
5GB Storage
50GB Bandwidth
PHP 7.2
FlyCache
CDN (Powered by Fastly)
Simple SSL Certificates
Globalization
Auto-healing Technology
Free Demo Site
Blueprints
Local Development Environment
Staging Sites
Collaborators
All-in-one SFTP
Site Cloning
Free Migration
24/7 Chat Support
Their Agency plan includes many of the same features plus:
Up to 30 Sites
500,000 Monthly Visitors
50GB Storage
500GB Bandwidth
Multisite
Third-party SSL Certificates
Migration Dashboard
Phone Support
Dedicated Account Manager
More add-ons are available for additional fees. These include performance insights, plugin updates, security insights and a really cool upgrade called White Label for web developers that are reselling hosting and website maintenance to their clients.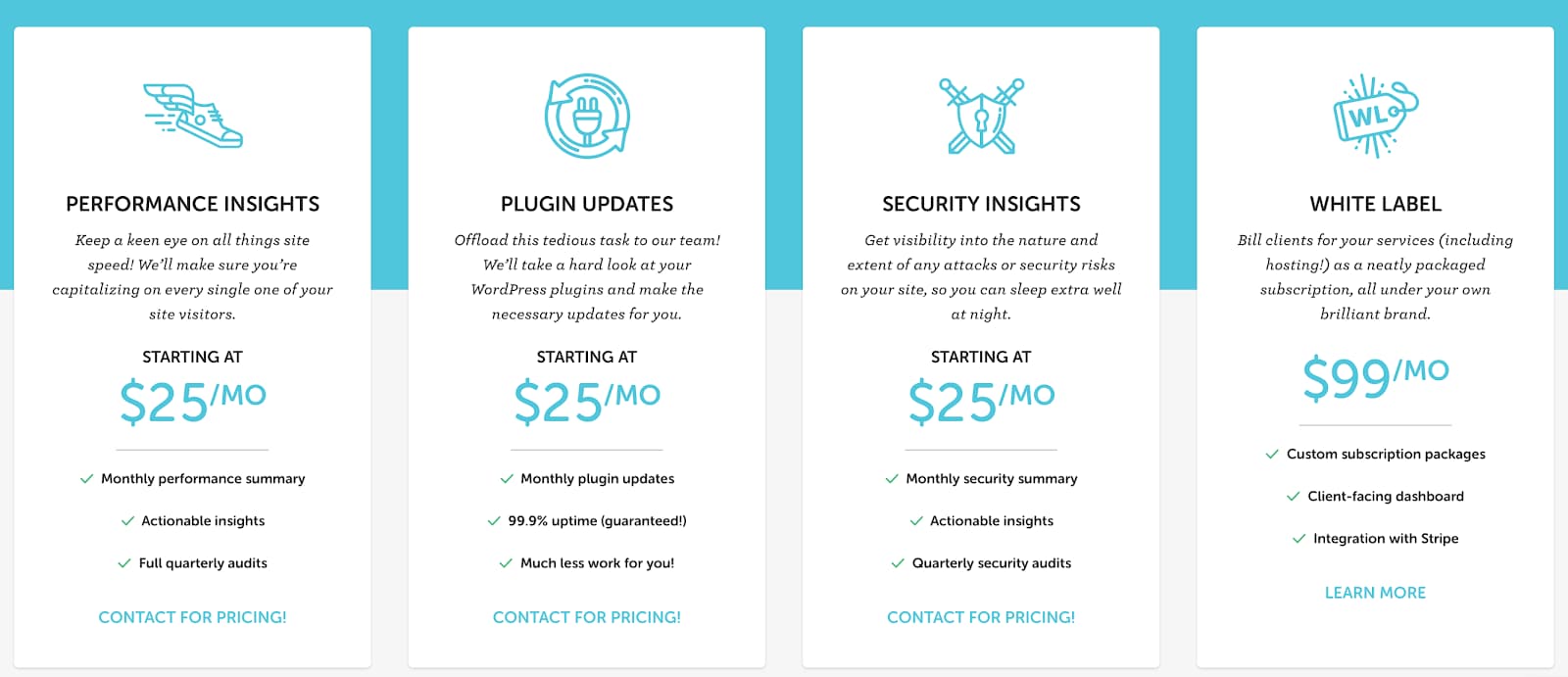 Performance
In various speed tests, Flywheel's load time was clocked at between 1.14 seconds and 2 seconds.
Uptime
99.7% – 99.9% uptime.
Customer Support
24/7 Chat and email support. Phone support is available for their higher-tier Agency and Custom plans only.
Price
Flywheel's plans start at $23.00/mo with one free month added. Their top plan is $266.00/mo (or more with add-ons). Their add-ons can range from $25.00/mo to $99.00/mo per add-on.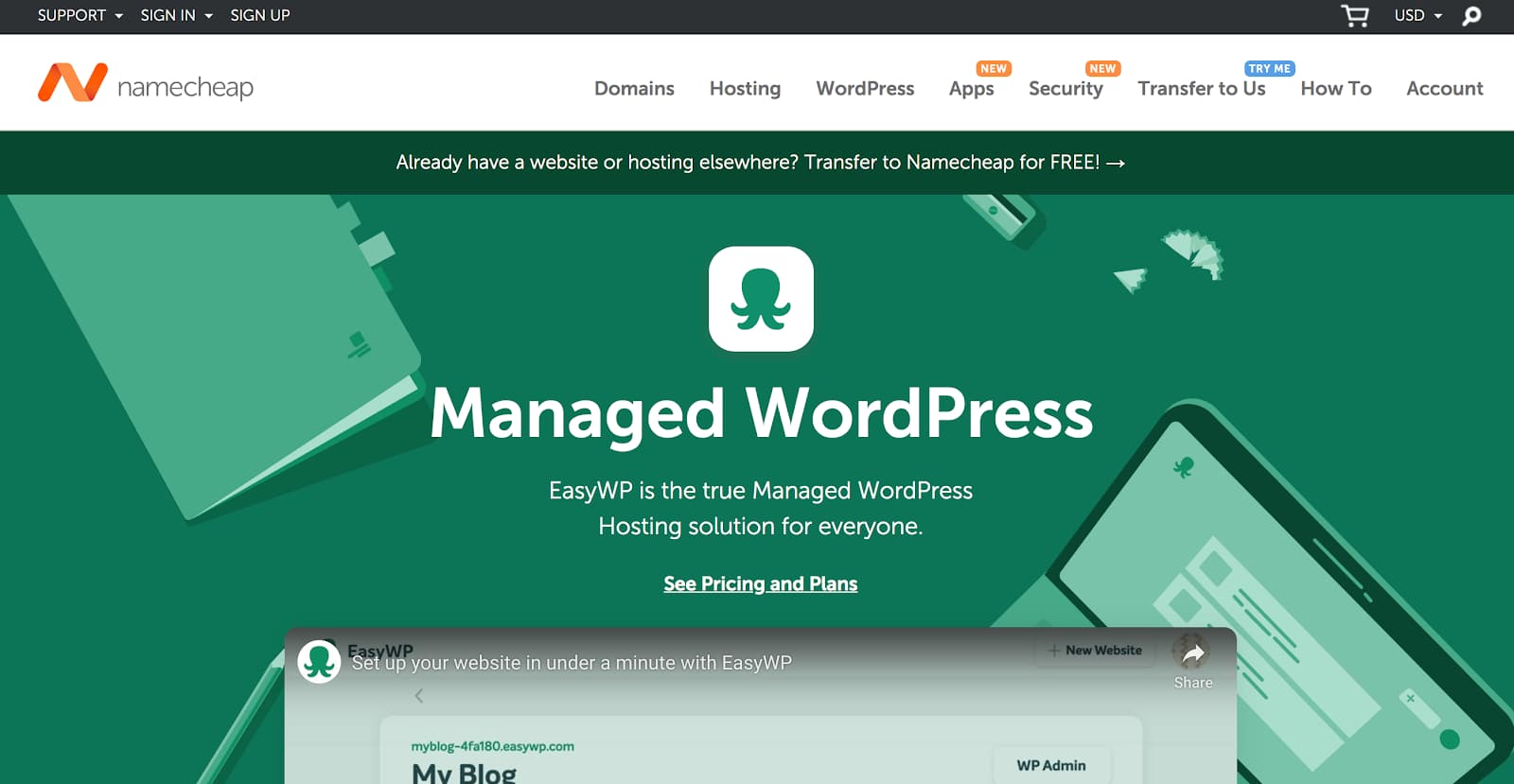 EasyWP is a WordPress hosting division of Namecheap, a massive domain name registrar. EasyWP is a managed hosting service that takes care of things like installing WordPress and controlling panel interfaces.
While this is a bonus for those who want an easy option, not being able to access the cPanel is a drawback for more technical folks.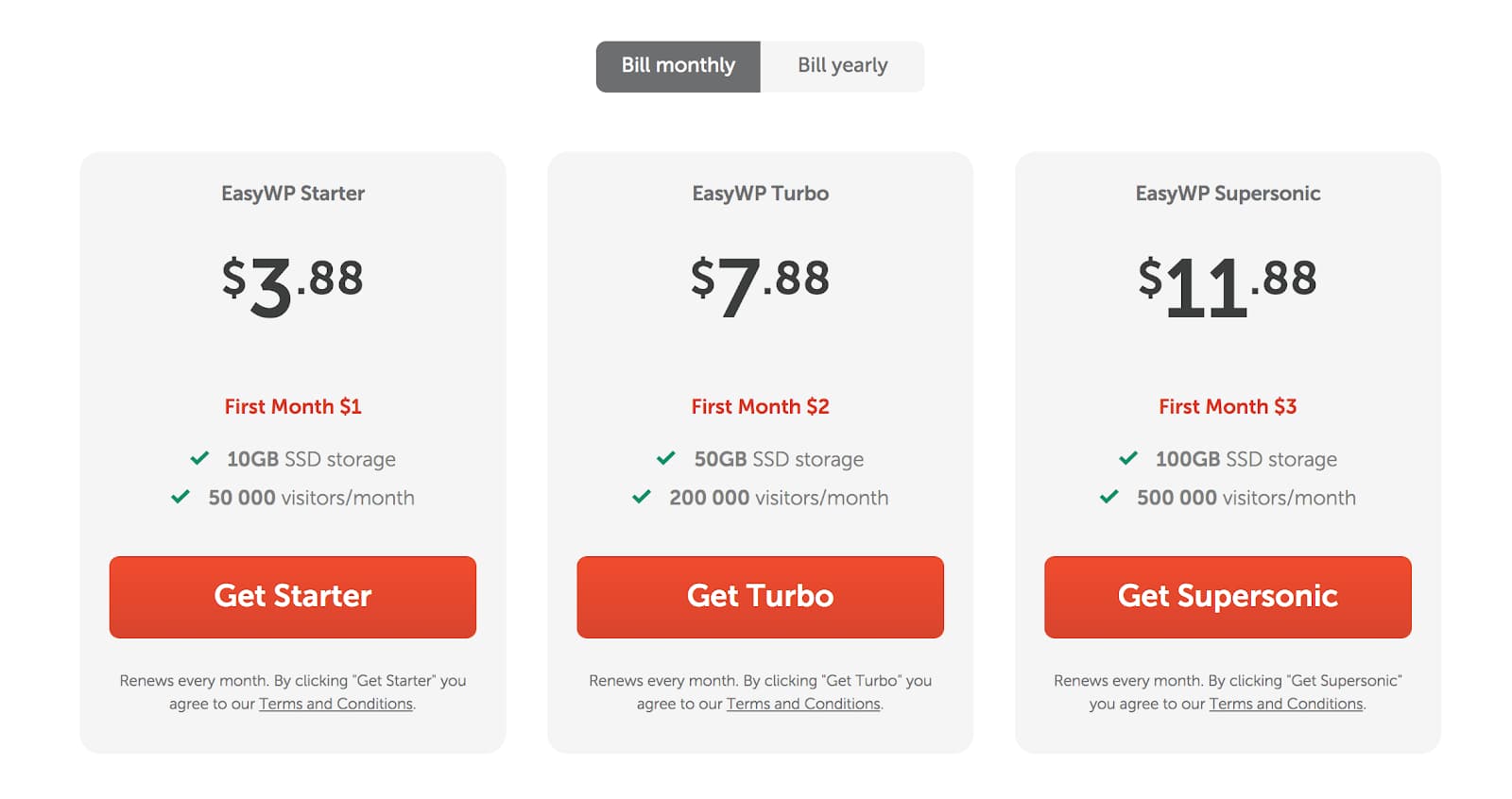 EasyWP offers three WordPress hosting plans that are very competitively priced.
The first is the EasyWP Starter, which includes:
10GB SSD Storage
50,000 Monthly Visitors
1x WordPress website installed and ready to go
Powered by Namecheap Cloud
Easy Backups and Restores
SFTP & Database Access
Temporary EasyWP free domain
Support for your Namecheap domains1
The EasyWP Supersonic plan includes many of the same features plus:
100GB SSD Storage
500,000 Monthly Visitors
Performance
Most third-party reports reveal that websites running on EasyWP have load times of about 1 second. Another thing to note though, is that EasyWP does not offer a CDN—meaning you'll need to choose a third-party WordPress plugin to supply your content delivery network.
Uptime
EasyWP claims a 99.9% uptime.
Customer Support
24/7 live chat through Namecheap. They also have a pretty useful knowledgebase.
Price
WPEasy's Starter plan costs $3.88/mo with the first month at only $1. The most expensive plan is $11.88/mo, and they offer the first month for only $3.
What's the Best WordPress Hosting Plan for You?
At the end of all these WordPress hosting reviews, you're probably wondering what's the best WordPress hosting plan for you.
Well the answer is… it depends.
Whether you're starting a blog, trying to grow an already flourishing website, or diversify an existing online business with new side projects, your hosting needs may be different. So choosing the right WordPress hosting plan… depends on your goals.
Lowest Cost: If price is your number one priority, a company like Bluehost or A2 hosting will give you the best WordPress hosting plans for your needs.
WordPress-Optimized: If you want a hosting company specifically designed for running extremely well on WordPress, then Kinsta will have the best WordPress hosting plans for you. They offer years of experience and teams dedicated to both hosting and growing WordPress websites, so you'll be in the best of hands.
Great All-Around Hosting: For a great all-around hosting company, I highly recommend Dreamhost. I've used them for many of my own websites over the years and I've had excellent results. They offer affordable plans and their WordPress hosting is extremely reliable. One of the more appealing aspects about them, is they work for both brand new bloggers and more experienced website owners.
Recommended by WordPress: Another way to choose your best WordPress hosting plan, is to rely on the recommendations of WordPress themselves. In this case, there are three options available. SiteGround, Dreamhost and Bluehost are the only companies that are WordPress-endorsed. In regards to these companies, WordPress writes, "We've dealt with more hosts than you can imagine; in our opinion, these hosts represent some of the best and brightest of the hosting world."
Environmentally Conscious: For those that are environmentally-conscious, a company like GreenGeeks may appeal most to you. Their claim to produce 3x the energy they consume, is very appealing to some. Plus they perform well in speed tests, are priced pretty competitively and offer many customer support channels.
And… that's it!
Who will you choose to host your WordPress website? 🙂