It's unofficially official. You need a blog—and because you've heard so much about the popular CMS, you're here to learn how to start a WordPress blog as quickly (and easily) as possible.
Blogging has evolved so much in the past few decades, that it's no longer just an online journaling activity. Blogging has become a great way to share knowledge, meet like minded people and (most importantly), make what can grow into a substantial online income source.
And that's where learning how to start a WordPress blog really comes into play—because WordPress is hands down the best and most flexible to start a blog on.
---
Why Should You Start a WordPress Blog?
With the meteoric growth of the Internet and how digital marketing is taking over the online world, blogging has become an essential part of the digital age. From colossal corporations to humble hobbyists, blogging has been instrumental in helping millions to realize their dreams. And it can help you too.
Let me give you a few more reasons why you should seriously consider starting a WordPress blog:
Establish Your Online Brand: One of the biggest reasons to start a WordPress blog is that it helps you establish an online presence. Branding is a big success factor, whether you're blogging as a hobby or as a means to generate income. Creating valuable content your target audience loves will bolster your online presence and brand as you will be viewed as an authority in your niche.
Inspire and Educate: If there's one thing people will always be looking for, it's information that can inspire them or help them achieve a certain goal. Starting a blog is one of the easiest ways you can help meet this need for knowledge. By sharing your wealth of knowledge and experience, you'll grow a loyal tribe of followers that can help you achieve your business or personal goals.
Generate Income: If run well, a blog is a great way to generate revenue. That's because many people who visit your blog are not just visitors, they're leads looking to invest in a solution you provide.
Showcase Your Skills and Talent: Particularly if you're a small business or freelancer, starting a blog is a great way to show potential clients what you can do. Whether it's hosting your portfolio or creating content around the products or services you offer, a blog is a great way to demonstrate your capabilities.
The next obvious question is…
---
Why Choose WordPress to Start Your Blog on?
Just to note before starting we'll be talking about the self-hosted version of WordPress that's open source. There is also WordPress.com that offers a limited version of WordPress that we don't recommend unless you are casually blogging.
Now that you have a foundational understanding of what's to gain by starting a WordPress blog, you're probably wondering why so many people recommend WordPress (in particular) as the platform to go with… right?

Here are just a few of the top reasons why you should start a WordPress blog, as opposed to using another content management system (CMS) to power your site.
WordPress is 100% Free: One of the biggest advantages of going the WordPress route is that it's a 100% free CMS, you'll just need to pay for the WordPress hosting plan you choose to use (starting at around $2.95/mo). All you need do is download WordPress and you're free to modify it to make your website look the way you want it to. In fact, it's so free its open source—meaning anyone can make their own improvements on the core software.
Extremely Easy to Use: Another reason you should consider starting your blog on WordPress is that it's user-friendly. You don't need any coding knowledge or advanced technical skills to build a professional-looking website on the platform. Besides designing and building your website, WordPress also makes it easy for you to manage your blog as it comes with a built-in updates management system.
WordPress Can Easily Handle Different Content Types: To make your blog more engaging, you'll need to add different types of media in your content. These can be videos, images, GIFs, and many more. WordPress handles them all efficiently, ensuring that your blog posts look as good as they read.
Safe and Secure: When it comes to keeping your blog secure from malicious attacks, WordPress is built with security in mind. And if you want to beef up your website's security, there are a gazillion security plugins you can install.
Easy to Scale: If you play your cards right, growth becomes inevitable on your blogging journey. And as your website grows, you may need to add new features. This is where WordPress comes into its element. With a huge community of developers, it's easy to get a plugin that can help you scale your website in any way you want.
WordPress is SEO Friendly: Starting a WordPress blog is only half the journey. You'll also need to drive traffic to your blog. With WordPress, this is easier as the platform was designed with search engine optimization in mind. For example, WordPress helps you create title tags and meta descriptions that help make your content more discoverable.
WordPress is One of the Best Blogging Platforms: If numbers are anything to go by, WordPress definitely stands head and shoulders above most CMSs on the market. Take for example the fact that 14.7% of the top 100 websites (including CNN, PlayStation and the NFL) run on WordPress. This, and other WordPress statistics, are a clear indicator that you can't go wrong with WordPress.
Now that you know why you should start a blog using WordPress as your platform of choice, let's dive into our step-by-step guide on how to start a WordPress blog.
You'll be surprised at how easy the process is!
---
How to Start a WordPress Blog in 6 Easy Steps
Let's dive in and walk through our step-by-step beginners guide to starting a WordPress blog (the right way), so that you'll be well-positioned to grow your new blog.
And to help with this tutorial, we made an easy-to-follow video walkthrough that details all of the basics in under 15 minutes:
If you want to follow along with our detailed written guide instead, then keep reading!
---
1. Decide on a Niche for Your WordPress Blog
One mistake new bloggers make is starting a blog without a topic in mind.
The first step to starting a WordPress blog is to pick a clear niche you'll be blogging about. A niche simply means an area you want to specialize in. Whether it's a hobby or your profession both make a great niche selection for a blog.
One simple way of deciding on a niche, is to pick one that lies at the intersection of your own interests and existing skills.
Well, it gets more complicated if your end goal is to generate revenue from your WordPress blog. If that's the case, you'll need to carefully choose a niche that:
You find interesting
Are knowledgeable about
Other people find interesting too
The first 2 are a matter of simple introspection. Finding a topic that other people find interesting, however, calls for a bit of research. The best 2 ways to conduct your research are:
Keyword research tools. Use a keyword research tool to find popular search queries related to your niche. If they have a good volume of traffic, it's a good niche. On the other hand, if traffic is low, monetizing the niche will be next to impossible (unless of course, it's a specialized niche).
Answer the Public. Answer the Public is a keyword research platform that shows questions most asked on a particular topic on the web. Common questions asked are a sign that the topic is good to blog about and has the potential to be monetized somehow.
As long as a niche or topic draws a decent amount of traffic, it's worth pursuing.
So, sit down and take stock of your knowledge, skills or even a topic you're passionate enough to be willing to learn about. If they're popular enough, then you've found yourself a good niche to start a WordPress blog in.
---
2. Getting Your WordPress Blog Online
Once you've settled on a niche, it's time to get technical – getting your WordPress blog online. Don't worry though, this is easier than you may think.
We'll walk you through getting a domain name, hosting account, theme, and WordPress plugins.
First you'll need a domain name to get your blog online.
Register a Domain Name for Your WordPress Blog
Your domain name is the name you want to call your WordPress blog. It also serves as your address on the internet. For example, this blog's domain name is smartwp.com.
A good domain name helps:
Make your blog easy to remember
Improve your SEO
Which means choosing a domain name is a crucial step that mustn't be taken lightly. And that's why we came up with our domain name generator.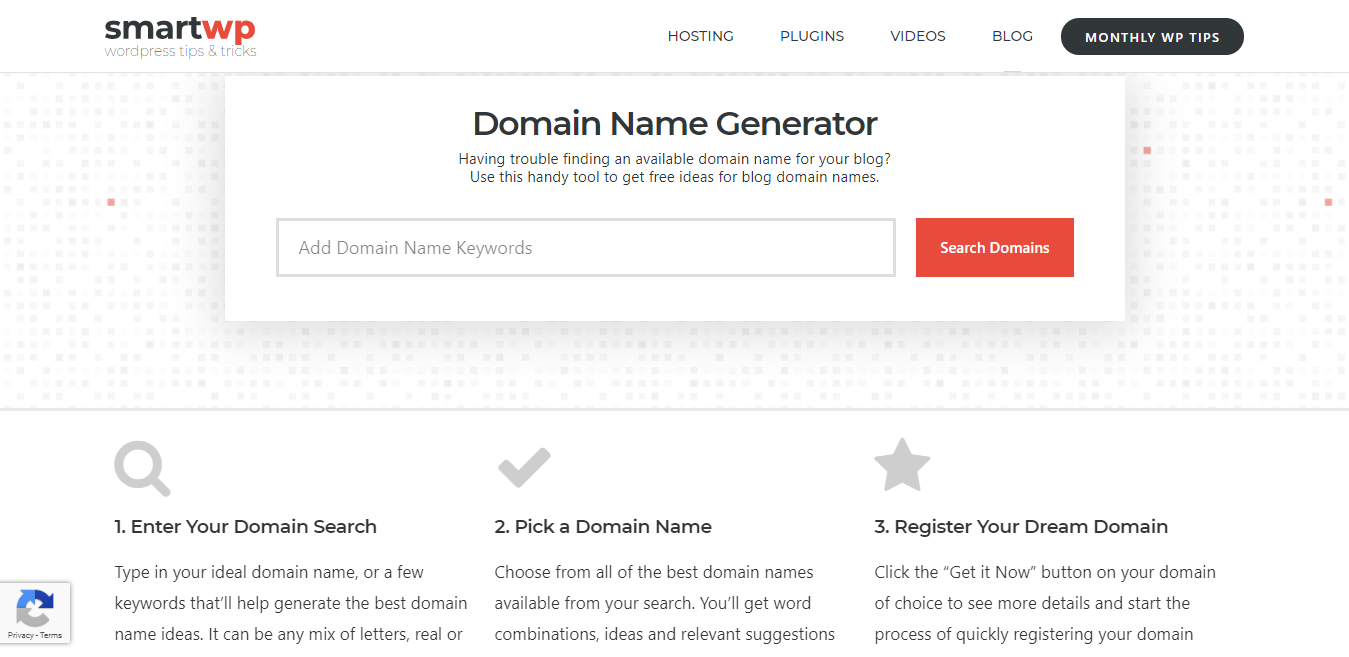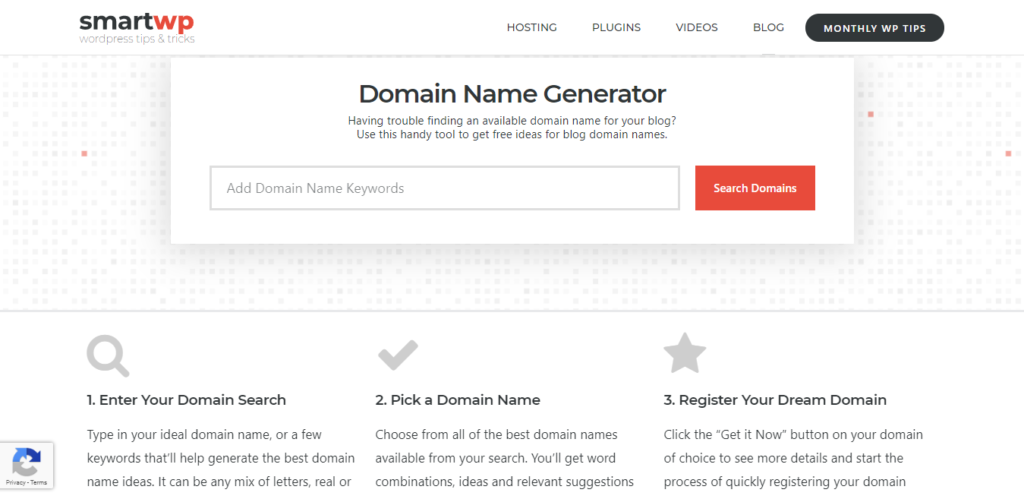 This is a tool we built in-house to help you generate domain name ideas—and also check if a particular domain name is available (so that your hopes aren't let down after clicking through to try and register your dream domain name).
Get Fast, Reliable and Affordable WordPress Hosting
Web hosting is a service that stores your blog on servers, making it accessible on the Internet. A web host keeps all your blog's files on their servers so that when an internet user wants to view it, all they have to do is type your domain name in the browser. Your web pages will then be displayed on their computer.
Hosting is a very important factor to consider when you're learning how to start a WordPress blog. That's why it pays dividends to do your homework and get the best WordPress web hosting for your needs (when it comes to features and budget). Generally through, you're looking for a WordPress hosting company that that prioritizes:
Security
Speed
Scalability
Customer Service
So what's the best web hosting solution for you?
While there are many WordPress-optimized hosting platforms available, not all of them are designed the same. That's why you need to make sure you settle for a hosting platform that has a proven track record of powering WordPress websites. That's why we strongly recommend Bluehost. Not only does the company have a solid track record (since 2003) but is also trusted by over 2 million websites.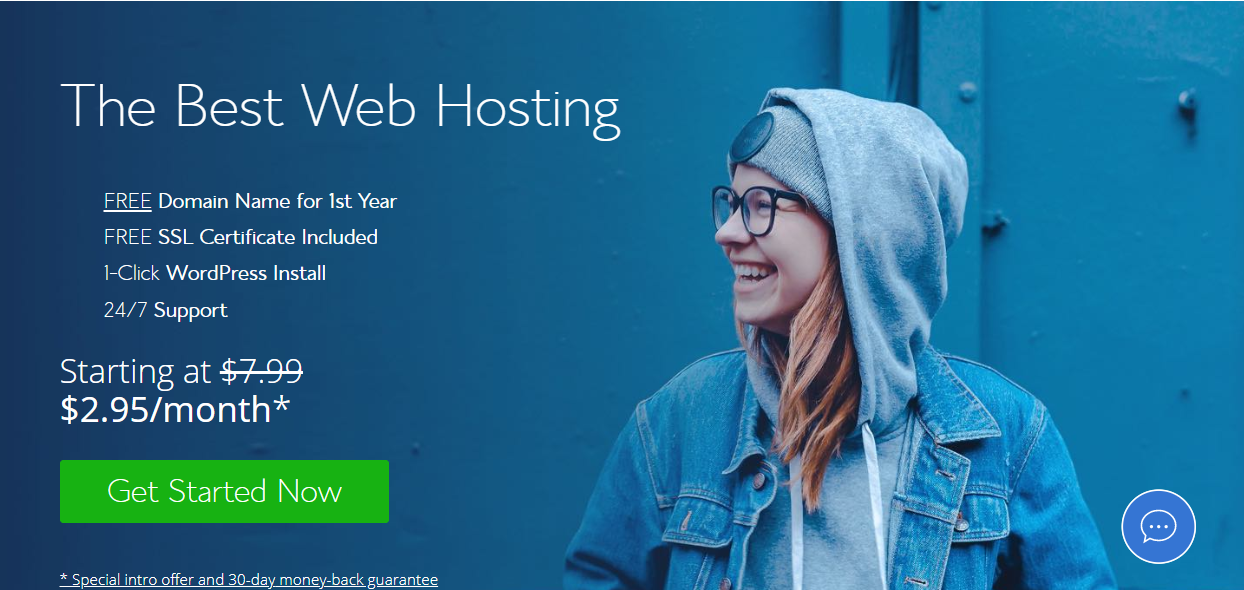 Alternatively, you can also check out Dreamhost. They also offer exceptional WordPress hosting services at very affordable prices. Both hosting companies throw in a free domain name for the first year, making their plans a good steal.
Developer? If you're a developer I'd recommend setting up your site with SpinupWP and DigitalOcean. SpinupWP will setup your server with the best practices and allow you to manage your WordPress site.
---
3. Install WordPress and Design Your Blog
The next step in starting your WordPress blog is to install WordPress. This is where you'll appreciate Bluehost's hosting as it comes with a 1-click WordPress install function. All you have to do is:
Log in to your Bluehost cPanel account
Scroll to the "Website" section and select Install WordPress
Choose the domain name to install it to
Read through the license and service agreements (don't forget to check the boxes)
Click the "Install Now" button
It's that simple!
However, your blog is not ready yet. You still need to configure a few settings before you can start publishing your blog posts.
Adjust Your General Settings
Now that you have a WordPress site you can login to the WordPress dashboard. The WordPress dashboard is how you will edit your blog.
Your WordPress blog will come with some default settings you'll definitely want to change.
Delete demo content: This includes demo pages and posts.
Site title and tag-line: These make up part of your blog's identity and must be customized.
Permalink settings: This changes the way your URL appears in browsers and helps with SEO. We recommend using the default permalink setting that just uses the post name.
To do this log in to your WordPress admin page (go to www.yourdomainname.com/wp-admin). Check out this video for a step-by-step walk-through.
With these few minor tweaks out of the way, you can now get to the more interesting stuff – designing your blog.
Choose the Right WordPress Theme
A WordPress theme will determine how your blog will look. To a certain extent, the theme you choose can also have a bearing on how your blog functions. The good news is that WordPress is such a popular CMS that many developers have created thousands of free WordPress themes you can choose from.
To choose a theme for your WordPress blog simply head to Appearance / Themes / Add New to add a new theme to your site.

Go to Appearance and select "Themes"
Click the "Add New" button
If you know the Theme you want, you can search for it using the search function, otherwise
Use the Feature Filter to narrow done the selection to include only the Themes you'd be interested in
To see a Theme's properties, click on "Preview"
When you find a Theme you like, click the "Install" button
Once it's installed, click on the "Activate" button
Some of our favorite free themes include:
After installing a theme you can modify it by clicking on the "Customize" button.
Improve Your Blog's Functionality with the Best WordPress Plugins
WordPress plugins are pieces of software that enhance the functionality of your blog. You can use plugins to do anything from add social sharing buttons to turning your blog into an e-commerce store.
While it may be tempting to turn your WordPress blog into a Swiss army knife of a website with hundreds of plugins, that will do more harm to your blog than good. Installing too many plugins can have a negative impact on your blog. So make sure to only those you need.
How do you install a plugin on your WordPress blog?

The process is simple and similar to installing a theme. On your WordPress admin page:
Go to plugins and click on "Add New"
Search for the plugin you want and click on "Install Now"
Once installed, click "Activate"
So what kind of plugins should you install on your blog?
For a detailed look at the WordPress plugins we recommend, check out this post.
Some quick free WordPress plugin recommendations:
WordPress.org has plenty of free plugins to extend the functionality of your site.
---
4. Writing Your First Blog Post (3 Things You Need to Learn)
Now that you've cleared the technical stuff out of the way, it's time to get to the fun stuff—content creation and running your blog. Since your blog's main purpose is to share valuable information, let's dive into what it takes to write a blog post your readers (and search engines) will love.
How to Come up with Successful Blog Post Ideas
One of the biggest challenges bloggers, particularly newbies, have is coming up with relevant topics to write on. However, once you've figured out your niche, coming up with blog post ideas becomes easier. You can also use a tool like my free blog idea generator to instantly come up with dozens of smart blogging ideas.
Now, how do you make sure you have enough content to publish regularly?
Create a content calendar.

A content calendar is simply a schedule of blogs posts to write and when to write them. Here's how to create a content calendar in a few simple steps:
Conduct Keyword Research
Keyword research involves identifying popular words or phrases people input in search engines when searching for something. To do this, use keyword research tools like Free Keyword Research Tool, SEMrush, Ahrefs, or Surfer SEO.
When conducting your keyword research, make sure to look out for 3 very important factors that can affect the performance of your content:
Search volume. How many people are searching for this term? In most cases, the higher the search volume, the better.
Keyword difficulty. This is a metric that measures how difficult it is to rank for that particular keyword.
Relevance. Is the keyword relevant to the vision, purpose, and goal of your blog?
Use these 3 factors to come up with high-volume low competition keywords that are relevant to your blog.
Brainstorm Topic Ideas
Once you have your keywords, use them to brainstorm topic ideas. A valuable tool at this stage is Buzzsumo. This content research tool helps you see the content that's performing well on your proposed topic. All you have to do is input your keyword in the search bar and it will show you what other blogs have written on that topic and how their content is performing. Take a cue from the top performing headlines to see what kind of content your audience wants.
Once you know the kind of content your audience is looking for, use tools like the CoSchedule Headline Analyzer or AMI Headline Analyzer to come up with click-worthy headlines for each of your keywords.
Compiling Your Ideas and Taking Action
Finally, now that you have your keywords and topic ideas, you can put it all together in a spreadsheet. Create a schedule that will:
Determine when a blog post will be published
Who's responsible for writing it
And there you have it—a basic content calendar that will ensure that you always have content to create and publish.
Know How to Format a Blog Post
Writing a blog post is only part of the content creation process. You also need to know how to format a blog post properly. The reason for this is that people usually don't read your blog posts in entirety – yes, even after you've slaved to produce an epic piece of content. Ouch!
So what do people do?
They scan through your content. That's why you need to write blog posts that are easy to scan. Here's how:
Use subheads (H1, H2, H3, etc) to break up your content as well as establish content hierarchy
Write short sentences and paragraphs
Use easy-to-read language
Break up text with bullet points or numbered lists
Use fonts that are easy on the eyes
Give your readers some eye candy – use images to inform and entertain
Not only will formatting your blog posts properly make them more engaging, but it also helps search engines understand what your content is about. This in turn helps improve your ranking.
Need help brainstorming blog post ideas? try blog post tile generator.
Do Competitor Research
Competitor research is an integral part of creating blog posts. That's because knowing your audience is not enough to help you create content that performs well. You also need to know what kind of content your competitors are producing and the general blogging terrain you're stepping into. This will help you:
Understand the kind of content that readers engage with
Identify "content gaps" that you can fill
Avoid content that doesn't perform well
Identify collaboration (and backlink) opportunities
Your competitors can provide you with a wealth of knowledge you can use to create unique actionable content that will help drive traffic and grow your blog.
Which brings us to our next section…
5. Growing Your WordPress Blog
If you've come this far, you've gone further than most people who have ever considered starting a WordPress blog. That's because many people don't understand that blogging is hard work. They publish a blog post or two, realize that nobody is reading their WordPress blog yet… and just give up.
You must be strategic and deliberate in your efforts if you want to grow your blog. Let's quickly take a look at a few strategies you can employ to grow your blog:
Optimize Your Blog for SEO
One of the biggest factors that influence the growth of your blog is search engine optimization (SEO). Don't worry, SEO is not as daunting as it's made to be – especially for a WordPress blog. All you have to do is follow a few simple best practices that include (but not limited to):
Use Your Keywords Wisely
Place your keywords strategically in your blog post. This includes in the headline, subheads and in your content. Make sure not to keyword stuff as search engines frown on keyword stuffing. Instead, make sure to have an exact keyword density of 3% or lower. Also, make sure to use LSI keywords, or words and phrases that correlate to your main keyword.
Optimize Your Metadata
In SEO, metadata refers to the information that appears on search engine result pages (SERPs) when a website comes up for a certain query. This includes the title and meta description. Optimize these by:
Including your keyword as close to the beginning as possible
Ensure the meta description meets user intent by being as descriptive as possible
Keep your title tag within 60 characters and your meta description within 160 characters
Your metadata also helps increase the clickthrough rates to your blog posts – if optimized well, that is.
Make Sure Your Blog is Mobile-friendly
We are living in a time when most digital media is consumed on mobile devices. As such, search engines now rank websites that are mobile responsive higher than those that are not. This has become even more important as Google has announced that page experience will also be one of the ranking factors they'll be using to rank websites.
Build Internal Links
Internal linking, the practice of linking to blog posts on your own blog, is another great way to boost your SEO. a good internal linking strategy:
Helps search spiders navigate (crawl) your site
Increases the time readers spend on your site
Both factors are important in improving your SEO as well as providing users with a great experience on your blog.
Work Hard to Acquire (Natural) External Backlinks
Unlike internal links, backlinks means attracting other websites and blogs to link to yours. 2 of the easiest ways to do this include:
Create link-worthy content. This is content that provides so much value other blogs will want to cite it.
Guest post. This means creating content that you publish on other blogs.
Backlinks have been one of the biggest ranking factors search engines use and should thus be an integral part of your SEO strategy (an easy way to do this is by guest posting).
Improve Your Blog's Page Load Speed
Another ranking factor you need to be mindful of is your website's load speed. Websites that load slow (taking more than 3 seconds to load) are penalized by Google, leading them to be displayed lower than those that load fast. To ensure your blog loads fast:
Use a fast web host
Install a plugin that helps speed up your website
Uninstall themes and plugins that slow down your website
Enable browser caching
A fast-loading website also provides a good user experience and reduces your bounce rates. So make it a priority to build a WordPress blog that loads fast.
Optimize Your Images
Images and other visual media play a big role in keeping readers engaged. But used wrongly, they can negatively impact your SEO – especially if your image files are large, they can slow down your load speed. This means you must always favor visual media that is "light" and doesn't take long to load.
Another image optimization tip is to add keyword optimized alt tags to your image files.
With your SEO in place, it will become easier for your blog to show up higher in the SERPs for queries you're ranking for. Of course, this means greater visibility, more traffic, and increased chances of generating revenue from your blog.
Promoting Your WordPress Blog
SEO is only one aspect of growing your blog. Another way to ensure healthy growth involves promoting your content. After all, pressing the publish button is no guarantee that the right people will see your content. You have to actively ensure that you draw eyeballs to your content. Here are a few content promotion strategies you can use to do this:
With over 3 billion people actively on social media, promoting your blog posts on social media is a no brainer.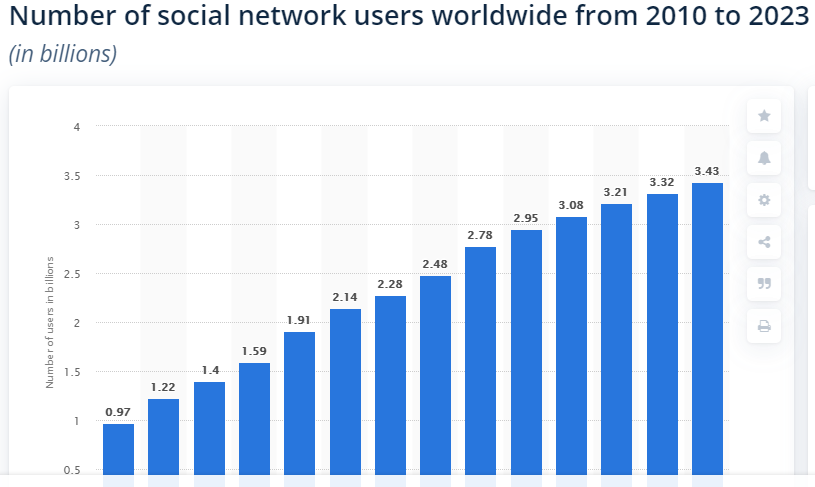 Share your blog posts with your social media followers and encourage them to share with their network as well. Social is a channel that Ryan will be using to more actively promote his food blog, VeganTable, so stay tuned for updates on how his campaigns are going this year.
Send Your Blog Posts to Your Email List
Another great way to promote your blog posts is to build an email list that you can send your latest.
Your email subscribers can also help promote your blog posts by sharing them with their family and friends.
Pay to Play
In previous years, you could get along just fine by organically promoting your content. However, the landscape has changed. And that's mainly due to the content marketing platforms (search engines and social media platforms, for example), changing.
With sponsored content being promoted more than organic content, it has become necessary to "pay to play" in order to get more eyeballs on your content. To do this you can:
Increase your visibility and reach on social media through sponsored posts
Most paid promotion strategies are actually affordable, making pay to play a viable model to help grow your blog.
Write Guest Posts
Guest posting on other websites or platforms like Medium and Quora is a great way to extend your blog's reach. For this strategy to work:
Target sites authoritative sites with high traffic
Create amazing content that will make people want to know more about you
Reach out to sites frequented by your target audience
A good guest posting strategy is one of the best ways to drive targeted and relevant traffic to your website.
Syndicate Your Blog Posts
Content syndication means republishing your blog posts on other websites so as to tap into their audience. This is a great way of not only reaching new readers, but executed well, can also result in your posts getting quality backlinks. Unlike guest posting where your post is only live on one website, content syndication allows your repurposed content to be promoted on many sites. You can even take a more public relations-oriented approach and get into a rhythm of writing a press release about big new content initiatives to send around to publications in your niche (and hope to get coverage).
While promoting your blog posts may sound like a lot of work, it's definitely worth it in the end. Particularly if you intend on monetizing your blog, driving traffic to your blog is something you just have to invest time (and resources) in. Check out some of the other ways Ryan has worked to grow his blog audience over the years.
And speaking of monetizing your blog, let's talk about that, shall we?
---
6. Monetize Your WordPress Blog (5 Ways to Make Money from Your WordPress Blog)
Blogging is a great way of creating a revenue stream for yourself. But how can you turn your humble blog into a money making machine?
1. Package Your Skills into a Service Offering
One of the easiest (and best) ways of monetizing your blog is to package your knowledge, skills, and experiences into a service offering. This can be anything from:
Consulting
Selling your skills (like writing, graphic design, bookkeeping, etc)
To pull this off, you'll need to ensure that your main pages (Homepage, About, Contact, Services) are well designed as they are your sales pages. You'll also have to polish your pitch so that it's compelling enough to encourage prospects to hire you.
2. Affiliate Marketing
Affiliate marketing means selling products that have been created by others to your audience. This involves getting an affiliate link (with a tag for tracking) that you promote in your content. When your readers purchase a product through your link, you earn a commission. Of course, for this business model to work, you must have a decent amount of traffic. The Amazon affiliate program is one of the most popular since they are the largest online store.
3. Create and Sell Digital Products
Digital products are a great way to earn money from your blog. Once you establish yourself as an authority in your niche, people will be willing to pay for exclusive content that you publish in your products. Examples of digital products include:
Courses
Ebooks
Software tools
Libraries
The good thing about selling digital products is that you can actually make a decent amount of money even without high volumes of traffic.
There are plenty of ways to sell digital content like with WordPress using Easy Digital Downloads or a site like Gumroad.
4. Sell Ad Space or Join an Ad Network
Selling ad space or joining ad networks is a great way to earn passive income from your blog (like we plan to tastefully try with WordFinderPro one day). But there's a caveat – you have to have a huge volume of traffic visiting your site. Ad networks you need to consider if the ad route sounds like something you can do include Carbon and Mediavine among a host of others.
5. Win Sponsorship Deals
Sponsorship deals can be a very lucrative blog monetization strategy if your blog is in a smart niche. The 2 most common ways you can get brands to sponsor your blog are:
Publishing sponsored content. This is when you publish articles on your blog on behalf of a brand that wants to tap into your network. Of course, make sure the content fits in naturally with the rest of your blog. Pro tip: use tools like RightBlogger or a free AI article writer to scale your content creation process and publish more content faster.
Podcast sponsorships. To do this, you need to start a podcast, and once it has a sizable audience, you can pitch it to brands that need the exposure you offer. Another advantage of podcasting is that it also helps you tap into your guests' network and audience, thereby helping grow your blog and authority.
There are many brands interested in sponsoring blogs with a good amount of traffic. Do your research and pitch those that would be interested in advertising themselves to your audience.
---
How to Start a WordPress Blog Final Takeaways: Time to Get Your Hands Dirty
Now that you know how to start a WordPress blog, it's time to get your hands dirty – by starting one. Before you rush off to do so, here are a few main points to remember:
Blogging is a great way to share knowledge and experience as well as build your authority.
WordPress is your best bet for building your blog. It's easy to use, versatile, and basically built for blogging.
Starting a WordPress blog is not as daunting as it seems
Simply follow the steps outlined in this post and you can have your WordPress blog up and running in less than a day. And if you need more WordPress tips and tricks, make sure to subscribe to our YouTube channel and follow @Smart_WP on twitter.