SEO is a massive part of owning a website. Getting found on search engines like Google is one of the best ways to get traffic. Traffic can help fuel sales, generate page views for ads, and overall propel your business forward.
You don't just install a WordPress SEO plugin and call it a day; there is much more to SEO.
We'll be going over some of my favorite WordPress SEO tips to optimize your site for search engines.
---
WordPress SEO Video Tutorial
No time for an article? Check out my video going over all the basics of SEO in WordPress for beginners.
What is SEO and Why it Matters
SEO stands for Search Engine Optimization. Basically, it's ensuring your website is able to be found when people use a search engine. Keep in mind that search engines get smarter every day, so using "hacks" or malicious tactics is to be avoided. Your main mindset should be that if someone searches for the content you're making, it will answer all of their questions about the topic.
---
WordPress SEO: The Basics
Now let's dive into all the basics of SEO for WordPress.
Check WordPress Site Visibility Settings
WordPress, by default, has an option for you to discourage search engines from indexing your site. This is done by using a "noindex" tag; likely this feature will be disabled on your site but it's important to double check. This option can be found in your WordPress dashboard's Settings / Reading page.


You want to ensure that this setting is unchecked. This way we know that your site isn't set to "noindex".
Add Your Site to Google Search Console
Since Google is the primary search engine you'll want to make sure your site is indexed by it. This is really easy using Google Search Console (previously known as Webmaster Tools). Sign up on Google Search Console with your Google account and add a site. After signing up and logging in you'll be able to add a "property".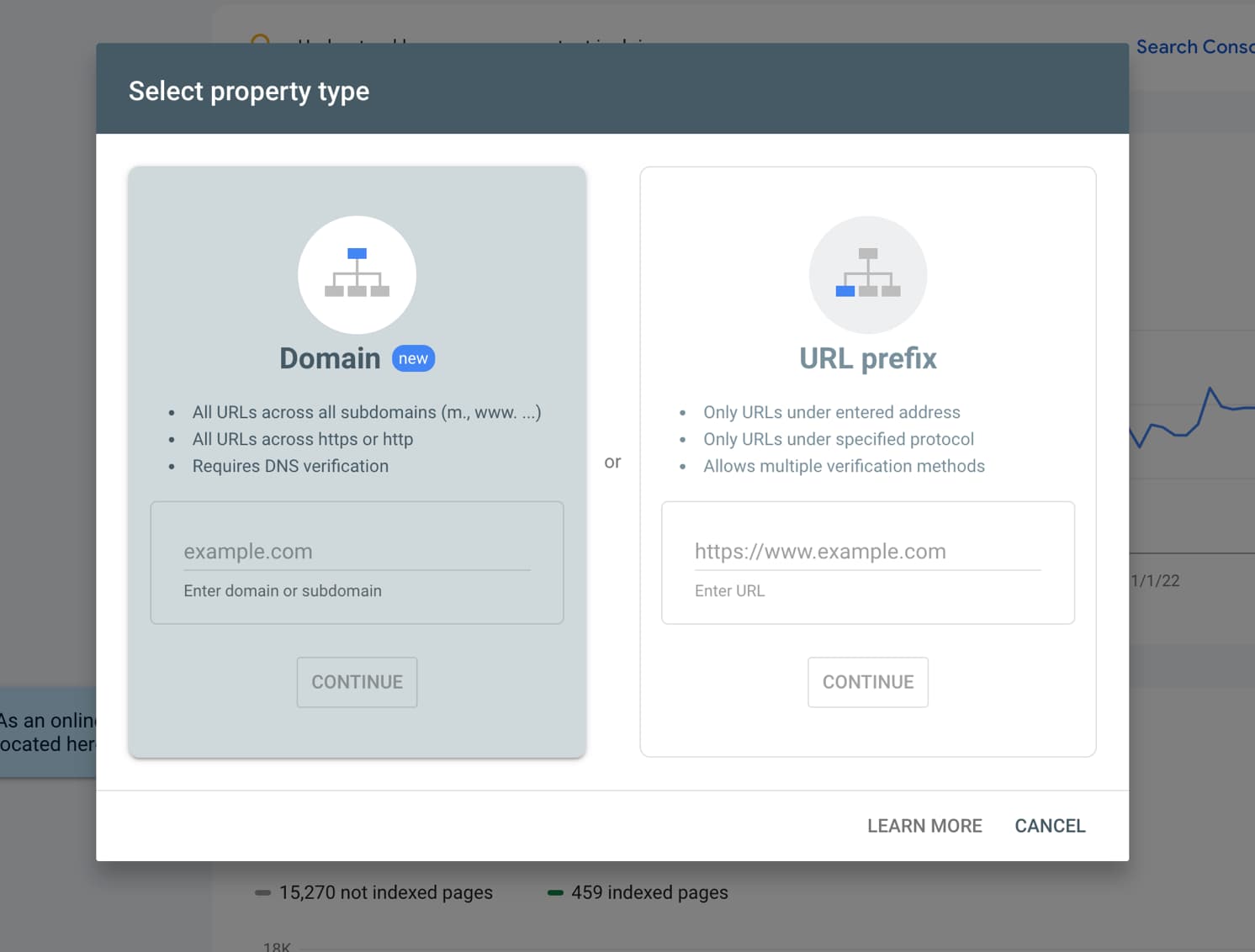 After adding a site you'll be required to verify that it's your site.
This can be done two ways:
Domain: If you know how to modify your DNS settings this is the recommended way to add your property to Search Console. You'll be required to add a TXT record in your domain's DNS settings.
URL prefix: Using the URL prefix option will only verify only one subdomain of your site (for example www. or no subdomain) which is fine for most sites. Verification for the URL prefix method can be done a few ways but the easiest is to use the meta tag option. Most SEO plugins on their settings page will have an option to meta tag verify Google Search Console.
Add Sitemap to Google Search Console
As of August 2020 WordPress added a built-in way to generate sitemaps in WordPress 5.5. Best of all you don't need to do anything extra to use it! Simply go to yoursite.com/wp-sitemap.xml if you are using an SEO plugin you'll be redirected but either way this should be a valid sitemap URL on your site.
If yoursite.com/wp-sitemap.xml doesn't lead to your XML sitemap you could also try yoursite.com/sitemap.xml or yoursite.com/sitemap_index.xml.
Now that you have your sitemap URL you can add it to Google Search Console.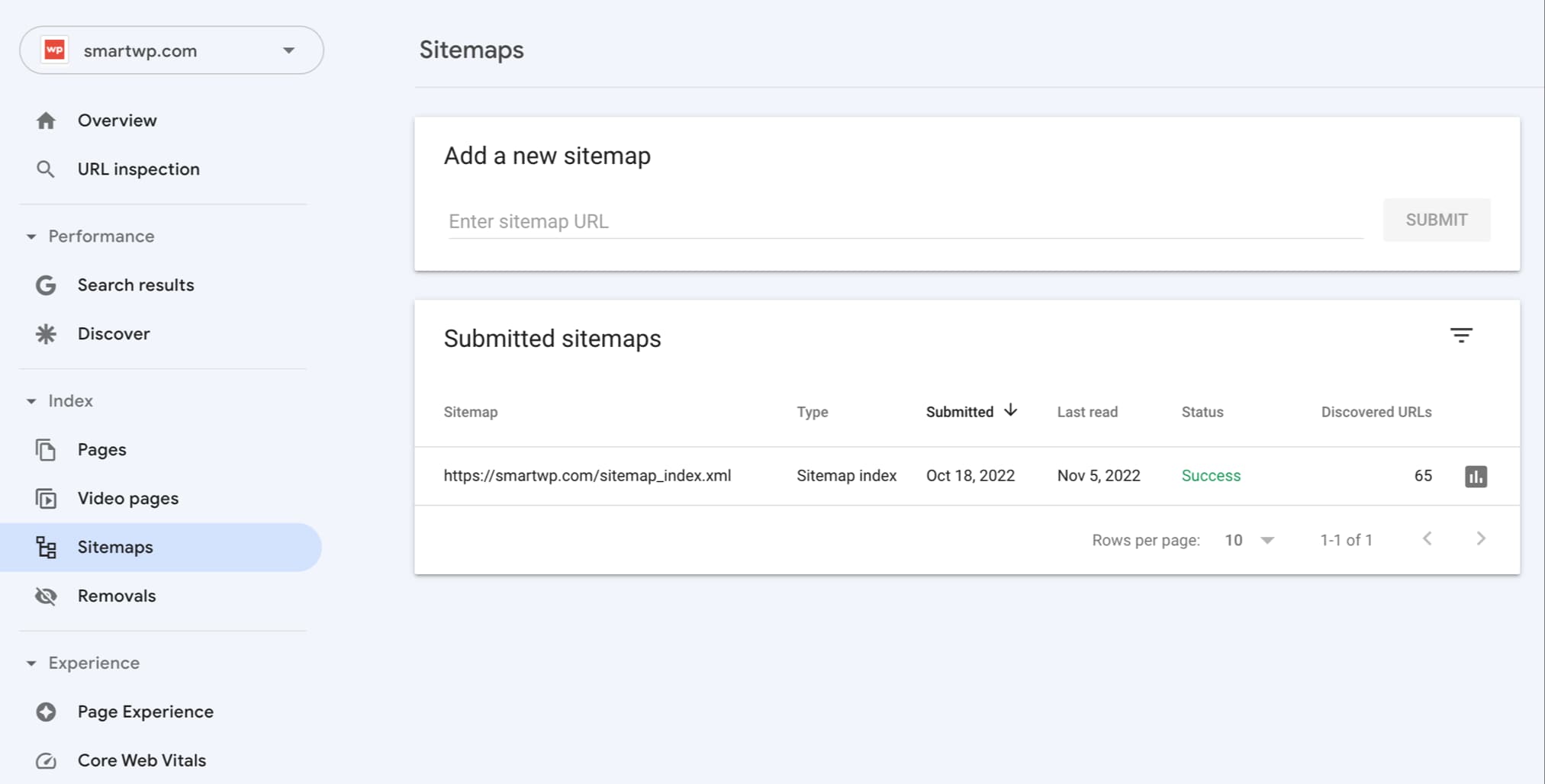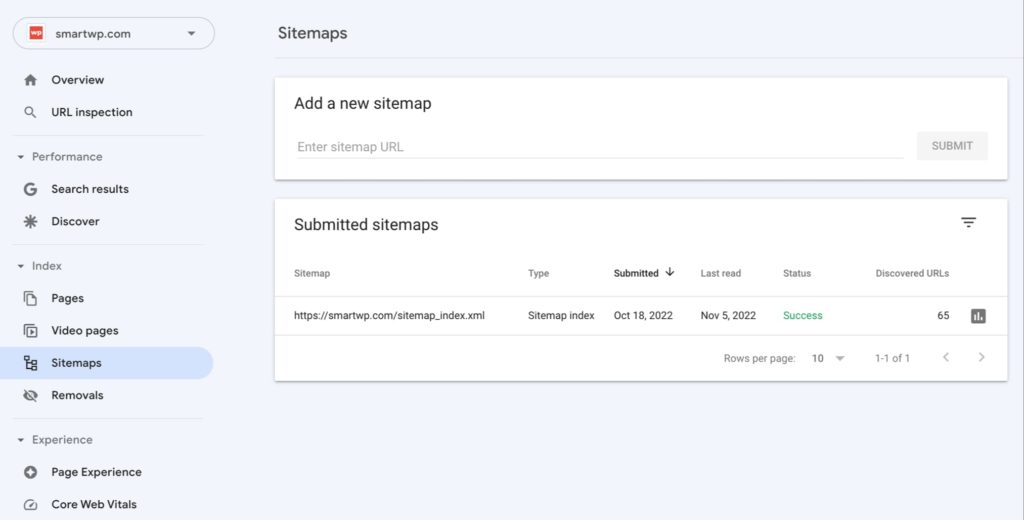 What this does is basically gives Google a list of pages on your site so it knows where all of the content is. This is especially important for when new content is released Google can see it automatically.
Check Permalink Settings
Out of the box WordPress does a great job by including SEO friendly permalinks. These are the URLs used to access content on your site. You can access permalink settings in WordPress in the admin dashboard by going to Settings / Permalinks. You'll want to double-check that these are set correctly on your site.
I recommend just setting permalinks in WordPress to "Post name". This will use your post's name as the slug rather than including the date or category.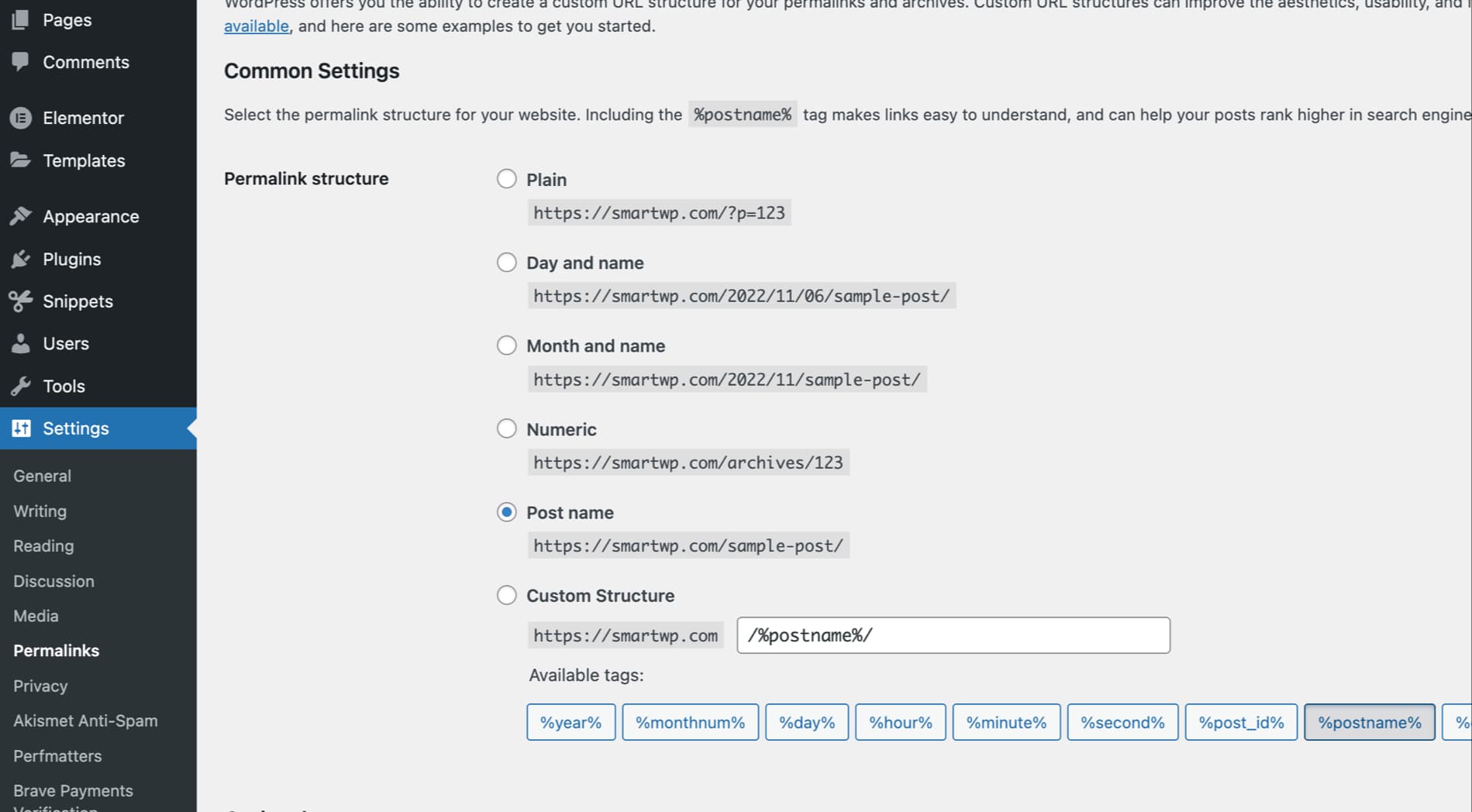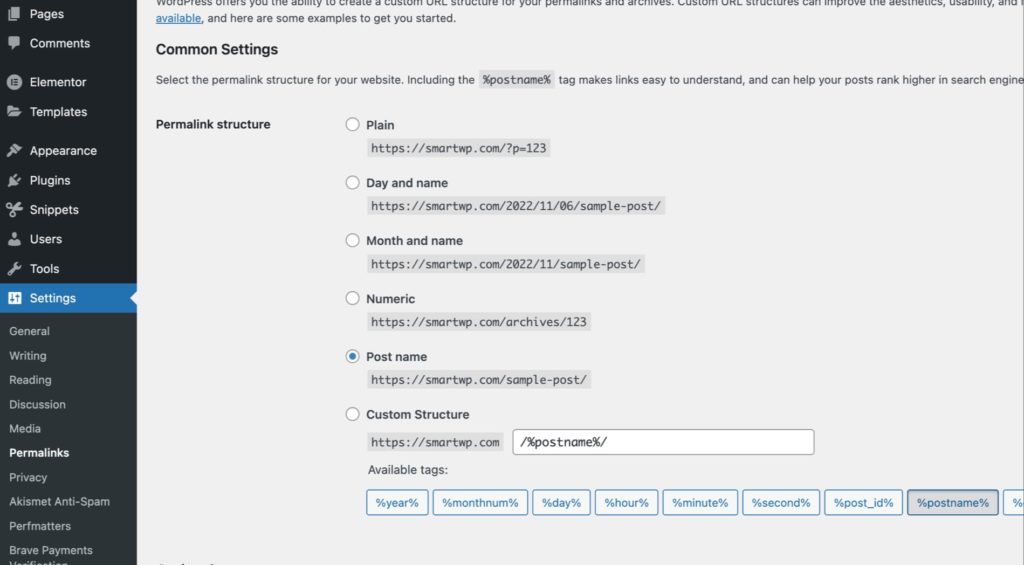 What are Permalinks? Also known as a "permanent link" a permalink is a link that represents a published page on your website. For example an SEO-friendly url would be "mysite.com/about-me" rather than something like "mysite.com/?page_id=295". This way you can update your "about-me" page with a permanent reference to it via its URL.
---
WordPress On-Page SEO Tips
Install a WordPress SEO Plugin
There are plenty of WordPress SEO plugins that all have similar functionality. Yoast SEO, RankMath, All in One SEO, The SEO Framework are some of the most popular.
By far the most popular is Yoast SEO and typically what I use. In this guide I'll be using Yoast SEO but the same function should be available in any WordPress SEO plugin you use.
Find Topics & Keywords to Write About
Of course the topic you write about is one of the most important things about SEO. It's really important that your site has one theme/topic covered rather than being all over the place. Your topic can be broad though and cover plenty of concepts.
Just for the sake of this article we're going to be using the topic of "photography".
There are plenty of tools to spin up ideas based on your topic but I recommend using Ryan Robinson's free keyword research tool.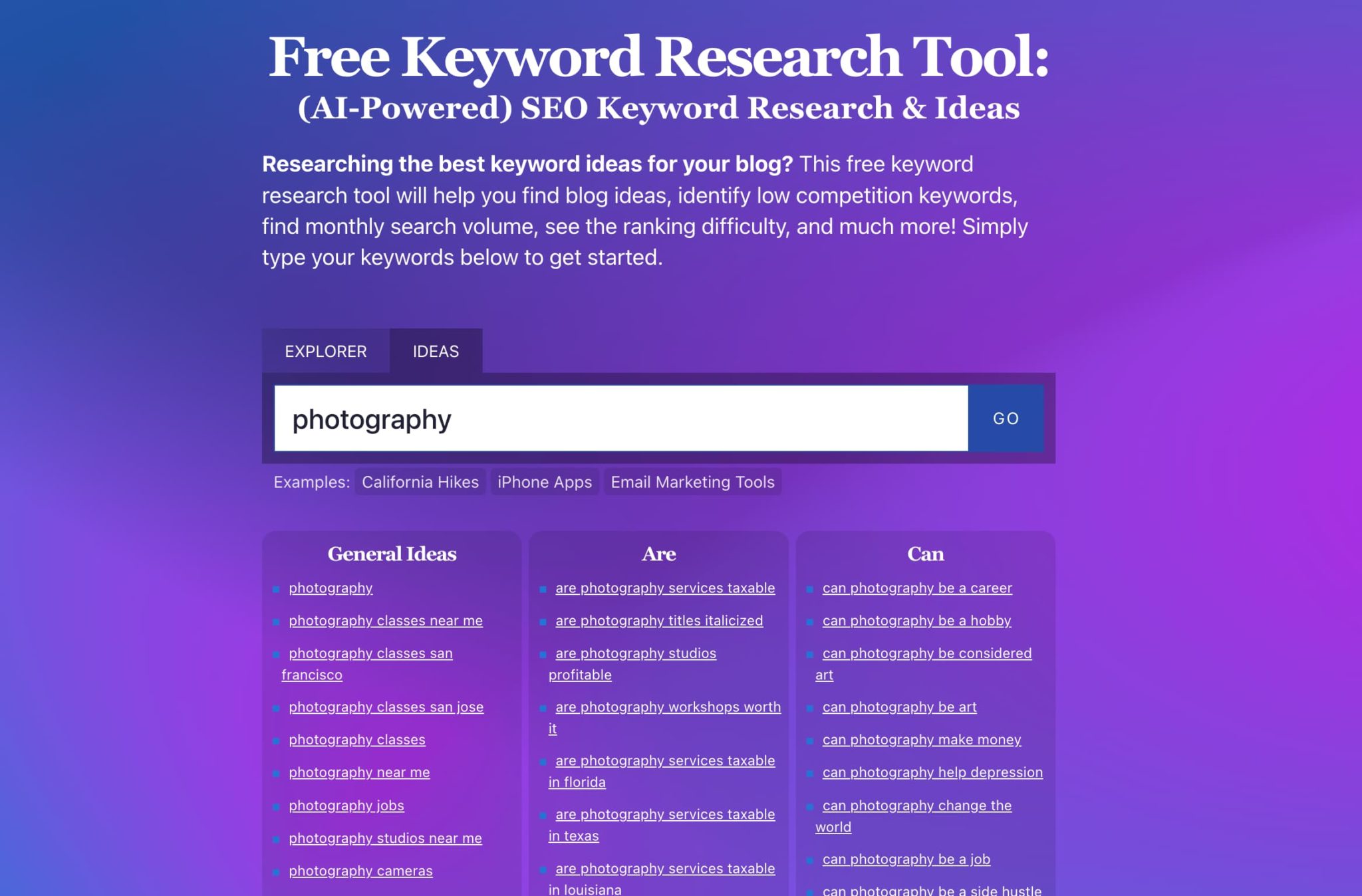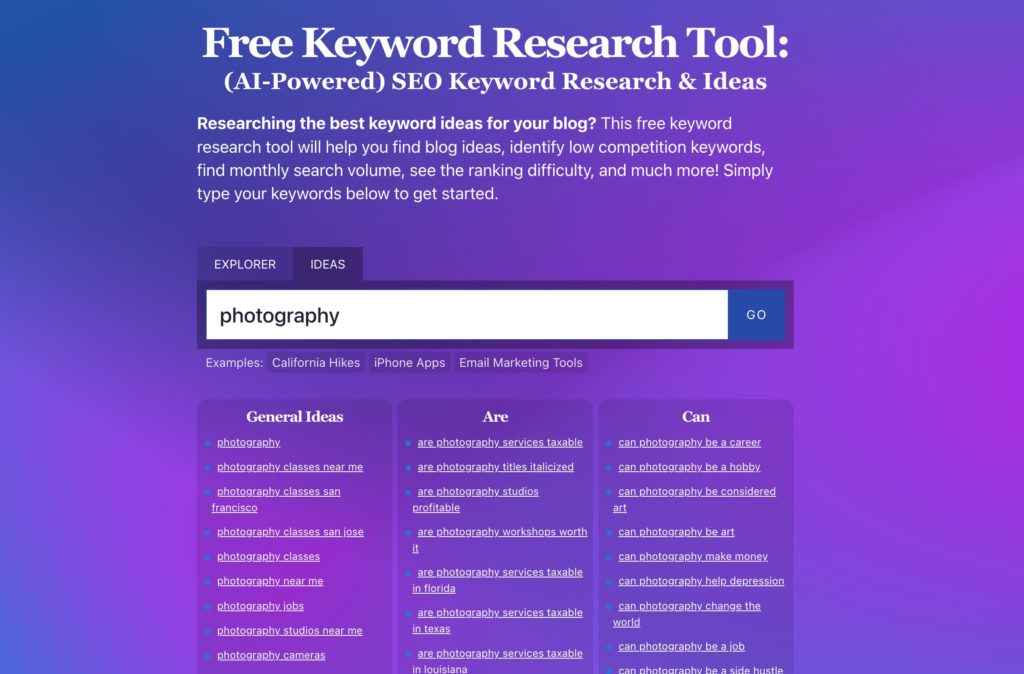 The tool allows you to come up with ideas like shown above. Best part is you can enter unlimited topics to find different inspiration. For photography you could try "camera", "Canon", "photo spots", and plenty of other ideas to generate ideas. You can see above that just entering photography I could write an article answering "can photography be a career".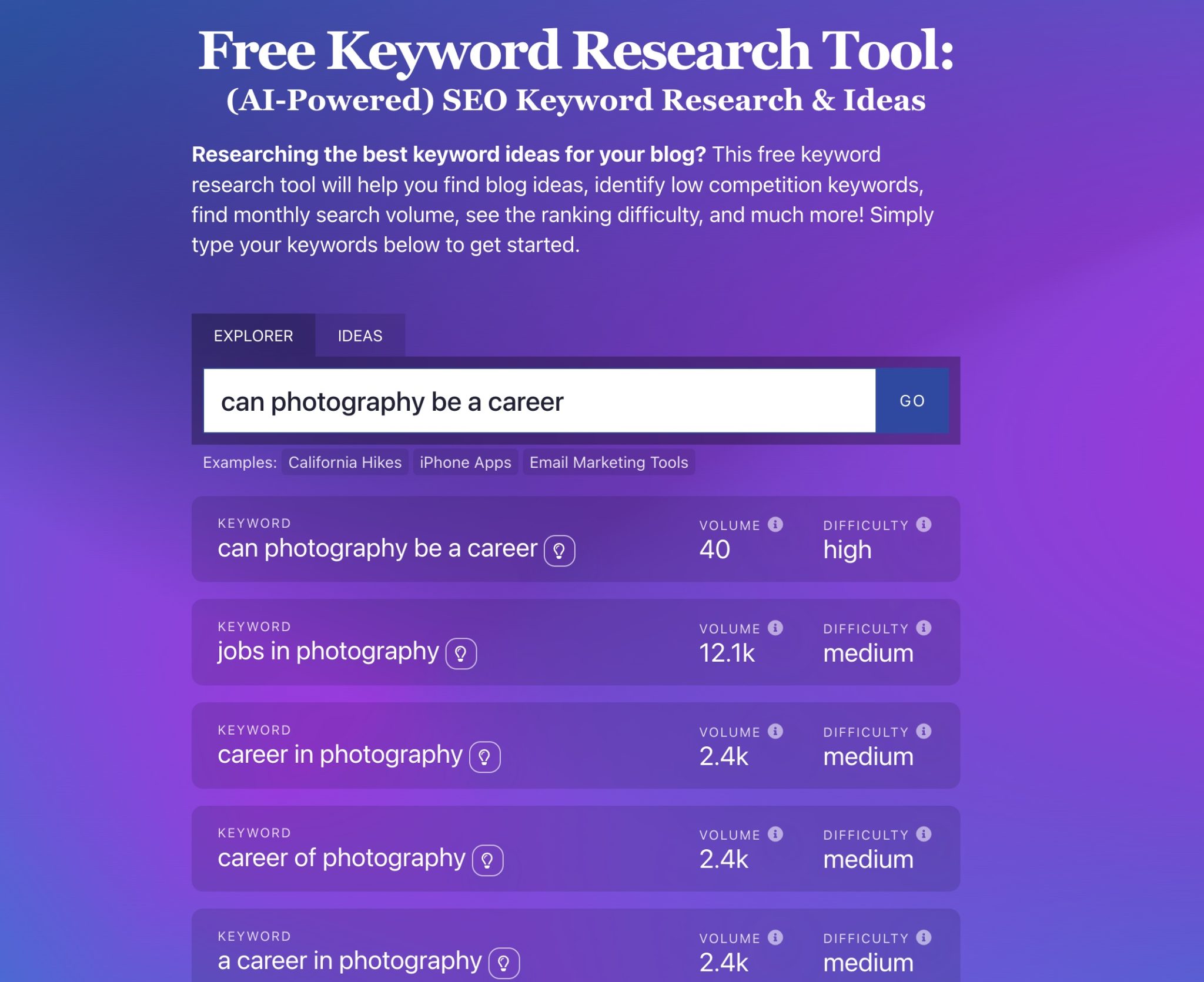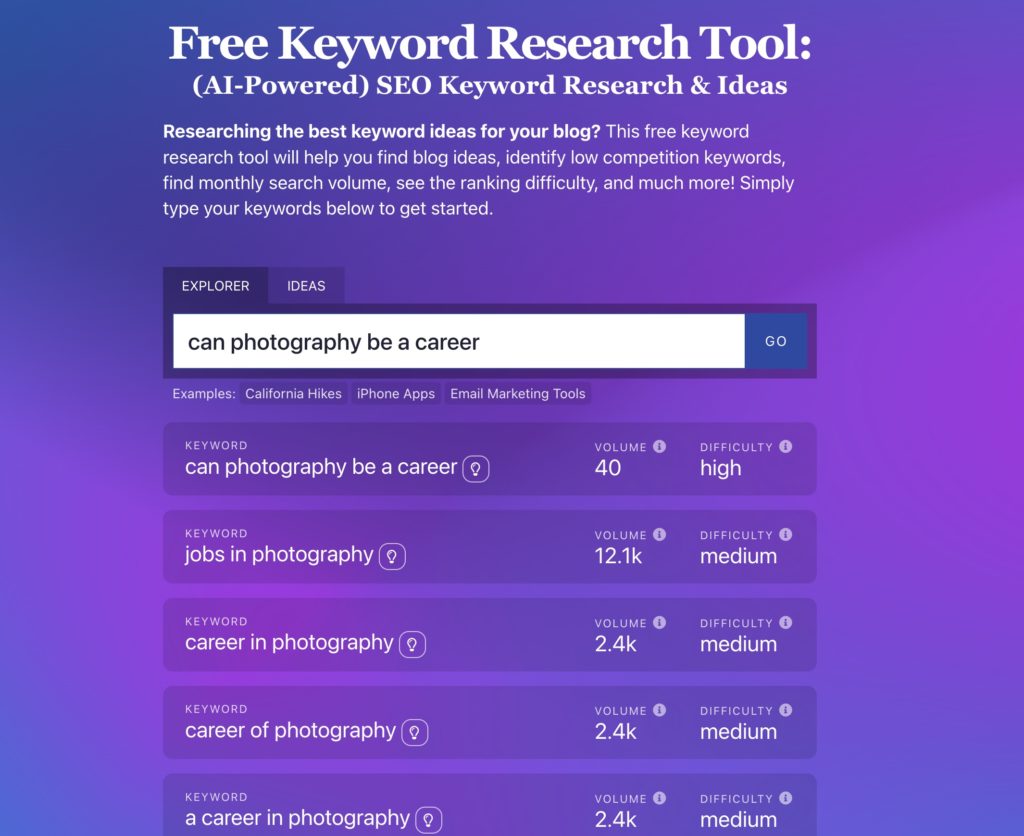 Using the explorer tab lets you see things like volume and difficulty for a term. Of course people will type their query in many different ways but the recommendations will offer a good guideline on the topic. Volume is the monthly amount of searches for the term while difficulty is how hard it'll be to rank for the phrase.
There are plenty of other great paid SEO keyword research tools including:
Write Content Designed for Searcher Intent
Now that you have a topic in mind and articles ideas it's time to start writing content. It's important to think about what a user will search to find your article. This is an important mindset to have when publishing something on your site. Things like the permalink, blog post title, and content will all play factors in solving a searchers query.
Use Meta Titles and Meta Descriptions
Once you have an SEO plugin installed on your WordPress site you'll have the ability to set a meta title and description. The meta title and description are heavily used by search engines and can overall affect how you rank. While Google sometimes automatically generates a description on their search engine results pages (SERPs) it's still important to set an accurate description or your page.
Meta Title: Meta titles should be a maximum of 55-characters and accurately describe your page. Since your meta title is so prominently displayed on search engine results it's important to make it interesting.
Meta Description: A meta description is an HTML element in the head tag of your site that provide search engines a brief summary of your page. Meta descriptions are recommended to be between 50 and 160 characters in length. Read here for tips on writing meta descriptions.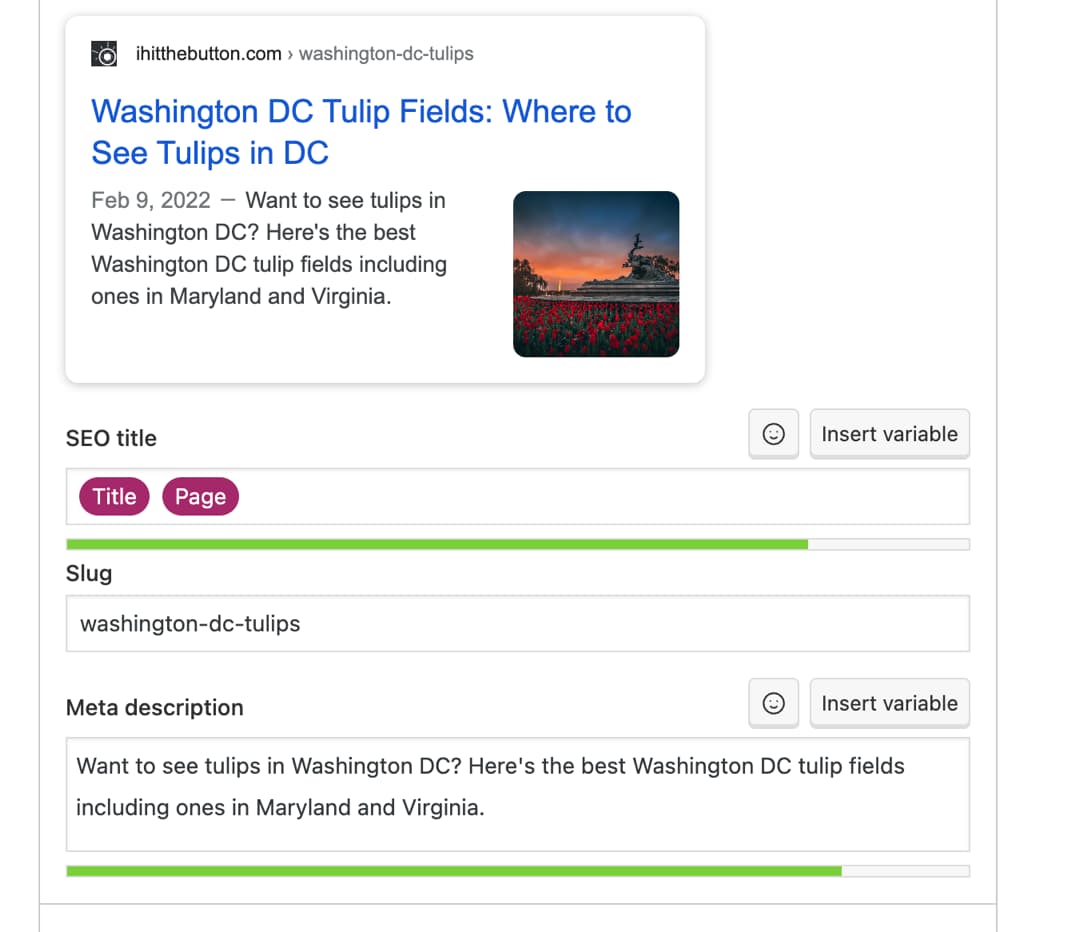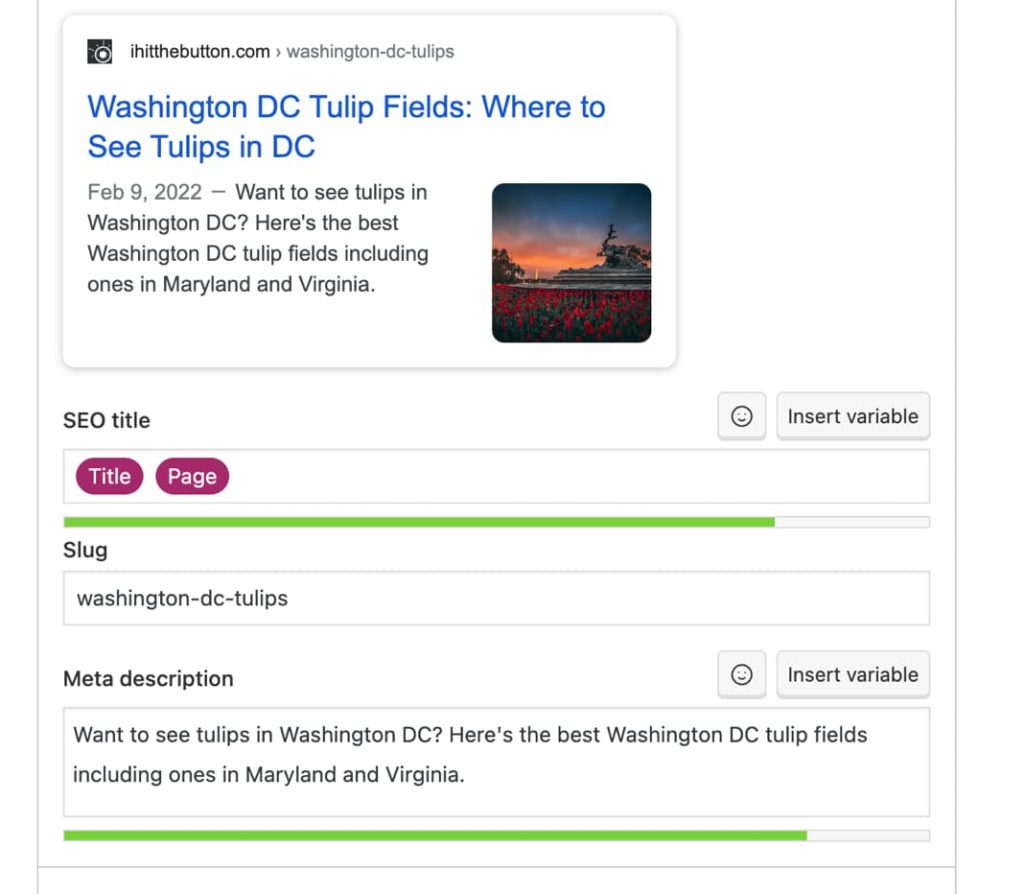 By default your meta title will be set to your post's title. This is fine in most cases if your post title is a good description of the page. If your post title isn't descriptive you can overwrite your meta title with something more interesting and encompassing of the content.
SEO plugins also have a few helper functions like the current year which may be useful in crafting a title. If you use a variable like the current year just be sure to update your article in the new year with new content.
Use Internal Links
Internal links are links to other pages on your site. If you publish a new article that's connected to the other topics you post about it's a good idea to go back through those posts and add links to your new article. This will show Google how authoritative your site is on a topic and help users easily navigate content on your site.
Keep Your Posts Up-To-Date
You'll want to ensure your articles are up-to-date with the most relevant information. In most niches information will change over time with new techniques and information. If you aren't updating your posts someone else will be and ranking higher on Google.
In WordPress I use the Show modified Date in admin lists plugin to see posts I haven't updated in recently. This lets me sort my posts in the WordPress Dashboard by their last modified date.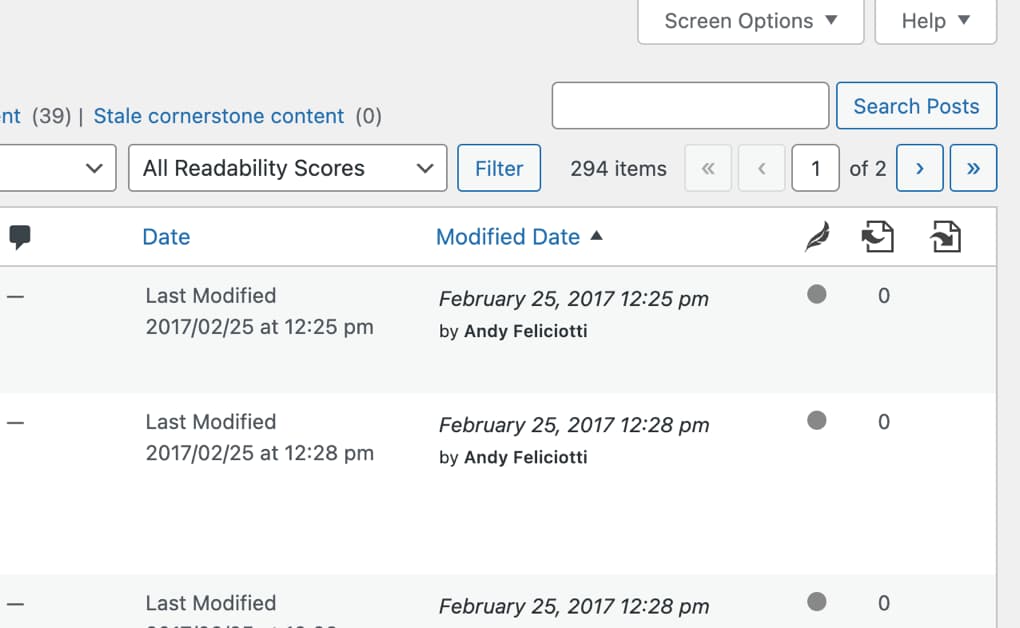 Ensure Your Site Loads Fast
There are many ways to speed up WordPress, but the fundamentals include using a good WordPress hosting, using a well-designed WordPress theme, and avoiding overloading your site with plugins. There are also some more detailed steps including:
Optimize Images: Compress and resize images to reduce their file size without compromising quality (This can be done with a plugin or website). Use appropriate image formats and using lazy loading for images below the fold.
Minify CSS and JavaScript: Remove unnecessary characters, comments, and whitespace from CSS and JavaScript files to reduce their file size and improve loading speed.
Use a Content Delivery Network (CDN): Utilize CDNs to distribute your website's static resources across multiple servers geographically closer to the user, improving loading speed for visitors from different locations. I highly recommend using Cloudflare since it'll fix a lot of these issues automatically.
Want to know if your site is slow according to Google? Use the PageSpeed Insights tool to quickly know if your site is slow. This is a really easy way to know if Google sees your site as fast or slow.
By checking your site's speed on a regular basis, you can ensure that your WordPress site loads quickly and provides a positive user experience. Since load time is factored into your Google ranking it's essential to optimize it if you want organic traffic.
Avoid Low Quality Content
Simply copying or plagiarizing content from other websites can severely harm your SEO rankings. To create high-quality content, ensure that it is unique and adds value to the reader.
Common mistakes to be made that are considered low quality content:
Unoriginal Content: If you simply copy content from other websites or plagiarize these will severely damage your SEO rankings.
Grammar Mistakes: Low quality writing will be considered low quality by Google.
Too Complex Writing: If the topic you're writing about can be covered in a 5th grade reading level you should strive for that. Having complex writing that most won't understand will likely prevent you from ranking well.
Outdated Content: Providing information that isn't up to date will be considered low quality.
Too Much "Fluff": Writing content just to fill the word count will be noticed and isn't recommended.
Images Lacking Proper Alt Text: In WordPress you can easily add alt text for images when editing them and it shouldn't be skipped.
It's important to find a balance between complicated and simple when making content. Change up the length and structure of your sentences to keep your content interesting and engaging. Also, make sure your content is easy to read and understand for the people you want to reach.
By avoiding the common mistakes listed above and trying to find a good balance between complicated and simple, you can make good content that will rank well on search engines and give your readers something of value.
---
Wrapping Up
I hope this guide to WordPress SEO basics has helped you! Thanks for reading the SmartWP WordPress SEO tips. Remember that SEO is a long game, results are never immediate. Give articles and changes to your site three to six months to fully reach their potential.
In this article, we've gone over plenty of topics, including:
Why SEO is important
Basic SEO settings for WordPress
Installing an SEO plugin for WordPress
Researching keywords
Tips for helping your site rank
If you have any SEO questions, let us know in the comments below.