At its core plugins are essential to having a great WordPress experience. It can be difficult to find good WordPress plugins but we have done the hard work for you.
We have tested hundreds of plugins to give you this list of the best WordPress Plugins for 2023.
Whether you're looking for a new SEO plugin, performance, backups, or security we have broken down the best plugins into all the popular categories. In addition to premium plugins, we have included free WordPress plugins.
Best WordPress plugins by category:
Best WordPress SEO Plugins
SEO is a huge part of optimizing your site for organic search traffic. These plugin make it easy to be on top of your SEO by giving you all of the technical SEO options you need to succeed in search. Having an SEO plugin on your WordPress website is a must-have.
---
Yoast SEO
One of the best free WordPress plugins has to be Yoast SEO. Yoast SEO covers all of your basic SEO needs and all for free! By default WordPress doesn't let you edit the meta title or description of your content but Yoast SEO allows you to in a simple way.
Yoast SEO Features:
Editing title and meta descriptions for posts, pages, and custom post types.
Automatically generated XML sitemaps for indexing in Google Webmasters.
Preview how your search snippet will look in Google.
Optionally generates breadcrumbs for pages.
Yoast SEO Premium offers a few more features like social sharing previews in addition to the search engine snippet preview. Most users won't need the features of Yoast SEO Premium so we recommend sticking with the free version.
---
SEO Framework
SEO Framework is a free lightweight WordPress plugin that offers all the controls over basic SEO options like meta tags, title, and sitemaps. The UI can be simple but is perfect is you know what SEO options you want to change.
SEO Framework also offers premium extensions for Local SEO, AMP, and more. The free version of the plugin will handle most users needs though.
---
Rank Math
One of the newest SEO plugins is Rank Math, this SEO plugin offers an incredible set of features and for free! Rank Math lets you edit nearly all SEO aspects including meta tags, redirects, sitemaps, schema, rich snippets and much more!
Most of the features of this plugin are found in premium plugins so it's incredible that Rank Math doesn't even offer a paid version.
Rank Math Features:
SEO Recommendations for Title and Description
Google Schema Markup aka Rich Snippets Integrated
Google Search Console Integration
Redirection Manager
404 Monitor
Only 30k Lines of Code compared to over 50k in other plugins
Import Settings from Other SEO Plugins including Yoast
---
Best WordPress Performance Plugins
Having fast performance is a must for any website and it's quite easy to have a fast WordPress site using these performance plugins. From page caching to minification these plugins cover a range of speed optimizations for your WordPress site.
---
WP-Rocket
Speeding up your site is simple with WP-Rocket. WP-Rocket handles nearly all aspects of your site speed including page caching, css/js optimization, html minification, image lazy loading, CDN, and more.
WP-Rocket even integrates with CloudFlare giving you the ability to clear your CloudFlare cache in WordPress.
WP-Rocket Features:
Page caching
Cache preloading (This is awesome, uses your sitemap to preload cache)
Browser caching
Google fonts optimization
Lazyload for images and videos/iframes
CSS/JS/HTML minification & combination
CDN (plus a built-in CDN for additional price)
---
Perfmatters
Perfmatters has to be one of the easiest to use performance plugins. This super lightweight performance plugin gives you a slew of options to optimize WordPress. This includes disabling emojis, embeds, and dashicons, changing , and even importing Google Fonts to your server.
---
Autoptimize
Speeding your site up takes a lot of tweaks and Autoptimize handles many of these. If your web host is already handling page caching then Autoptimize might be what you need to make you site even faster.
Autoptimize will compress and combine your CSS/JS/HTML files making your site load even faster and giving you a faster page speed score.
---
WP Super Cache
WP Super Cache is a free plugin choice for those who want simple page caching. This is especially important if your host doesn't do this for you.
It will also let you rewrite your image assets if you're using a CDN.
---
Query Monitor
This tool isn't beginner friendly but if you are a developer it can be a powerful tool to see what is slowing down your pages. Query Monitor tracks multiple aspect of your site when a page runs such as database queries, slow requests, PHP errors, cURL requests and more. A developer can use this information to track down aspects that can bottleneck a page.
---
Best WordPress Security Plugins
Keeping your WordPress site is extremely important since an exploit can lead to spam or even downtime. These WordPress security plugins will keep your WordPress blog secure and free of hackers.
---
iTheme Security
iThemes Security has quickly become one of my favorite WordPress security plugins. The free version of the plugin offers a slew of security features including blocking brute force attacks, scan for vulnerabilities and many other useful security tweaks.
One thing that stood out to me was how easy their setup process was.
---
Secupress
Secupress is a WordPress security plugin that offers tons of features that will harden your WordPress site's security. The main features include anti-brute force protection for the login, move your login url, firewall, blocked IPs, and malware scanning. From our testing the malware scanning doesn't work as well as WordFence but the Pro version of Secupress is well worth the money.
The Pro version offers rate limiting for bots hitting your site a lot, two factor authentication, and even white label support making is great for putting on client sites.
---
WordFence
WordFence is a free WordPress security plugin that will secure your site with a handful of incredible features. It's also by far one of the most popular plugins for WordPress.
WordFence will even scan your WordPress core, theme, and plugin files for modifications against the wordpress.org repository to see if a file has been exploited. When I find that site has been hacked I usually run a scan with WordFence to find files that need to be replaced.
---
Limit Login Attempts Reloaded
At a minimum you should rate limit how many time someone can try to log into your WordPress site. Using Limit Login Attempts Reloaded alone will greatly reduce bots trying to log into your WordPress admin.
Many bots just try to log into WordPress sites using brute force by trying different combinations of usernames and passwords. Since a bot can run through thousands of combinations an hour it can be dangerous to keep your login unguarded. Limit Login Attempts will force a user (or bot) to wait a certain amount of minutes between password failures which will great increase your WordPress security.
---
WPS Hide Login
Many bots try to log into your blog by just accessing /wp-admin and /wp-login.php so changing your login urls is a simple was to increase security. WPS Hide Login lets you move your login url to any custom url you'd like making it less vulnerable to people guessing the url.
---
Best WordPress Page Builders
The default WordPress editor is great but sometimes you need more complex layouts with full width rows, background images, columns, and more. Using a page builder in WordPress can take your content to the next level.
---
Elementor
Elementor has quickly risen to become the #1 page builder for WordPress. Elementor offers an incredible page builder experience that lets just about anyone make well designed pages.
You can even build popups using Elementor which is a huge benefit since you won't need another plugin.
They have even built their own optimized theme for Elementor called Hello. Note: This theme is only useful to those with Elementor Pro since it's basically a blank theme designed to use Elementor Pro's theme builder.
---
Beaver Builder
Beaver Builder has become a popular page builder for WordPress. With over 500,000 installs and a premium version Beaver Builder has plenty of room for expansion.
Beaver Builder will allow you to create layouts on your pages and posts with columns, videos, audio, video backgrounds, and much more.
---
Gutenberg Blocks
WordPress now ships with the Gutenberg editor which makes it one of the most popular page builders for WordPress. You can expand Gutenberg with blocks that are available from a handful of plugins. These add functionality like countdowns, testimonials, staff pages, call to actions, and much more.
Popular Gutenberg Block Packs:
---
Colibri
The Colibri page builder has been growing rapidly in this space over the past couple of years, largely because of wide range of visual design customization elements it comes with out of the box (150+ content blocks, 40+ drag and drop components, 60+ full website templates).
With over 180,000+ active installs and a premium version you can upgrade to, there's a lot of room for growth using this page builder.
---
Having people share your blog's content on social media is a huge aspect of a successful blog. These social sharing plugins for WordPress will add buttons to your site for users to share your content to their friends.
---
One of the newest and cleanest social sharing plugins for WordPress is Novashare. Built with speed in mind Novashare simply adds social share icons to your site without any bloat. Novashare has plenty of built in features like share counts, click to tweet block and of course fast load times.
Read our full Novashare Review
---
Social Warfare does a fantastic job of offering simple options to display social share button on your articles. Social Warfare offers a few options including a floating share bar that floats with your articles down the page which can increase social sharing. It can also grab your social share counts from different social networks to display the amount of shares a page has which can be great for adding social proof.
---
Easy Social Share Buttons does exactly what it's called, adds social share buttons to your WordPress site. With support for 50 of the major social networks and 55+ templates, this is a sure-fire way to add social share buttons to your WordPress blog.
This plugin will also grab your share counts for each social network so you can have a total share count.
---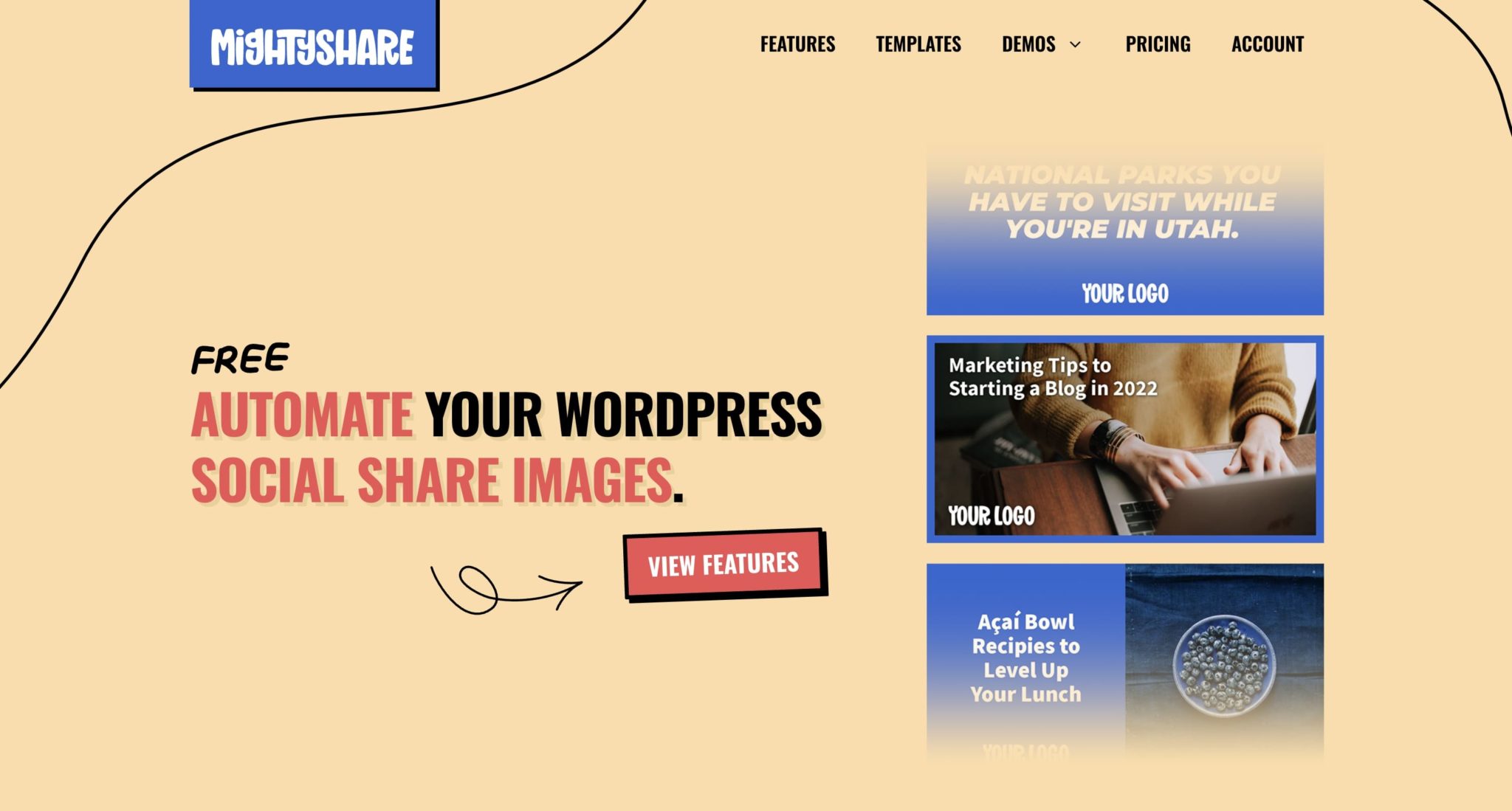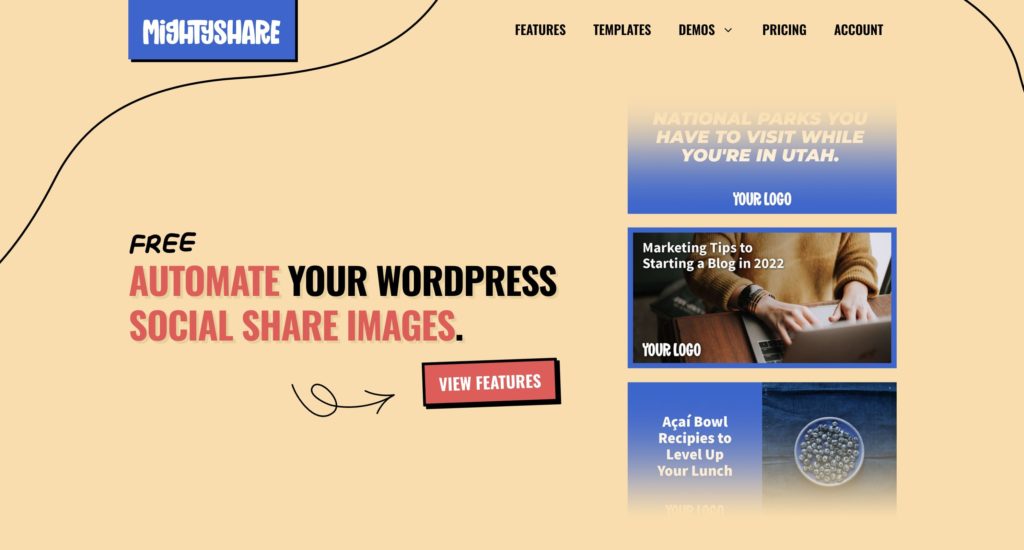 MightyShare works with your SEO plugins to automatically generate a beautiful social share image. This is a great addition to large sites who are unable to create social share images for each post. With over 20 template options, Google Font options, and plenty of customization MightyShare is a great addition to WordPress.
---
Best WordPress Contact Form Plugins
Having a way for someone to contact you on your site is extremely important, from inquiry to questions a contact request can lead to big things. These contact form plugins for WordPress will allow you to build just about any form you can think of or just a simple contact form.
---
Gravity Forms
By far Gravity Forms has to be the best form plugin for WordPress. It's easy to use for beginners but also offers endless expandability to developers. With 30 types of form fields out of the box just about any type of form is possible. Contact forms, user submissions, payments, multi paged surveys, are all possible using gravity forms.
---
Ninja Forms
Ninja forms is a simple but powerful form builder that allows you to create forms for your WordPress site for free. The free version of Ninja Forms gives you plenty of options to create any type of form you're looking to build.
If you want a free forms plugin we recommend Ninja Forms.
---
Best WordPress eCommerce plugins
eCommerce has become a massive part of the web and adding a store to your WordPress site is simple using plugins. Whether you're shipping physical products, selling downloads, or just need a simple payment for a one off thing there is an option for each.
---
WooCommerce
WooCommerce is the most robust eCommerce plugin for WordPress (and it's free!). It can handle basically any type of payment, shipping products, shipping costs, digital downloads, memberships and more. Many of the plugins available for WooCommerce will add to the cost but if you're serious about selling there is no better option than WooCommerce. We recommend you have access to a WordPress developer if you want to fully customize your storefront.
---
Easy Digital Downloads
Easy Digital Downloads is one of the most popular solutions if you are only selling downloads. Many plugin developers use this to sell their WordPress plugins.
he free version of Easy Digital Downloads supports PayPal and Amazon Payments but if you want Stripe, Coinbase, Authorize.net support you'll need to use a premium extension.
---
Gravity Forms (Payment)
If you just need a simple payment form Gravity Forms is a fantastic way to do this. Maybe you're just selling a ticket to an event at your business, Gravity Forms will have you covered. They support plenty of payment options like PayPal, Stripe, and Authorize.net. Using a payment plugin for Gravity Forms you can easily add payments to your forms.
---
Bonus: Tapfiliate (Affiliate Program Management)
If you want to create, track and manage your own affiliate, referral, or influencer program, it's simple with the Tapfiliate plugin. They offer turnkey tracking software and their plugin integrates with WordPress, WooCommerce, WooCommerce Subscriptions and WP Easy Cart, so you'll be able to easily track sales driven by your partners. If you want to drive more revenue to your business, Tapfiliate's plugin is a great option. Plus, they offer a free 2-week trial so you can get started quickly.
---
Best WordPress Image Optimization Plugins
If you're uploading images to your site you should be compressing them in some way. One of the huge benefits of using WordPress is that you can have a plugin automatically compress your images as you upload them. This will give you huge speed saving on the front end of your site.
Imagify
Imagify has become one of my favorite ways to compress images in WordPress. With options for lossy, lossless, and ultra compression this plugin will fit most user's needs. You can even resize images over a specific threshold so you have no images over a 2,000 pixel width for example.
Imagify will compress images as you upload them to your site but also has an option to bulk optimize if you're adding it to an existing site.
Since the pricing is based on the amount of gbs you send to their server an initial compression of a lot of resources can get pricey. If you're starting a new blog or have a few images the pricing is more reasonable since you won't be sending as much to their server at once.
---
Optimus
Optimus has to be one of the simplest image optimization plugins for WordPress. Optimus compresses your WordPress images as you upload them to make your pages load even faster. It's built by KeyCDN who are one of the most trusted CDN providers.
The free version only handles 100kb photos which won't get you very far so we recommend getting the $29/year plan at least. It will let you compress unlimited images with a max file size of 10mb. Best of all it will even generate WebP versions of your images which is supported by modern browsers.
---
Best WordPress Membership Plugins
Having a membership to your website can be a popular choice for monetization or building a community. With the popularity of Patreon a fantastic alternative is to have your own paid membership on your WordPress site which will give you complete control over your community. These WordPress membership plugins are sure to give you the membership functions needed to run a successful site.
---
MemberPress
MemberPress gives you all of the functionality needed to run a membership site, including options to manage members, subscriptions, content, and even payments. Plus they offer a huge library of addons to expand the membership functionality.
---
Membership by Supsystic
Membership by Supsystic is a free and robust way to add memberships to your WordPress site. It offers popular features like private messages, user registration, and email notifications. If you want to charge for your membership you'll have to use the pro version of this plugin. The pro version will also allow you to limit access to content based on membership levels.
---
Best WordPress Backup Plugins
If your WordPress host doesn't have backups we highly recommend having a backup in place. It's important to have a backup that isn't on the server itself so even if your server goes away you have an offsite backup.
---
VaultPress
VaultPress is a premium plugin to ensure your WordPress site is backed up and safe.VaultPress will even scan your backups to detect exploits and viruses in your code.
All of VaultPress' backups are stored on their servers so even if your site get corrupted you can restore your backup on a new server.
---
UpdraftPlus
UpdraftPlus give you the option to backup your WordPress site directly to Dropbox, Google Drive, Amazon, UpdraftVault (their backup service), and tons more.
This is a great option if you're already paying for Dropbox and just want to have your site backups stored there.
---
ManageWP Worker
ManageWP offers a huge range of features like security scans, broken link detection, and mass plugin updates. The feature we'll be focusing on is their backup ability which lets you store backups automatically offsite.
---
Best WordPress Migration Plugins
Similar to backup plugins sometimes you need to move your site to a new server or create a staging site. These migration plugins for WordPress will make it easy to move your WordPress site easily.
---
Duplicator
Duplicator is one of the most popular and easiest methods to clone a WordPress site. If you're familiar with FTP and MySQL you'll have no problem moving your site to a new host with Duplicator's installer package.
More WordPress Migration Plugins
---
Best WordPress Lead Generation Plugins
If you're trying to grow your email list having a popup to ask users for their email address can quickly grow your email list. These lead generation WordPress plugins will help you gain more email subscribers.
---
OptinMonster
OptinMonster allows you to easily create popups including lightbox popups, fullscreen, floating bars, slide-ins, or even in-line forms.
Whether you're using MailChimp, AWeber or one of a dozen providers OptinMonster will support it. Additionally, you can make any newsletter provider work by using the custom HTML form capability.
---
Best WordPress Comments Plugins
Comments are a huge part of blogs and can even affect your search engine rankings. The native WordPress comments are simple enough to get users engaged but here are the best WordPress comment plugins to boost engagement.
---
wpDiscuz
If you're looking for an alternative to Disqus with plenty of native WordPress features you'll love wpDiscuz. It brings a lot of modern features to your WordPress comment section like sorting, notifications, post rating, and much more.
---
Replyable
Replayable (which is built by Postmatic) offers a great way to keep users engaged by emailing them comments from a post they've commented on. This can be a great solution for getting more engagement on your WordPress comments while keeping the native WP comment system.
---
Best WordPress Anti-Spam Plugins
Spam can be annoying to handle especially if you are manually approving comments on a large blog. These WordPress spam plugins will protect your comments and forms from being spammed.
---
Akismet is one of the best plugins to combat spam on your site plus it's included with WordPress by default. All you need to do is activate the plugin and your account for it to work.
---
Antispam Bee
Antispam Bee is an extremely simple anti-spam plugin to stop comment spam on your WordPress blog. By using a honeypot, regular expression, and a trusted commenter list Antispam Bee is quite effective at blocking spam. Best all it's completely free and doesn't even offer a paid option.
---
CleanTalk
CleanTalk is a robust anti-spam WordPress plugin that also will improve your site's security with its firewall. CleanTalk protects a variety of forms including built-in WP comments, WooCommerce checkout, and tons of third party forms.
---
Best WordPress Slider Plugins
While it's debatable if sliders are good for your website many clients and customers enjoy using them to scroll through offers and new content. These WordPress slider plugins will allow you to easily add a slider with content to your site (and even create dynamic ones using the latest content).
---
Slider Revolution
Slider Revolution is a widely popular and powerful slider plugin for WordPress. Its drag and drop interface makes it easy to build complex responsive slides for your site. You can even add animations and videos to slides or even overlay text.
---
Soliloquy
Soliloquy offers an incredibly fast slider with no bloat granted it will lack some of the more complex features found in other sliders. Soliloquy makes it easy to create image sliders, dynamic post sliders, or even sliders to embed into your blog posts.
---
Smart Slider 3
Smart Slider 3 offers a great way to create sliders on your WordPress site. They even have a large library of premade sliders in their slide library. This free plugin lets you make sliders with a huge range of customizable options. Out of the box, you can even pull data from WordPress posts for dynamic sliders as well.
For even more features and additional dynamic slide sources, you can pick up the pro version of their plugin.
---
Best WordPress LMS Plugins
Paid online courses have become widely popular on the web from topics like SEO to fitness. With an LMS or Learning Management System for WordPress, you can start selling courses directly through your WordPress site.
---
LearnDash
LearnDash allows you to create deeply customized sources and has been used by major institutions such as the University of Florida.
You can even create lessons that require users to watch a video before proceeding which is great for video courses.
---
LifterLMS
LifterLMS is a learning management system for your WordPress site. One huge plus is that the base plugin is free but for more advanced sites you'll want to get their extensions.
---
Best WordPress CRM Plugins
Using a CRM plugin for WordPress is ideal if you're tired of relying on other companies to handle your customer relationship manager.
---
Zero BS WordPress CRM
Zero BS CRM is a great way to track customers using WordPress. If you have a sales team you can have them track your customer's sales and more. Features also include the ability to send quotes and invoices.
---
We hope you enjoyed our WordPress plugins list. Navigating the WordPress plugin ecosystem can be difficult at times so hopefully our article made it a bit easier.
As you know we love WordPress and all of its plugins so if you need any plugin recommendations let us know in the comments and we'll be able to direct you to the right plugin.