We have all heard a million times how "Content is King" in the digital world. While it surely is, everyone involved in digital marketing knows the content can lose its impact if it isn't accompanied by an image, especially on social media.
Images make your blog posts more appealing, increase their reach, and help put the message across easily, quickly, and often much better than written words, confirming the old saying, "A picture is worth a thousand words." 
Social media posts accompanied by the right images also have higher engagement rates than text-only posts. To give you an idea, Facebook posts with images have 37% higher engagement rates, on average, than those without photos. On Twitter, it's double the engagement and 1.5x more retweets for Tweets with images. We don't say this; Jeff Bullas did, so you can't deny these figures.
Considering these statistics, no one should ever be posting on social media without an image. But a lot of people still do because creating social share images is a lot of work. And if you're posting a lot of content on your social media platforms, you would be spending several hours on this tedious work.
Well, it turns out, you don't have to!
You can automate the task with a social image generator. We have shortlisted some of the best ones for you.
Knowing that WordPress is the world's most popular content management system, we thought it would be only wise to find social image generators compatible with WordPress.
There are many, but here are our top picks for social image generators: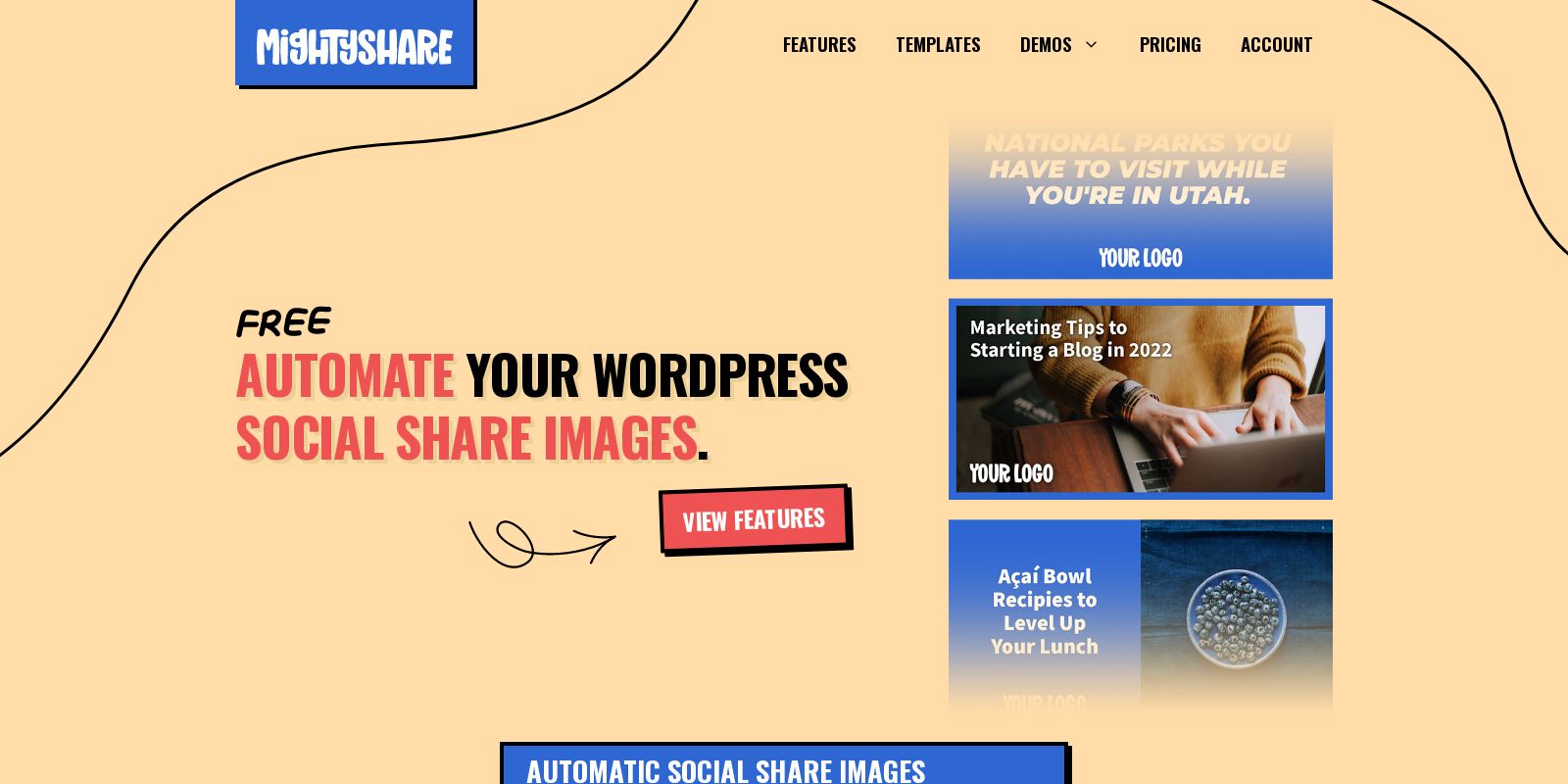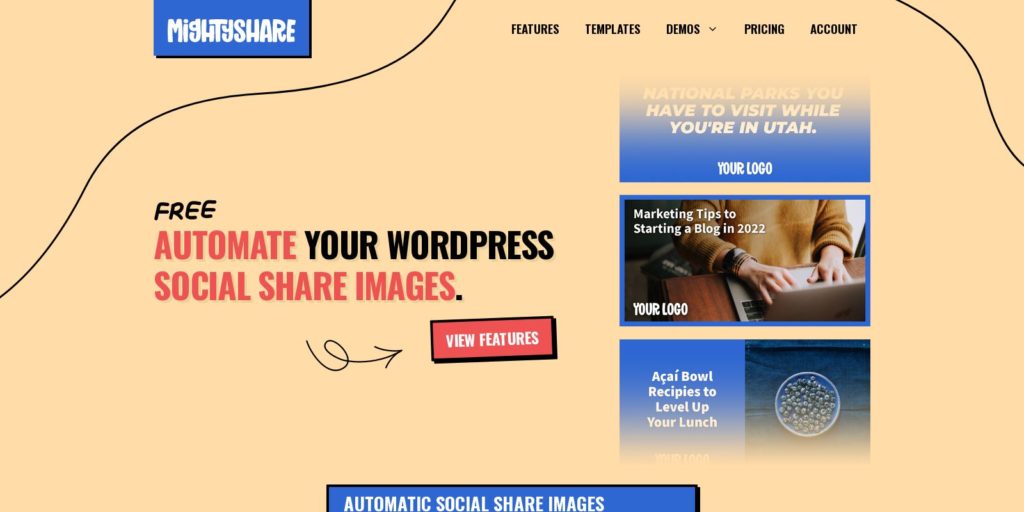 MightyShare is a fantastic tool to automate social image creation for your WordPress websites and blog posts. MightyShare will automatically generate your social share images by making them more engaging by adding text, logos, and your branding on top of your featured image.
Main features of MightyShare:
Automatically generate social share images for posts and pages!
Perfect solution for branded social images.
Robust customization plus developer hooks.
Compatible with popular SEO plugins.
Multiple templates to choose from & new templates added frequently.
Works with custom post types.
Best of all, MightyShare's plugin is available on WordPress.org for free.

The MightyShare social image generator offers a variety of customizable templates, allowing users to be involved in the process and customize images as per their needs and preferences without letting the process become overwhelming. With their free plan, you can render 50 unique social images per month. The payment plans that give you access to full features also come at highly affordable rates, starting at just $5 a month.
Paid plans also give you the ability to select any Google Font to use in templates.
---
Jetpack is a premium suite of WordPress plugins with a comprehensive image-generating tool previously known as Social Image Generator. It was acquired by Jetpack in 2021 and now comes as part of Jetpack Social.
The tool not just simplifies but automates social share image creation.
You read that right.
With Jetpack Social Image Generator, you don't have to do the tedious task of creating social images; the tool will do it automatically for every piece of content you share on social media. What makes it even better is that it is compatible with almost all major social networks – Facebook, Twitter, Pinterest, LinkedIn, Reddit, and VK. Jetpack even supports WhatsApp and iMessage, which aren't essentially social networks.
Jetpack also features a template editor, allowing you to personalize images to reflect your brand identity. It's easy to use, and there is a free version available for those who want to try it before signing up.
---


Want every post that you share on social media to have a personalized/branded image?
Try Branded Social Images!
The tool creates Open Graph Images with your company's logo and text, giving it a more personalized look and feel. You can modify the images as per your liking by adjusting colors, fonts, the position of the text and logo, and scale. If you want to create a customized image from scratch, you can turn off the automation feature for that post.
Branded Social Image is also free to use, making it a great tool for beginners who want to try their hands at social image generators before buying one.
---
Bannerbear is a comprehensive visual automation tool that allows you to create images and videos for social networks, email images, and ecommerce banners with just a few clicks. This helps reduce the workload and streamline various processes via automation. You can choose a template from the library or create your own using the 'editor' feature.
They have a brief tutorial on how to use Bannerbear for WordPress but it's not as comprehensive as using another plugin on this list.
---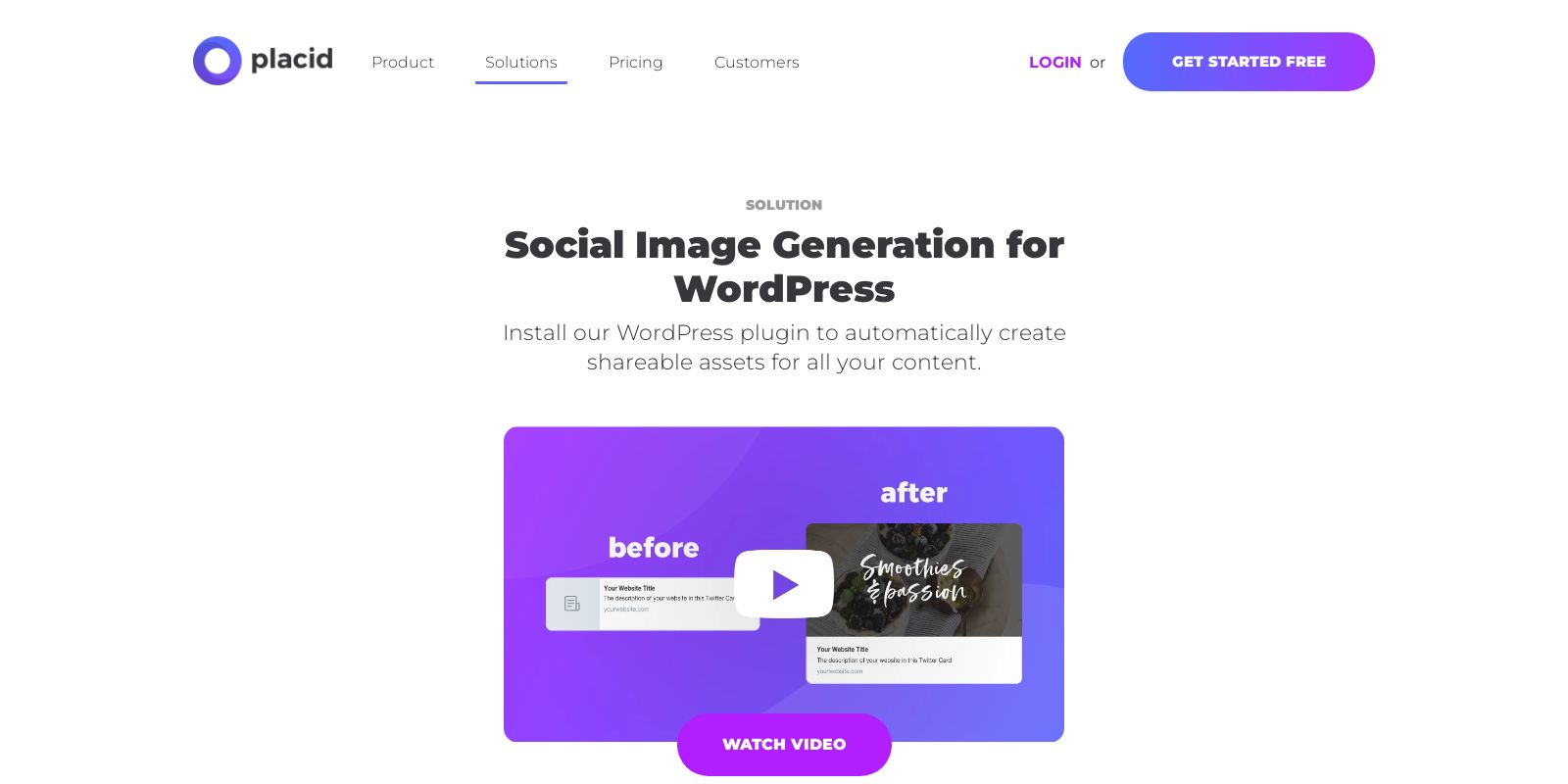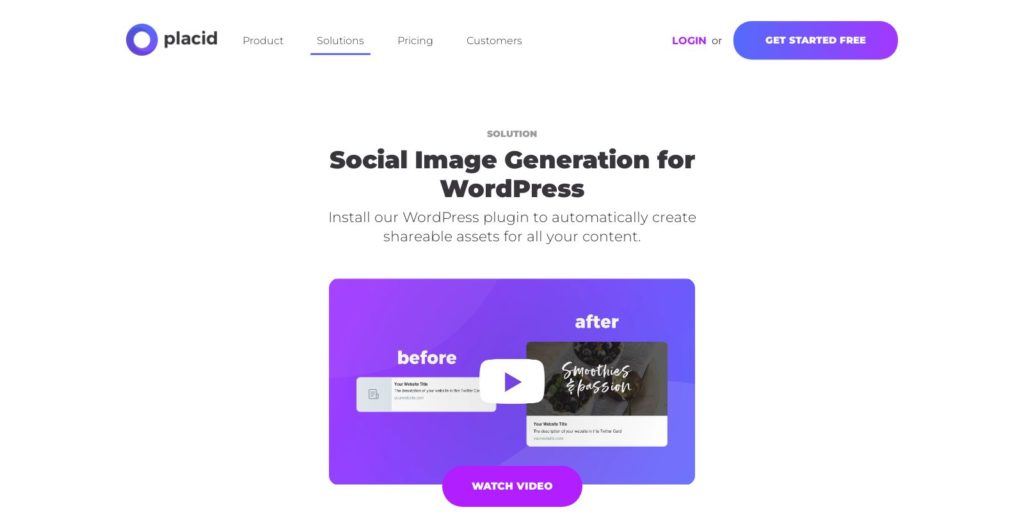 One of our last picks for social image generators (but not any less useful than the ones mentioned earlier) is a visual content generation tool that lets you automate all types of visual content creation processes for your business. Placid can generate social images, Pinterest pins, social cards, open graph images, story visuals, and much more.
Like all other tools on our list, this one also comes with a variety of ready-to-use templates. It also features an editor that lets you modify templates. And, of course, you can automate the entire social image generation process and let Placid create images for every post you share on your social platforms.
Placid offers four different plans and a free trial.
---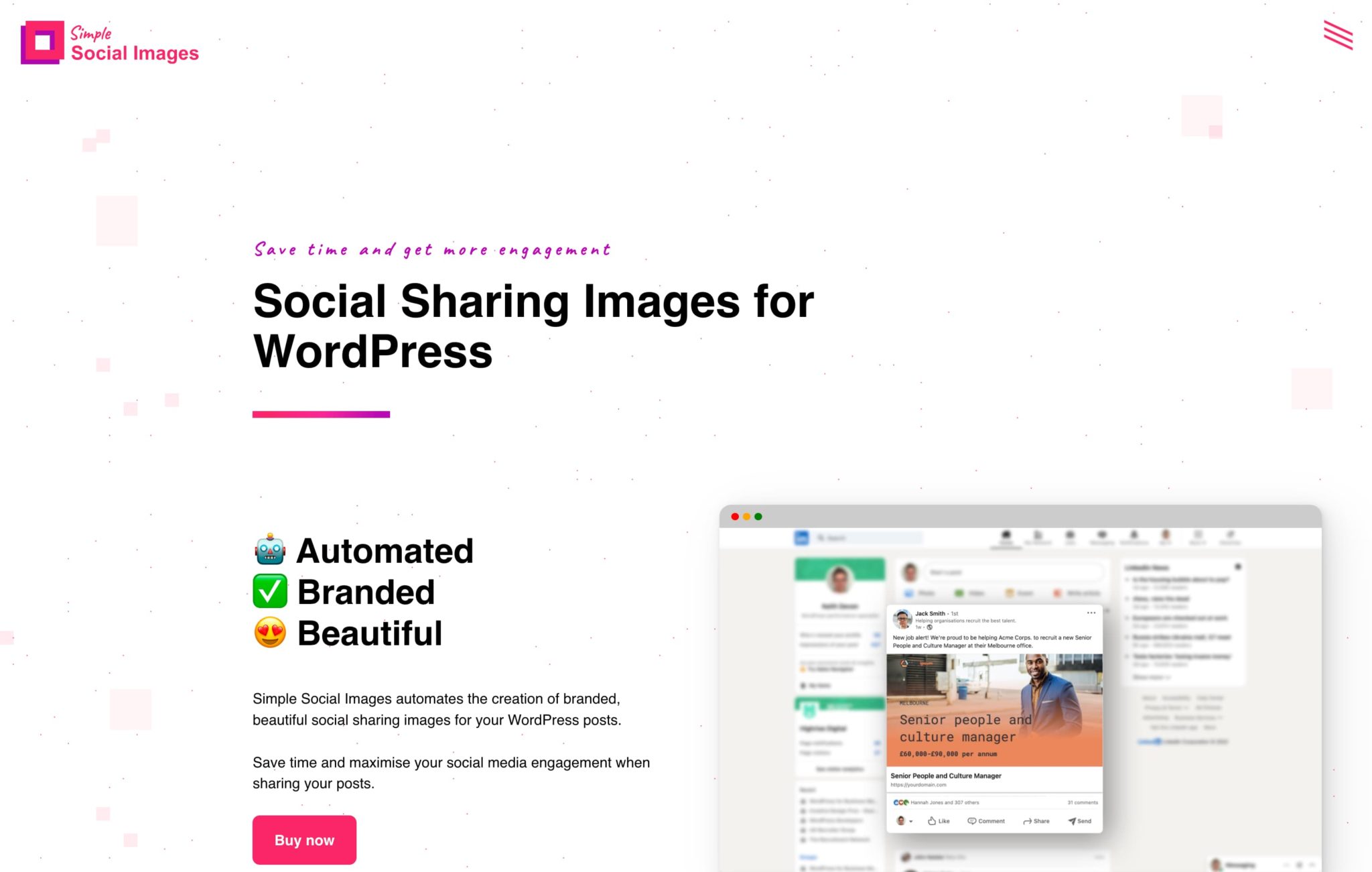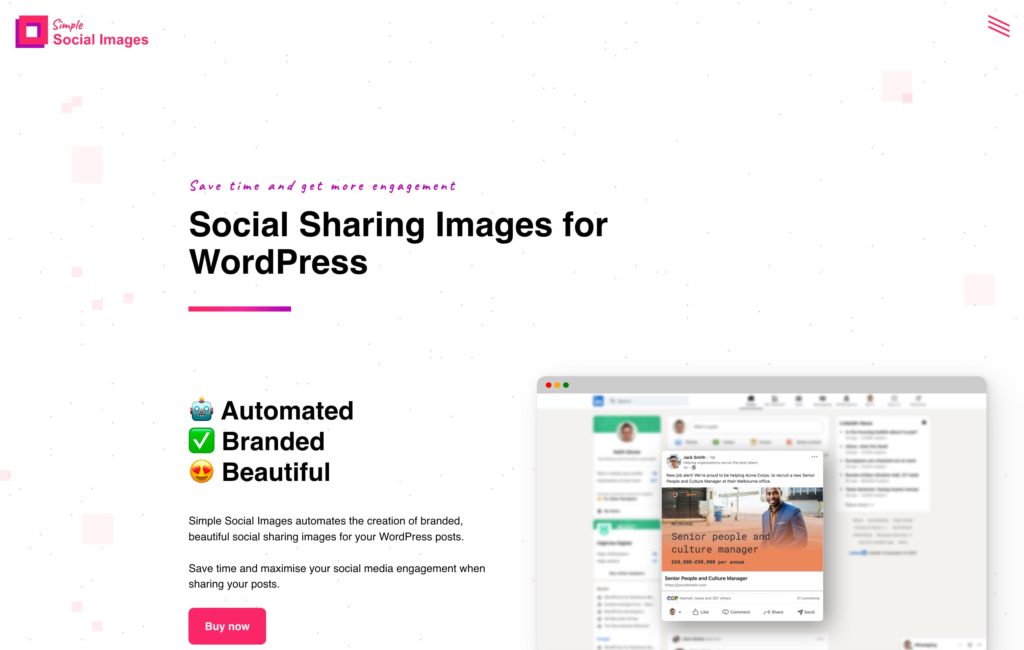 Like most other plugins on our list, Simple Social Images allows you to easily generate your own beautiful social share images using a variety of templates. The plugin can be downloaded from WordPress.org, but it requires a yearly subscription to function. No more hassle of manually creating images for each post – now you can let Simple Social Images do the work for you!

---
Create Customized Social Share Images with Just a Few Clicks
Social image generators are meant to take the hassle out of social share image creation and help content creators save time, which then can help enhance productivity and efficiency.
The time you spend creating custom images for every piece of content you share on social networks can be invested in creating more content. So why spend hours doing something that can be done within a few minutes?
Give your content creation process a good boost with a social image generator.
---
We hope this list of social share image generator plugins for WordPress was helpful. Many people overlook social share images on their website, so this is a simple way to get started.